This Brilliant Lap Desk Helps Me Work Comfortably from Anywhere at Home (and Beyond!)
We independently select these products—if you buy from one of our links, we may earn a commission. All prices were accurate at the time of publishing.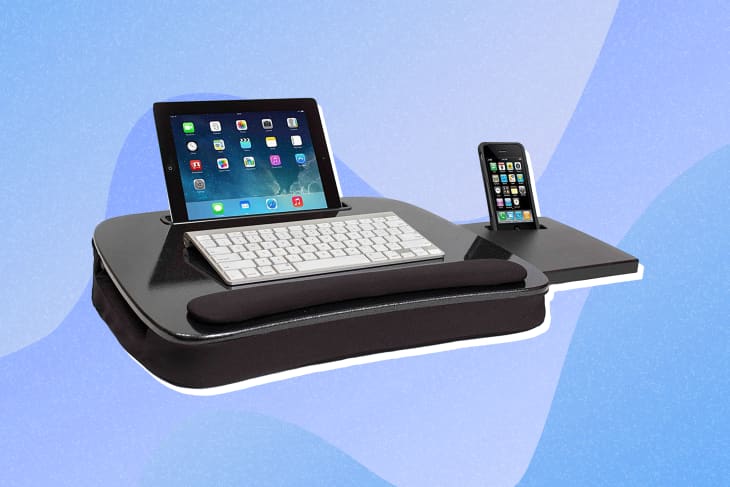 Even a year-plus into the new normal, there are some work-from-home days where you'd rather be anywhere but sitting at a desk. Whether I'm outside on my patio, sprawled out in my backyard, or lounging in bed, my laptop and I have spent many work mornings on mini "adventures." After all, variety is the spice of life … and a change of scenery is always the perfect remedy for the occasional writer's block.
Follow Topics for more like this
Follow for more stories like this
Though having a laptop gives me the freedom to work from anywhere, it's not ergonomically friendly without the proper equipment (my neck and wrist cramps were a testament to that!). The universe must have known I needed a WFH miracle when it placed the Sofia + Sam Multi Tasking Memory Foam Lap Desk in my path during a Costco run. With its lightweight padding, convenient wrist rest, and built-in LED light, this convenient lap desk was everything I didn't know I needed.
When it comes to features, this lap desk is equipped with everything that helps me be productive on the go. The 18.5-inch-long surface area provides enough space for my laptop (with room to spare). It also comes with a built-in mouse pad that slides out from the right-hand side of the desk. I don't use a clickable mouse when working, so I appreciate that this compartment doubles as a phone holder. And at 3.5″ thick, the Sofia + Sam lap desk brings my screen closer to eye level, which virtually eliminates my need to slouch in order to see my screen. Winning!
Initially, I worried that resting this desk on my body for long stretches of time might lead to cramps or numbness. Thankfully, I never encountered that problem. As the name suggests, the foundation is made using lightweight memory foam padding that rests comfortably on your legs. No matter where and how I sit, the foam makes my laptop and other electronics feel weightless. Memory foam also graces the desk's wrist rest, providing added comfort during hours of typing.
But my favorite feature of this lap desk has to be the built-in, detachable LED light that makes working in dark spaces actually possible! Whether I'm up late at night reading or burning the midnight oil on a last-minute deadline, this nifty light is plenty bright to see my work but not blinding enough to wake anyone else up. It's also super bendable, so I can turn the light in any direction I need. When I'm not using it, I simply slip it into the slim pouch built into the front of the desk for safekeeping.
If you're more into buying online than making superstore runs, this ergonomic, remote-work-friendly lap desk is also available on Amazon, where tons of other customers love it just as much as I do. "Perfect solution for my need of a mobile work station that accommodates my mouse for graphic design," wrote one impressed reviewer on Amazon, adding that, "no longer needing a mousepad is icing on the cake."
If you're looking to spend more days working from the couch, balcony, or bed (and actually feel productive while doing it), then the Sofia + Sam lap desk might be everything you didn't know you needed, too.