This $2 Hack Makes My Weeknight Meals Feel Like Fancy Restaurant Dinners
We independently select these products—if you buy from one of our links, we may earn a commission. All prices were accurate at the time of publishing.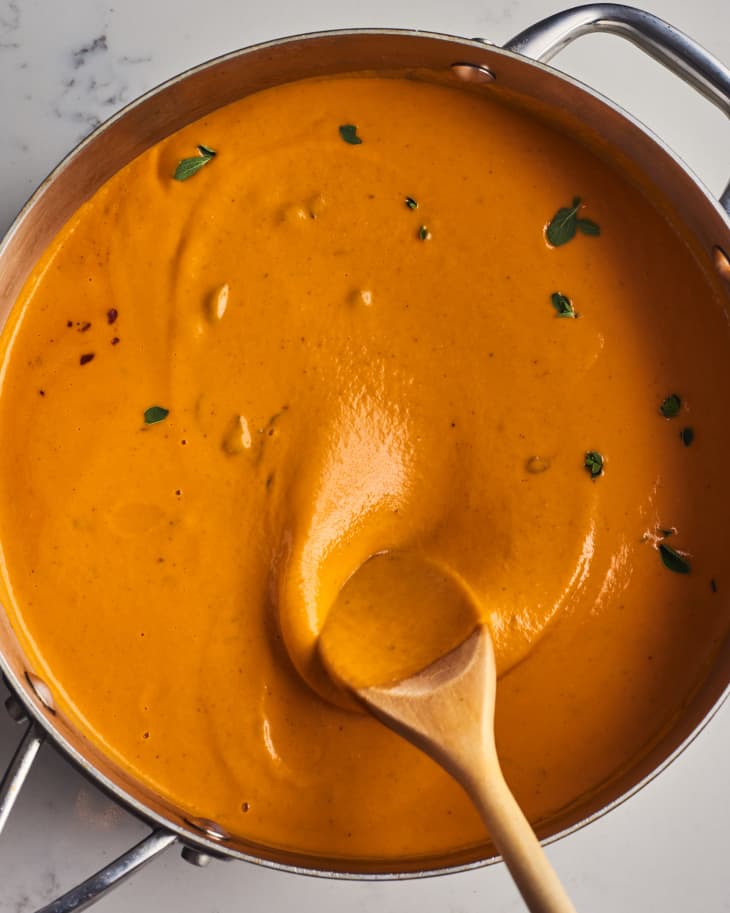 Like most humans with exceptionally good taste, I have a penchant for adorable, mini versions of everyday ingredients and items. Tiny bottle of Tabasco sauce? Must pocket! The mini jars of jam restaurants served with toast? Collection-worthy. And don't get me started on hotel toiletries. And as for the very best mini bottles, if I had to rank them? Well, for me, that title would go to those tiny bottles of booze.
Follow Topics for more like this
Follow for more stories like this
These one-ounce bottles, which I amassed from bachelorette party piñatas, are paired alongside product samples from liquor companies (food writer perks) and a few complimentary in-flight stashes in my cabinet and fridge. I used to save them just because they were so cute. Maybe I'd sip one here or there. Mostly, though, they sat. And then one day I had a realization.
I wanted to cook up a friend's dinner of choice during a visit, which happened to be fusilli with spicy vodka sauce. Buying an entire bottle of vodka didn't seem to make sense. Enter: the doll-size bottle of Skyy that was still miraculously in my suitcase. It was the perfect amount to deglaze the garlic simmering in the pan, and there was no waste or extra expense. 
Back home, this became my go-to trick — using a small bottle of booze to deglaze everything, including roasted meats and sautéed vegetables. And while it sounds fancy, deglazing is merely just adding liquid to a hot pan to release any stuck-on bits. Wine is typical, but my preference to build body and add a rich flavor to a sauce is the hard stuff. It just makes me feel (and the food taste!) like the dish came from a restaurant's kitchen rather than my own.

Read more: How To Make an Easy Pan Sauce in Minutes
Part of the fun, too, has been building my own menu of weeknight dinners. A few of my favorite combos are deglazing caramelized garlic with vodka (the same technique as vodka sauce), using tequila with quick-sautéed veggies or pan-cooked fish fillets, or using whiskey to deglaze a pan after cooking salmon skin-side down or skin-on chicken thighs.
What I like about this little "hack" is that it helps me use the mini bottles I already have on hand. And let's say you're not much of a drinker and don't have a fully stocked bar cart: These mini bottles (they're always available at liquor stores, look for them around the cash register) can step in so you don't have to shell out the cash for a larger bottle, which you'll then have to store for ages.
Do you have a brilliant grocery hack? Tell us in the comments below!