An Eclectic Seaside Cottage Full of Texture & Pattern
We independently select these products—if you buy from one of our links, we may earn a commission. All prices were accurate at the time of publishing.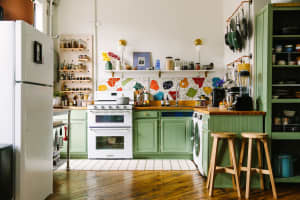 Can't-Miss House Tours Straight to Your Inbox
Keep up with our latest house tours each weekday with our House Tour of the Day newsletter
Name: Vanessa Faye Wurman and her dogs Solomon and The Dude
Location: Jamestown, Rhode Island
Size: 1,300 square feet
Years lived in: 15 years; owned
You don't even have to enter Vanessa's home to know that it's not your typical seaside cottage. Unique bullseye glass details embellish bright green doors and custom-designed bamboo fencing. A horse made of rusty metal tools grazes on the front lawn. The tidy gardens, framed by a single stone arch and a curved brick pathway, are peppered with whimsical planters and sculptures. Impeccable craftsmanship, attention to detail and a fun-loving owner who doesn't restrict herself to a singular style make this small cedar-shingled house shine.
Follow Topics for more like this
Follow for more stories like this
When Vanessa, a real estate developer and designer who owns an equestrian center in rural Rhode Island, purchased the home in 1999, she was enchanted by the privacy and tranquility of the oceanside property. She capitalized on the stunning location with all new landscaping and the addition of outdoor entertaining areas, including a deck with a full-sized dining table, a gazebo with a stone fire pit, and a private dock.
The house itself was nothing special, but Vanessa saw it as an opportunity to design everything exactly the way she wanted it. She gutted it down to the studs and looked to magazines and her world travels for inspiration. "You go to these places and see things you've never seen before. Travel was my education in design," she explains. Some decisions were based on the love of an object; bright blue granite became the starting point for her kitchen. Others were more practical and forward-thinking; pickled grey floors were chosen to hide the dirt that would inevitably be tracked in by her dogs Solomon and The Dude.
Vanessa's furnishings, art and decor reflect a wide range of styles and origin. It doesn't matter if it's antique or modern, traditional or folk; if Vanessa loves it, she incorporates it into her home. Her aesthetic influences span the globe. There are bright Moroccan tiles in the bathroom, carved Mexican cougar heads in the guest room, and teak Tibetan monk statues from Thailand in nearly every corner.
Vanessa's playful and unrestricted approach to homemaking makes her house unique. Tiny plastic figurines from toy stores and vending machines, plus funny pop culture references that appear throughout the house keep the feeling light. "I find my house personally entertaining," says Vanessa. "I just sort of laugh and enjoy. I think that's what a house should be all about."
Apartment Therapy Survey:
Inspiration: Everything. I would describe my house as being a kid in a candy shop who was never told "no."

Favorite Element: My kitchen's "Bahia Azul" blue granite.

Biggest Challenge: Utilizing space; Making the most of a small space with a lot of things! I cleverly used the space I had in the upstairs eaves to build in cabinetry so I did not have to take up space with furniture. I also mounted bookshelves above doorways to store books.

What Friends Say: They are humorously enlightened and discover different artifacts each time they visit.

Biggest Embarrassment: That my downstairs bathroom has a rather large round window, without shades or blinds, that looks out on the back deck. Entertainment when I am entertaining!

Proudest DIY: Although I did not take a hammer and nail to it personally, I designed a trundle bed in the guest room that rolls in and out of the eave, which converts a queen size bed to the size of a small couch, thus opening up the room when the bed is not being utilized.

Biggest Indulgence: Green lacquer Chinese "Altar Coffer" from Bangkok.

Best Advice: Trust your gut and not someone else.

Dream Sources: The world. Most everything in my home was acquired during travel.


Indoors – Benjamin Moore: City Loft
Outdoors – Benjamin Moore: Antique Moss
Antique globe light – New Bedford Antiques Center, MA
Pillows – Anthropologie
White Retro fireplace – Design Within Reach
Ornate coffee table – Richmond Antiques Center, Richmond, RI
Maple Coffee Tables – I believe they came from Crate & Barrel ages ago
Sofa – Room & Board
Wool Poufs – from Sweden, Design Within Reach
Glass dining table – Zero Design, NYC
French wicker chairs – Maison J Gatti, France
Pale yellow Persian rug – Rustigian Rugs, Providence, RI
Fish painting – "Pinball Alchemy," by local artist Jim Baker
Copper dragon gargoyles – Antique shop in Arizona.

Metal bird nest – "Ditarando," by a local coppersmith who makes sculptures of all sizes
Red antique Chinese cabinet – Comina, Providence
Cabinetry – Apex Kitchens & Bath, Middletown, RI
Cabinet hardware – Adlers Hardware, Providence, RI
Carp Wallpaper – Kyureo, Providence/Miami
Tiger wood and mahogany cutting board – Dean Felides, Old Yankee Cutting Boards
Wolf & Sub Zero Appliances – Gil's Appliance – Bristol, RI
Stools – Maison J Gatti, France
Blue granite – "Bahia Azul" from South America, Aldrich Stone in MA
Painting – Jim Damron, an old friend from NYC. It was his first sale in 1992.
Aviator desk – Restoration Hardware
Bill Clinton stacking dolls – A gift from my parents from St. Petersburg
Black & white wool rug – Design Within Reach
White Leather Sofa – Design "Comfort Sleepers," Design Within Reach
Indian pillows – All That Matters, Wakefield, RI
Black & white pencil sketches – My friend's father, RISD professor Robert Judge, drew them in 1969.
Eames chair – Design Within Reach
Antique Chinese wool rug – Purchased from a rug dealer in Montreal. It was made during WWII.
French oak and linen bed – Restoration Hardware
Bedding – The Company Store
Embroidered textile on bed- A scarf my mother gave me; I believe it came from Italy.
Fabric on doors of built-in storage – The Fabric Connection, Newport, RI
Skull lamp – A catalogue of home goods called "Vivre"
Hanging wood carvings – Flea market, Bali
Green lacquer Chinese "Altar Coffer" – The Ashwood Gallery, Bangkok, Thailand
Colorful wool rug – Paul Smith
Custom maple cabinet – Joe Yoffa – Newport, RI
Eastern European glass lights – The Armory Antiques, Newport, RI
Sink – Kohler
Moroccan tiles – Tile store in Westerly, RI
Plastic figurines – The Evolution of Man learning toy set from a children's store. The female Shrek figurine is my addition.
Wool tiger rug – From Tibet, bought at an auction for $100.
Red chest – Purchased at Decorum East (no longer in business) from a friend who was selling Chinese and Indonesian furniture she was importing
Cougar heads – Purchased from an artist in Oaxaca, Mexico before they were decoratively beaded
Bamboo floor mirror – Verdigris, Wakefield, RI
Wall mirror – Antique store, New Bedford, MA
Bed – I designed it. It is a queen bed which rolls into the eave and becomes the size of a small couch when not in use
Pillows – Anthropologie
Artworks – Ink on paper, bought in the South of France at a small art store
Wood carved bookcase – Comina, Providence, RI
Bamboo fencing – Cali Bamboo, California
Bean bag outdoor furniture – Restoration Hardware
Teak Tibetan monk statues – Ashwood Gallery, Bangkok, Thailand
Metal horse sculpture – Fab.com
Landscaping – The original design is by Gates Leighton & Associates. I've added my own plantings over time. Coppa Landscaping maintains the property.
• HOUSE TOUR ARCHIVE: Check out past house tours here.
• Interested in sharing your home with Apartment Therapy? Contact the editors through our House Tour Submission Form.
• Are you a designer/architect/decorator interested in sharing a residential project with Apartment Therapy readers? Contact the editors through our Professional Submission Form.
Updated daily with fresh tours full of photos for you to pin & enjoy!