My Mom Swears by This $10 Product to Remove Any Stain from White Clothes
We independently select these products—if you buy from one of our links, we may earn a commission. All prices were accurate at the time of publishing.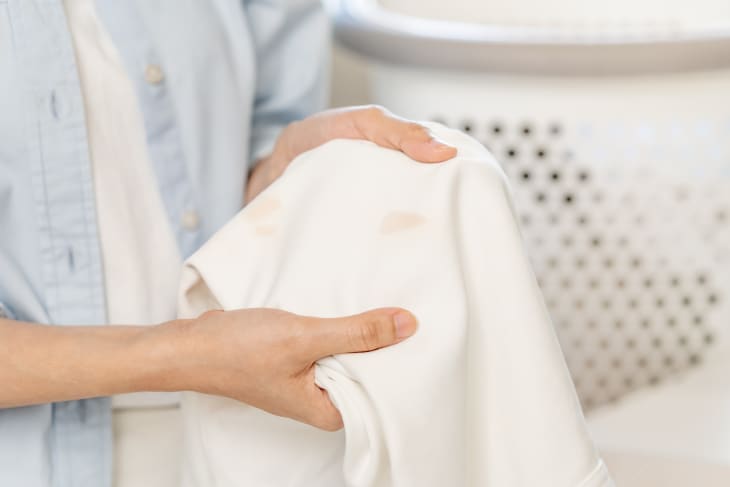 Ask my mom how to get pretty much anything out of a white shirt and I already know that the answer will be: "Have you put some Vanish on it?" My mom swears by this under-$10 stain remover bar to remove blood, tomato, lily pollen, red wine, baby poop, and just about anything else from white shirts and sheets. 
Follow Topics for more like this
Follow for more stories like this
Over the years the texts I've sent my mom asking how to remove stains have changed somewhat, from "Mom, how do I get red wine and salad dressing spills out of my white jeans?" to "Mom, how do I get coffee and baby food stains out of my white sweatshirt?"
And when my husband splattered pizza sauce on his formerly pristine shirt at dinner after our courthouse wedding ceremony, what did my mom use to get it clean in time for our garden-party reception a few days later? Vanish, of course. 
How to Use Vanish as a Pre-Treatment for Stubborn Stains
Whichever Vanish product you use, wait until right before you're about to start the washing machine to pre-treat it. My mom recommends not wetting the item you're cleaning before you put the pre-treatment on (unless using Vanish Fabric Stain Remover Oxi Action Powder), "because wetting changes the color of the fabric and I prefer to see the whole stain on dry fabric." Once you've removed the stain with Vanish and rinsed the product off by hand, just wash and dry your clothes or sheets with your normal laundry. 
You can also use the powder version as a pre-wash soak for stains that are baked in. Use a scoop of the powder in 4 liters of warm water and soak white items for up to six hours, or colored items for an hour.
How to Use the Vanish Stain Remover Bar
This is my mom's preferred method of stain removal. Just wet the bar and rub it into the stain on dry fabric, until it's worked up a lather. Scrub the product into the stain with a small brush (a nail brush or an old toothbrush works), then leave it to work for half an hour. Wash it out by hand and repeat if the stain isn't quite gone after the first treatment.
How to Use Vanish Gold Pre-Treat Stain Remover Power Gel
Squeeze a little gel onto the stain on dry fabric and use the textured nozzle to scrub the gel into the stain. For particularly tough stains, you may need to use a small brush, as with the stain bar. You only need to leave the gel to work for about five minutes before washing it out by hand. Again, repeat if the stain isn't quite gone with the first treatment.
How to Use Vanish Fabric Stain Remover Oxi Action Powder
For the powder, you do need to dampen the item of clothing first, then scoop a little powder onto the stain with some water. My mom does this by eye, but the instructions on the pack call for 1/4 scoop of powder with 3/4 scoop of warm water. Use the back of the scoop to scrub it in, or a small brush if you prefer. Again, leave to rest for about five minutes before rinsing by hand, and repeat for stubborn stains.