Here's How Having a Vanity Helped Me Figure Out What Self-Care Means to Me
We
independently
select these products—if you buy from one of our links, we may earn a commission. All prices were accurate at the time of publishing.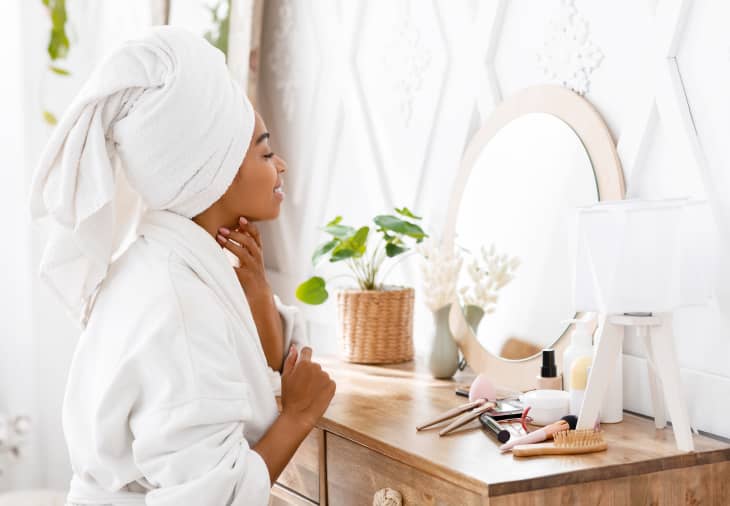 Right before the pandemic, my husband and I moved into an apartment that had a feature I hadn't seen before: a built-in vanity. It instantly made me want to set up all of my makeup and toiletries, as if I were on vacation and not in my home. Little did I know how important that space would be as we entered lockdown. The need to put on a full face of makeup or the desire to put on a cute outfit dwindled, and while it was fun to work from home in pajamas for a few weeks, I began to notice that wearing the same pair of sweatpants for days on end had me feeling down. The one thing that always felt like a small victory, however, was getting ready for the day. And passing by my built-in vanity every morning encouraged me to do so. 
Even though we're not in lockdown anymore, I think about getting ready for the day differently now — it is an essential part of my self-care. Read on to see how this space inspires me to take better care of myself, and how it may help you as well. 
It's a beautiful space to be in. 
The reason my vanity encourages me to get ready for the day is simply because it's a beautiful space I want to be in. Glass bottles of perfume, makeup, and a ring dish adorn the surface of my vanity and they double as decor. I keep the toiletries that are not as pretty to look at in a drawer, and display photos of loved ones as well. Having something special to sit on, like a fluffy stool or a velvet chair can elevate the space even more, and even if I'm not putting on makeup, just sitting at my vanity makes me feel happy, and is a great way to start my day. 
It gives me an intentional space to get ready for the day.
Sure, you can get ready pretty much anywhere in your home. But having one designated spot can make the task more intentional and enjoyable. Looking to romanticize your morning routine? Try sitting at a vanity after you get dressed to brush your hair or spritz your favorite fragrance before heading out the door instead of doing it in your bathroom. The shift is simple, and I've found that it makes the start of my day a little extra special. 
It keeps my bathroom organized.
Instead of having makeup on the bathroom countertops and a hair dryer stuffed underneath the sink, having a vanity means more space for things like extra toilet paper rolls, period products, and cleaning supplies. The bathroom counters can be clear of everything except for a few daily essentials, while the vanity is the place for things like makeup, perfume, hair care products, and nail polish. This keeps clutter in the bathroom to a minimum and keeps stress levels low. It has been proven that clutter can increase stress and anxiety, and having clear bathroom counters can help you breathe a little easier. 
I'm not one to go full-on glam everyday, but passing by my vanity space always reminds me that putting on some jewelry or lip color, just because, is an option. Not to mention, it's fun! Having a vanity to sit at can very easily get me thinking about main character energy, and even if I'm not feeling 100 percent confident, sitting on a velvet stool surrounded by jewelry and makeup gives me a little boost to get through whatever the day has in store.