This Couple DIY Converted a Sprinter Van Into an Incredibly Cool Home-on-Wheels
We independently select these products—if you buy from one of our links, we may earn a commission. All prices were accurate at the time of publishing.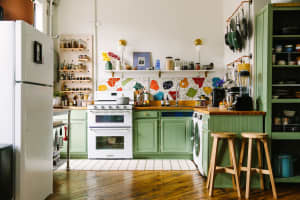 Can't-Miss House Tours Straight to Your Inbox
Keep up with our latest house tours each weekday with our House Tour of the Day newsletter
Name: Jaz and Crystal (with dogs Bella and Izzy) 
Location: We live on the open road 
Size: 92 square feet 
Type of home? Sprinter van – home on wheels 
Years lived in: 1 year, owned
We are Jaz and Crystal, also known as the Vanwives. We are a Canadian couple who travels in our self-converted sprinter van full time with our two Australian Shepherd dogs, Bella and Izzy. We have currently been on the road for the last year and are on route from Canada to Argentina! We are currently in Mexico! 
We bought our van used and spent eight months converting it on our own to a four-season tiny home on wheels. We decided this alternative lifestyle was right for us as we crave adventure and have backpacked many times together and apart. However, when backpacking each year we always had to leave the dogs behind. That's when we decided we would create a lifestyle that included them as they're our whole hearts. We now call the open road our home and seek out new adventures each day! 
Our Style: Our home shows who we are in every way. It reflects our love for the outdoors and the natural world. When touring our home you'll notice we built it from different types of wood. We have sticks on our walls and unique natural decorations. It smells like the forest and of course there are always remnants lingering around from our adventures each day. 

Our inspiration: With our daily hikes in the forest and a dream of living in the trees our inspiration comes from that of a cozy cabin in the woods. Although we had to trade a wood-burning stove for a modern Espar D2 heater to heat our home we managed to bring all the feels you get when sitting around a campfire into our van home. Every time we walk into our home we still feel connected to our outdoor home. 

Favorite element: Our favorite element of our home isn't one you necessary call an element. It's our ever-changing backyard. Opening our doors brings us the most joy as life is to be lived outside. But if we had to pick one element inside of our home it would be the sticks on the wall and home-made decorations, as we crafted these by hand and collected the materials from the woods. The natural world allows Jaz and I to feel alive. 

Biggest indulgence We love to eat and we love to eat fresh and locally grown food. Although we live in a tiny home we built a rustic chicken wire fruit and veggies basket, which is always overflowing with the most tasty produce. Fruits and veggies are by far our biggest indulgence as we eat a plant-based diet. We center our lives around hanging out in the kitchen and getting creative by preparing plant-based meals. 
Proudest DIY: Both Crystal and I had no prior trade experience. Our home itself is our proudest DIY moment, as we built it from a metal box to a fully functional home on wheels. But if we have to narrow it down we would say the electrical system is what we are most proud of accomplishing ourselves. The moment we connected our wires and the LEDs illuminated is a moment we will never forget. 
Biggest challenge: Our biggest challenge was how to make our 92-square-foot home on wheels comfortable and functional for two humans and two dogs. After living the van life for five months we actually did some renovations to make our living space more comfortable for all. When working with such a small space every square inch is prime real estate, therefore you really have to make each area multi-functional. Now that these renovations are done we are all happy and comfortable in our home. 

Best advice: If you're designing, renovating, or building your home the best advice we could give is to take your time and enjoy the process. Do it exactly how you want because it's your home after all. If you want that in-the-counter cooktop you should get it! You want a fridge and a freezer you should get it! Many times we opted out for something different than what we wanted for different reason but there we were five months later incorporating what we should have done in the first place. Make your home yours!