A Vintage-Filled Jersey City Victorian is a Boho Wonderland
We independently select these products—if you buy from one of our links, we may earn a commission. All prices were accurate at the time of publishing.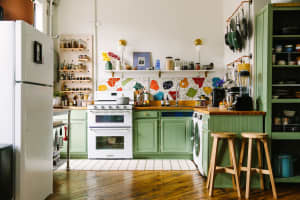 Can't-Miss House Tours Straight to Your Inbox
Keep up with our latest house tours each weekday with our House Tour of the Day newsletter
Name: Joey Meyers, Mark Baehser, and Bridget (Cat)
Location: Lincoln Park Neighborhood of Jersey City
Size: 3,200 square feet
Years lived in: 3 years, owned
It comes as no surprise that the owners of this home, Joey Meyers and Mark Baehser of Ball & Claw Vintage fame, are part of Brooklyn's chicest co-op, Dobbin St. While scouting for vintage finds for their stores in Bushwick and Williamsburg, the couple makes sure to keep the most precious items for their own home improvements. Their 19th-century house is situated in an up-and-coming district in Jersey City, New Jersey, with a homemade patisserie around the corner and old-fashioned delis on every block.
Their eclectic mid-century style combined with the large windows of their Victorian-era home make this space an urban daydream to walk through. Any of their many sunrooms hosts the potential for a comfortable afternoon read or nap. With five bedrooms, four bathrooms, and two busy schedules, the untapped renovations and projects for their home are endless. "We think about breaking down the walls of the top floor all of the time to make one large sun-filled studio," says Joey. "We'll get to it one day." The couple doesn't put any pressure on themselves when it comes to designing their home. Just as they seem to approach life, their home is a beautiful and ever-changing journey.
Apartment Therapy Survey:
Our Style: Mid Century/Eclectic.
Inspiration: We draw most of our inspo through homes on Instagram! It's great to see so many different people's personal styles, their finds, and how they tie it all together in their homes. Some of our go-tos are @a1000xbetter, @liz_kamarul, @carlaypage, and @meneses75 to name a few.
Favorite Element: All of the windows in the home! We love having plants throughout, so all of the windows are a big help. We get tons of natural light, which is great since the winter months here can be long and gloomy.
Biggest Challenge: Our budget! Our house was built in the late 1800s, so there is always something that needs to be repaired, patched, replaced, or painted. Majority of everything we have in the home is thrifted, from estate sales, or Craigslist. Not being financially attached to pieces makes it easy to change up pieces.
What Friends Say: "It looks completely different since I was here last!" Since joining Dobbin St. Co-op (@dobbinstcoop), we tend to swap pieces out around the house a lot. If we find something amazing, we simply swap it for something around the house and the old piece heads to the shop.
Biggest Embarrassment: All of our unfinished projects! We have so many unfinished paint jobs. It's actually a joke when we give someone a tour because we can always show them the "before" color that's still on the wall.
Proudest DIY: We do not DIY (haha).
Biggest Indulgence: The back doors off of the kitchen leading to the backyard were definitely way out of our budget. We tried the standard big box store white door, but since it was at the end of the kitchen it was a total eyesore. We found these at a local salvage yard here in Jersey City.
Best Advice: Take your time! When we first moved in we rushed to fill all of the rooms with some not so great stuff. Over time we figured out how we wanted each room to feel and how we use the spaces. Take the time to find unique pieces you love so that your house feels unique.
Dream Sources: Any and everything from Pop and Scott, especially a sofa!
PAINT & COLORS
Living Room — Sherwin-Williams Modern Grey
Foyer — Sherwin-Williams Relic Bronze
Master Bedroom — Sherwin-Williams Natural Tan
Office — Unknown (Previous owner painted)
Kitchen — Behr Frost
Guest Floor — Behr Frost on Floor and Walls
Guest Bath — Unknown (Previous owner painted)
ENTRY
Turntable/Speakers — Flux Modern
Credenza — Thrifted
Side Tables — Thrifted
Window Bench — Flea market
Lamp — Estate sale
LIVING ROOM
Jute Rug — IKEA
Sofa — Estate sale
Eames Style Lounger — Estate sale
Don Freedman Fiber Art Wall Hanging (Two in living room) — Thrift store
Black Leather Arm Chair — Thrift store
Coffee Table — Flea market
Copper Lamp — Estate sale
Graphic Mirror — Thrift store
Jungle Lady Prints — Estate sale
Franco Albini Ottoman — Estate sale
Spider Plant String Art — Thrift store
Slat Bench — Estate sale
KITCHEN
Kitchen Cabinets — BOBDYN IKEA
Range Hood — Amazon
Range — Blue Star
Fridge — Commercial Kitchenaid (Craigslist)
Farm Sink — IKEA
Butcher Block countertops — IKEA
Large Pendant Lights — eBay, Came out of a 1920s building
Light Over Sink — Etsy
Tall Butler's Cabinet — Craiglist. This piece was rescued out of an older home that was destroyed during hurricane Sandy. We just gave it a fresh coat of paint.
Wood Shelving — They are old bleacher seats from a school that was torn down in Atlantic City. We got the pieces of wood from Recycling the Past and cut them to size. They have cut outs for the bleacher framing and even have kid's initials carved into them.
Kitchen Island — Came out of a 1700s stone house in New Jersey. We built it up to counter height using salvaged legs from another old table.
French Doors — 1920s imported from Barcelona. We got them from Amighini Architectural, local here in Jersey City.
BEDROOM
Bed Frame — IKEA, but got it on Craigslist
Linen Comforter — Target
Teardrop Planter — Thrift store
Nightstand/Dresser — Thrift store
Floor Mirror — IKEA
Woven Bench — Thrift store
Moroccan Rug — Flea market in Arles, France
Lady Portrait — Thrift store
Mid-century Modern Lamps — Estate sale
Skull Sketch — Artist friend sketched for us, Jakob Steensen
OFFICE
Desk — Craigslist
Pair of Orange Mid-century <odern Chairs — Dobbin St Co-op
Kilim Rug — eBay
Side Table — Thrift store
Don Freedman Fiber Art — Craigslist
Floor Lamp — Thrift store
Medical Chart — Vintage shop in Brooklyn
SMALL SITTING ROOM
Mexican Leather Equipale Sofa — Craigslist
Indian Grinder Table — Flea market
Kilim Rug — Estate sale
Rattan Chair — Flea market
Franco Albini Ottoman — Estate sale
Rattan Wall Sconces — Flea market in France
Woven Pendant Light — Flea market in France
GUEST BEDROOM
Bedding — Amazon
Canvas Painting — Flea market
Wicker Tulip Table —Craigslist
Wood Floor Mirror — Mark bought this before we were together in a furniture store in SoHo, not sure where exactly.
Woven Side Table — Thrift store
Circle Mirror — Thrift store
Brass Floor Lamp — Flea market
Sheepskin — Estate sale
Wicker Danny Ho Fong Sling Chairs — Craigslist
Degroot Wood Slat Art — Estate sale
BATHROOM
Shower Curtain — CB2
Wicker Chair — Craigslist
Wood Ladder — Estate sale