See How a Stager Made a Century-Old Row House Feel More Modern (and Cozy)
We
independently
select these products—if you buy from one of our links, we may earn a commission. All prices were accurate at the time of publishing.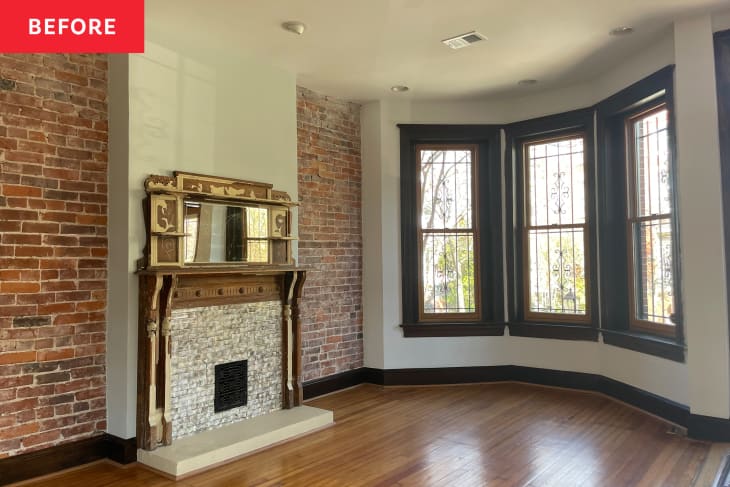 Built in 1908, this Victorian row house in Washington, D.C., was the home of Ms. Jackson, a retired Howard University professor who died at the age of 104 without having laid a finger on the original architecture. But what could have remained an immaculate relic of early 20th-century urban architecture instead fell to developers who demolished the interior before abandoning the project. The house then sat empty for years before being purchased in 2008 by Mark Mueller and Charles Martinez, who weren't intimidated by a big project. 
At that point, with the interior so far from what it had once been, Mueller and Martinez leaned into the unit's incredible light. They kept the floor plan open and the doors glass, with a sweeping iron-and-wood staircase commanding a presence in the main living area. The result was an incredible home that balanced its stately history with an undeniable warmth. When the couple went to sell it recently (14 years later), they brought in real estate agents Renee Peres, Pee Jay Santos and Suzanne DesMarais with Compass, and stager Michelle DeLucia, owner of Sub Urban Staging + Design, to show the 115-year-old, 2,900-square-foot home in its best light.
While staging, particularly in an old home, DeLucia lets the flow of the house and architectural details guide her. "Sometimes I walk into a house and I get a feeling and I know right away how I want it to look and feel. Sounds a little woo woo but homes have a vibe, especially the older homes in D.C.," DeLucia says. "They have so much history and I always want to honor that."
This home bridges new and old, with details like the eye-catching and intricately carved and tiled mantel, the focal-point bay window, and the dark wood trim alongside exposed brick. But it was the warmth of the wood that tied it all together and set the stage for DeLucia's creativity. She didn't think about going in and painting it all white; instead, she embraced its history. "The previous owner had done a lot of work to the home and I wanted to honor their love for the house as well as the historical architectural details," DeLucia says. "I knew the space would speak to someone who would embrace the quirks."
Because of the open floor plan, DeLucia used rugs to delineate spaces and show buyers how they could set up rooms within the home. "I love creating spaces that feel cozy with warm tones, soft textures, and tighter clusters of furniture, so you're in close proximity to others when gathered in the living area in particular," she says. Her recipe for cozy also includes avoiding harsh lines or glass or metal. Instead she opts for comfortable furniture that compels you to curl up, along with softer lines and warm wood accents. She brought in mid-century-modern-inspired silhouettes, like the leather sofa, the rose chairs, and the pedestal tables, lending both clean lines and warmth in the color palette. 
With artful accessories, the space feels like it could be lived in — not just like it's a staging set. "Nothing beats a table lamp to warm things up and make the room feel calm and peaceful," says DeLucia, which is exactly what you want potential buyers to feel when they walk in. 
The house went under contract within days with four offers on the table, all of which escalated six figures over list price. Peres, one of the listing agents, notes that they priced the house at a fair market value knowing the new owners may want to make updates and customizations, but the demand, even in a slowing market, drove the price up. "I think a big part of the six figure escalation was staging, styling, and helping buyers envision how to live in and furnish such a beautiful and unique home," Peres says.