Our Favorite Boozy Advent Calendar is Better Than Ever This Year — and It's Going to Sell Out Fast!
We
independently
select these products—if you buy from one of our links, we may earn a commission. All prices were accurate at the time of publishing.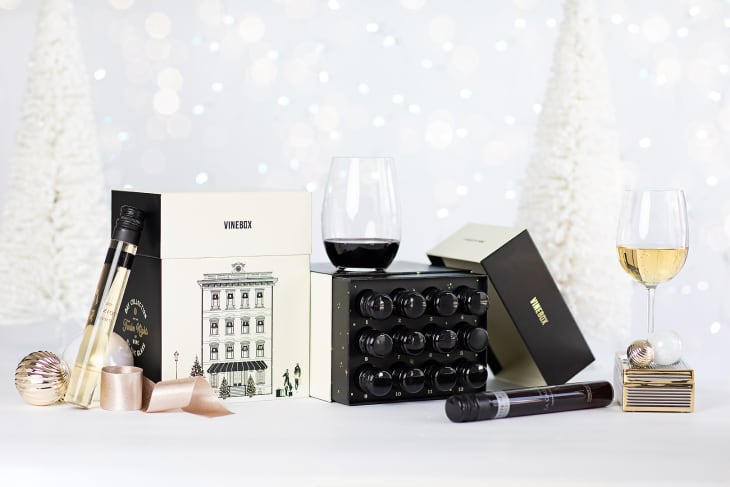 I don't know about you, but I feel like half the fun of the holiday season is the anticipation (and planning) that comes with counting down to the big day. From quirky traditions only your family has, to the increased impulse to linger around the dinner table with friends or have just one more sugar cookie, the holiday season is beloved for the freedom it gives you to indulge in just a bit more fun than usual.
One of my favorite ways to capture the delightful anticipation of the holiday season? An advent calendar. I did them all the time as a child and have continued the tradition now that I have my own child. The only thing I forgot? To actually continue the tradition for myself, too. Luckily, Vinebox is here to save the day.
Truthfully, I can think of nothing more enjoyable than a glass of wine fireside with a bit of holiday music playing, which is why I was so thrilled to hear that Vinebox is releasing its wine advent calendar again this year — only, it's bigger and better than ever. In case you're unfamiliar with Vinebox, here's the gist: The company offers a modern wine tasting experience, selling curated boxes of individual wine "samples" (each is enough for a 100-ml pour) selected by master sommeliers across the world. Their most popular collections include wines themed to locations (like Europe) or meals (such as a steak dinner), though their epic holiday advent calendar is really what gets our hearts thumping.
Launched a few years back to major buzz, Vinebox's 12 Nights of Wine advent calendar continues to sell out faster than you can say "Naughty List," and this year is bound to be no different, even with their expanded offerings. For the first time ever, you can choose from not one, but three different Vinebox advent calendars. The first two, the Holi-Day box and the 'Twas the Night box, each include 12 servings of wine packaged into elegant glass bottles. Though each box will keep you feeling cozy for 12 nights, they vary slightly in their flavor profiles — the Holi-Day box features reds and whites that are a little lighter and crisper, while the 'Twas the Night box incorporates red and white wines that have a richer and bolder appeal.
For those who want to keep the party going the entire month of December, Vinebox has some good news: This year, you can splurge on a 24-night collection of reds and whites that will make for fun celebrations all season long. Featuring 24 different European wines (that's right, no repeats here!), Vinebox's 24 Nights of Wine comes in two boxes, each labeled with a countdown so you can do a fun reveal every evening before twisting the top off your latest treat.
All three collections come with a virtual tasting experience for each wine, led by a certified sommelier, so you'll learn all about the individual flavor notes of each blend, as well as receive pairing suggestions and more. Like what you've sipped? Vinebox can help there, too. They offer an online Bottle Shop where you can snag many of the high-end blends you've enjoyed in your boxes at exclusive prices.
The holiday season may still be a few calendar flips away, but there's no chance this boozy advent calendar lasts until December. In fact, the wine advent calendars are shipping as of this week, allowing you to kick off the holidays a bit early. Snag yours — and bring on the cheer — while you still can!

Buy: Vinebox Wine Advent Calendars, from $129 each