This Expert-Approved Trick Can Make Your Home Look More Expensive Than It Is
We independently select these products—if you buy from one of our links, we may earn a commission. All prices were accurate at the time of publishing.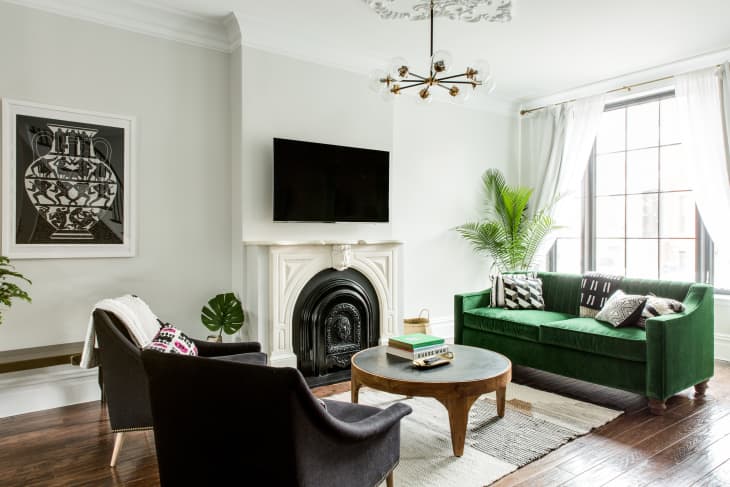 If you're a homeowner (or just a "maybe, someday in the future, I will own a home"-er), you've probably thought about low-lift, high reward ways to increase your property value at least once. A home is the biggest purchase many people make in their lifetime, so maximizing return can be top of mind. But it can feel like the same ROI tips get shared over and over again: start in the kitchen, paint with a neutral palette, plan curb appeal updates that work year-round. So when Clint Robertson, co-owner of Timber and Love and co-host of HGTV's "Boise Boys," dropped a new method for increasing your property value I hadn't heard a million times before in a recent interview, I was all ears.
Follow Topics for more like this
Follow for more stories like this
According to Robertson, installing antique lighting fixtures will not only elevate your home's aesthetic and make it look more expensive and refined, but it can also have that effect on your property value come resale time.
If you're savvy to renovating for property value, you might be thinking, "Aren't you supposed to update old lighting for ROI instead of adding more?" And yes, it is generally recommended to switch out outdated or builder-grade lighting to something more modern. But swapping in vintage interior lighting can invoke the same effect that new lighting has on a buyer because it can add sophistication to a space and make it look more expensive.
"Vintage lighting gives the aura of quality," Robertson says. "Things were just made with higher quality and more artistic value fifty years ago. Often, they were made by hand rather than mass-produced as cheaply as possible."
So, where to find these magical pieces? Head to your local resale shops, Robertson says. You can also scour flea markets, garage sales, and estate sales. If shopping from the comfort of your home is more preferable, check out Etsy. They have a number of shops offering great deals on everything from mid-century-style lamps to geometric chandeliers.
Buying used items means you could get a good return on your investment, since the buy-in will likely not be all that much. Additionally, if a decades-old fixture is still around and working, it's most likely going to be better made than the new lighting models you'd get for the same price. And if you stumble upon an authentic, iconic piece of lighting, that might even turn into a huge selling point once your home goes on the market.
Though there's could be a reward for this strategy, there's some risk, too. Some buyers may be wary of homes with vintage lighting, as they are not as energy-efficient (though many fixtures can be retrofitted for modern LEDs). Additionally, they may be harder to repair as parts and knowledge of these fixtures become scarce over time.
Note: If you're on the buyer side and interested in a home touting one of these vintage design fixtures, make sure to check measures of authenticity so you're not paying extra for a knockoff, says Hayley Heyer, a real estate agent with Compass in Greenwich, Connecticut.
"Many retailers sell inexpensive replicas of iconic designs as well as copies of pieces by high-end brands," Heyer says. "If the source of a fixture is important to you, be sure to verify its origins."
Have you had any vintage home buys pay off? Tell us in the comments!
More great Real Estate reads: