The Best Vintage Travel Trailer Makeovers on Instagram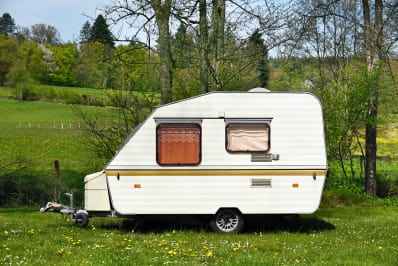 (Image credit: defotoberg/Shutterstock)
Instagram is overflowing with renovated vintage trailers: they're all adorable, and they all have adorable names. Check out the amazing work that's been done on Sprite, Scamp, Rosie, Rubie Jane, Lula, Lorelai, Peach, and 12 others—most of these homes-on-wheels are at least 40 years old, and they all look better than ever.
This minimal beauty is enormous for a trailer, but fairly small for a family of five! The entire space is beautifully unified by its palette of black, white, gray and wood, and Ashley has somehow found room for plenty of pretty, personal touches. Here's a Before shot.
Elyse and Amanda have retained—or recreated—quite a bit of this trailer's vintage charm. The wooden cabinets on the left are original (and in great shape), while the new wood paneling and botanical fabric on the booth seating have a fun, funky '70s vibe (swipe to see the actual '70s look). There are still a few updates to come so check back on Geraldine's progress!
Speaking of amazing original elements—that stove is to-die-for! Here's a glimpse of what the trailer looked like pre-spruce, and here's another view of the glamped-up camper featuring an adorable pup. The turquoise everywhere, inside and out, is so delicious, while the multiple gray elements balance out the brightness.
Black, white, and red is an adorable palette for a vintage trailer! Especially since the exterior is bright white and candy-apple red. The wood ceiling, checked floor, and red booth are all original—swipe through to see how well many elements were preserved, and how the rest were cleverly updated.
The words camper and RV don't often bring to mind images of luxurious sleeping accommodations, but this bedroom is dreamily deluxe. It might even be too inviting—why would anyone want to leave to go explore nature? There aren't any cozy throws out in nature.
Here's another black, white, gray, and wood number, this time with some '70s funkiness. There's even a beaded curtain in the doorway! This is what the dining area looked like before being updated.
All of the white paint and upholstery really add to the feeling of openness in this trailer and do a great job of reflecting natural light. Be sure to swipe to see the different ways that this room can be configured, and here is a good before/after shot.
It's refreshing to see a modern element like this television in one of these vintage campers, but you should definitely also swipe to see the amazing vintage stove and new embossed metal backsplash. The curtain and upholstery choices are spot-on. Check out a Before shot here.
This camper has a great combination of vintage flair and modern restraint. And seeing all the storage is so satisfying! A ton of work was done on this baby, including installing new interior walls.
This adorable trailer is like a time capsule, in the best possible way. Rather than remodel it, its owners smartly chose to fill it with vintage accessories in sweet pastels and patterns that show all of the original finishes off to their best advantage.
The fabulous new fern wallpaper is the perfect companion to all of the vintage details. The play of green, yellow, blue, and mint green is playful and fascinating, but the before was admittedly cool too.
This trailer is so incredibly cozy, filled with personal details, practical features, bright colors, warmth, and life. Check out that irresistibly teeny wood-burning stove!
Tree wallpaper is perfect in a camper, as is the birch-like overhead storage. A family of four travels in this trailer; this appears to be the kids' room. Here are all the photos taken before the trailer was gutted.
This trailer has embraced a classic camp aesthetic, complete with leather, sheepskin, green, and brown. Be sure to swipe through to see more of that outstanding cactus wallpaper plus a few pre-renovation shots.
A skirt to conceal the storage area is in the making, but in the meantime it's always nice to see the less-styled aspects of camper living. The buffalo check is charming and works great with the black and white kitchen.
This renovation is still in progress, but it's headed in a great direction. The birch wallpaper is always a hit, and this partial paint-and-paper job is a great example of preserving whilst updating.
Here's another pressed-tin backsplash, this time in a camper that's been decorated in a super-sweet, minty-fresh style. As in many of these, a restrained palette keeps the decor from overwhelming the small space. Here's a less-than-ideal before photo.
The reupholstery job in this camper is elegant and versatile. Here, the navy-with-white-dots fabric layers perfectly with intriguing patterns and prints for a world-traveling boho vibe, but it could also work well with menswear-inspired bedding and mid-century modern accessories. The wood ceiling has been beautifully maintained.
This little cutie has a ton of charm, and you'll especially appreciate its style once you swipe through to its pre-renovation state.
Alaina has picked the perfect vintage-friendly accessories—the mirror! the bed! the striped wall!—and fabrics for this little darling, and the results are incredibly cheerful. There are no true pre-gut photos, but here's a mid-reno video. Note: Both videos have sound.