This Popular Vitamix Blender Just Got a Pro-Approved Upgrade That Makes Cleaning Easy (and I Can't Stop Using It)
We independently select these products—if you buy from one of our links, we may earn a commission. All prices were accurate at the time of publishing.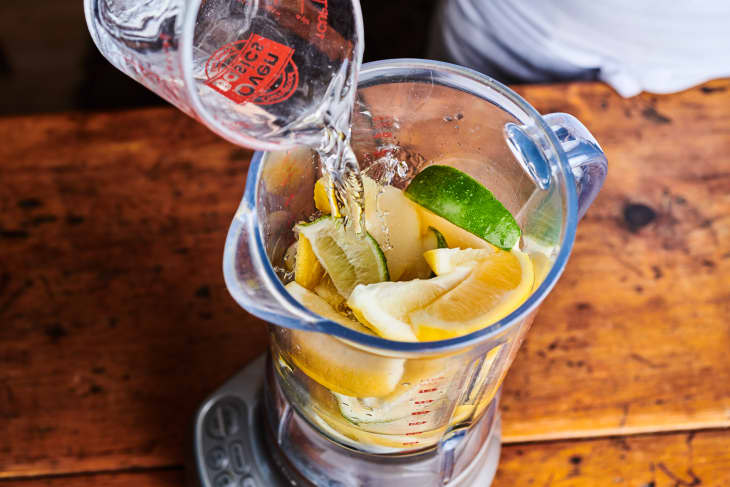 We all know about the Vitamix, either from personal experience or its widespread reputation as a modern legend. I've never owned one, until now, and after getting to put the latest version — the Vitamix Ascent — to the test, I can personally attest that it truly puts the majority of other blenders to shame. Intimidated by the price? Well, I'm about to tell you why you shouldn't be.
First of all, if you're used to the somewhat manual functionality of the OG Vitamix blenders, the Ascent series' interface may take a few uses to get the hang of. That's because the Vitamix Ascent (specifically the 2300 series, the one I tried) has a smart detection system that blends your ingredients evenly by self-adjusting its speed as necessary. Not only does this make for quicker and silkier blends, but it prevents overheating (not great for cold recipes or your blender in general), jamming, clogging, overuse of energy, and the need to start and stop your blends just to scrape down the sides or shake the vessel.
Introduced to me by a personal chef who's usually partial to old-school kitchen tools, the Ascent smart blender "isn't cheating," as he explained, but rather just a tool that elevates your kitchen skills by taking the place of a sous chef. He told me that while the Vitamix does the more labor-intensive tasks of blending and emulsifying, he's able to work smarter and more quickly, reserving his energy for more creative or detail-oriented kitchen tasks, for the benefit of time-sensitive recipes and picky clients (who tend to also be in time crunches themselves).
For me, all I have to do is add my ingredients — whether for savory soups or fruity "nice" cream — and step away while it intuitively speeds up and slows down in order to blend everything evenly without any manual labor on my end. Its LED screen presents a timer, which not only lets me know exactly how long it takes to make my smoothies, soups, ice creams, and nut butters the exact consistency I want, but allows me to set the timer on whatever I'm making so I can be consistent every single time. As a wannabe chef, this is the single most effective kitchen tool when it comes to making me feel like a total pro.
Yes, Vitamix devices are expensive — and this one's no exception. Luckily, it's on sale right now, and it replaces a slew of different kitchen appliances, from ice cream makers and meat grinders to food processors, fondue machines, juicers, nut butter makers, blenders, and more. It also blends at a volume nearly 40 percent quieter than the competition. Basically, the Vitamix Ascent is as professional-grade as a home chef can get at a price like this, and since it's $50 off at the moment, now could be the time to score one for yourself or the serious cook on your holiday gift list.