This $19 Gadget Keeps My Sheets from Balling Up in the Dryer (and Made Me Believe in Miracles!)
We
independently
select these products—if you buy from one of our links, we may earn a commission. All prices were accurate at the time of publishing.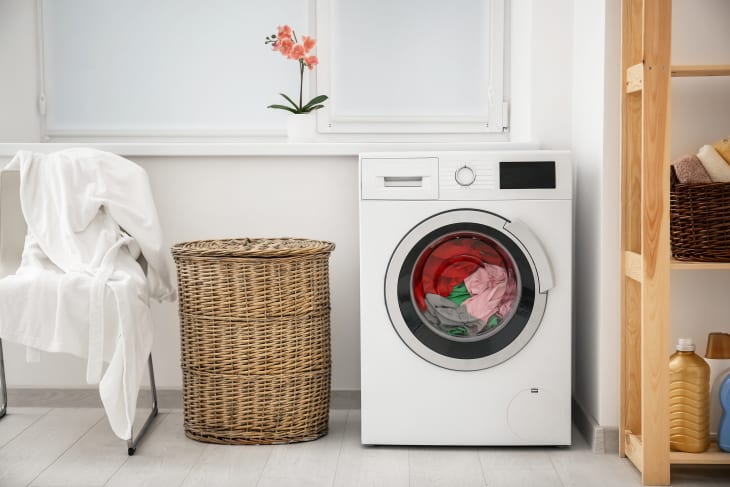 A few weeks ago, I was standing in my building's laundry room waiting for my two dryers to finish up, when that same frustrating thought that's haunted me for years came back into my head: This is such a waste. "This" was referring to the fact that I had to pile most of my laundry into one dryer but give my bedsheets their own dedicated machine for fear that towels, shirts, or any other articles of clothing would get balled up in the sheets and come out a moist mess when the 50 minutes were up. "Why, after all these years," I wondered, "has no one come up with something to prevent things from tangling up?"
Well, m'friends, it turns out someone has! A few days later, I received an email from The Grommet with a subject line that read: Keep sheets from wadding up in the wash. I opened it immediately and discovered the Wad-Free Washer & Dryer Bed Sheet Detangler, a simple gadget that promises to solve this lifelong laundry problem and stop getting my underwear in a twist (literally and figuratively). I ordered it and waited eagerly for it to arrive, as if it were Christmas day. And after actually trying it out, I can assure you that this thing is indeed a miracle worker!
Wad-Free, also available on Amazon, is actually two plastic squares with round, rubbery "button" tabs in each corner. One square is for your fitted sheet, the other is for your flat sheet. To use them, slide each tab button from its corner toward the large round hole near the center, then lower it out. Place a corner of your bed sheet over the button, push it back up into the hole, and slide it into place to secure it. You do this for all four corners of your sheet (for fitted sheets, use the seams near the "corners"). Technically, you can attach your sheets to the Wad-Free squares before you put them in the washing machine, but I only did it before putting them in the dryer, since that's my problem area.
When I first used Wad-Free, I threw a few smaller, lighter items like T-shirts, underwear, and socks into the dryer with my sheets, because I wasn't convinced it would work. But to my pleasant surprise, nothing was caught up inside the sheets when I removed them from the machine. For the second test, I added two bath towels into the mix with similar smaller items, and again, everything remained separated and was completely dry when the dryer stopped. The third time I used Wad-Free was a free-for-all, with a hoodie, towels, and lots of other clothing joining the sheets for a spin. And once again, my bedding did not come out of the machine looking as if it was cradling a bowling ball.
Since then, I haven't experienced any issues with entanglement, so it's safe to say that I'm convinced this little game-changer lives up to its claims. It's great knowing that on days when I'm doing a lighter load of laundry, I can combine everything into one machine without worrying about wadding. Everything comes out dry, fluffy, and ready to be folded. Now if only someone would create a simple gadget to help me out with that.
Buy: Wad-Free Washer & Dryer Bed Sheet Detangler, $18.95 at The Grommet, $18.99 on Amazon