This $35 Find Prevents Blankets and Duvet Covers from Balling Up
We
independently
select these products—if you buy from one of our links, we may earn a commission. All prices were accurate at the time of publishing.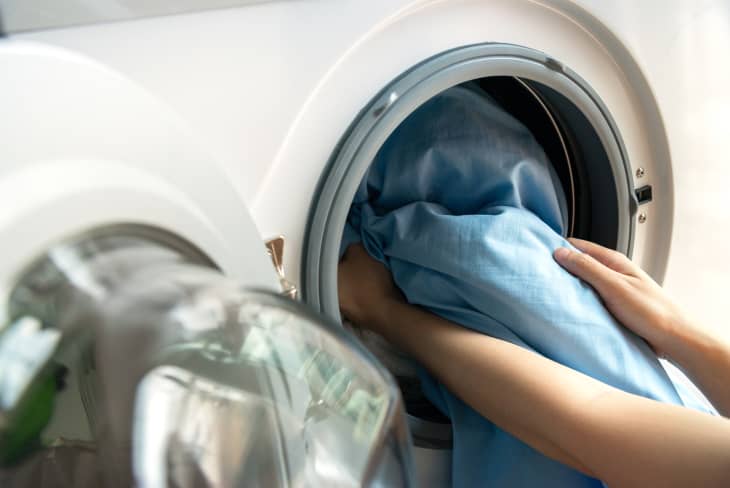 When it comes to household chores, I really don't mind doing the laundry. I'm lucky in that I have my very own washer and dryer, so I can dedicate a day (or however many hours I need) to get things washed and dried while also fitting in other chores while I wait. However, as much as I don't mind doing the laundry overall, I do dread washing one thing in particular: my duvet cover.
While it's typically recommended that you wash your duvet covers weekly, I have often, and unfortunately, found myself skirting that recommendation. I will sometimes push it off simply because it's too difficult to wash. My duvet cover gets incredibly heavy when wet, and when tossed in my top-loading washing machine, it becomes a tornado, wreaking havoc and causing my machine to become off balance. When it's "done," it comes out sopping wet, as it's unable to handle the spin cycle, despite the fact that I select the cycle that's best for heavier loads, like bedding. 
I was at my wit's end, deciding whether it was time to just give up and buy a new duvet cover completely. Fortunately, I found out about a game-changing device called Wad-Free. The original device is intended for bedsheets and lighter products — and it really does work (see what our contributor wrote about it.) But they still didn't have something for heavier items — until now. I got to test out the new Wad-Free for Blankets and Duvet Covers, and lo and behold, it was the answer to my recurring laundry issue. 
If you're a fan of the original Wad-Free, you'll love this heavy-duty one, too. The new device features eight tabs (four more than the original) and is meant for larger items, such as blankets and duvet covers. It also says it can be used for tablecloths or even to hold onto socks so they don't get lost in the wash. 
To use the device, you'll follow similar instructions to the original. First, release the plastic tab and cover the hole with the fabric. Then, with the fabric completely covered, use the tab to poke through the hole in the base. Slide down the tab to secure it. You'll want to do this for each corner of your bedding, as well as the middle edges. Once all the tabs are secured, you will need to fluff or shake out your bedding like a parachute before it goes into our washer. You can see a video here for visual instructions.
Once secured, you can toss it directly into your washer or dryer. For your washer, Wad-Free says to wash on a gentle or delicate cycle to avoid any issues that could arise when washing on a high-spin cycle. Be sure to dry on low or warm heat. Low and slow is the way to go for these larger, heavier loads.
My takeaway is that it has made washing my duvet cover so much easier. It's no longer a tangled mess in my washing machine. Instead, the device prevents it from balling up. The entire experience has left me feeling more empowered and unafraid of washing my duvet cover. Now, I can get back to a regular cleaning schedule of washing it weekly instead of putting it off. 

Buy: Wad-Free for Blankets & Duvet Covers, $34.99