"Wall Tents" Aren't Just for Camping — Here's How You Can Use Them in Your Yard
We independently select these products—if you buy from one of our links, we may earn a commission. All prices were accurate at the time of publishing.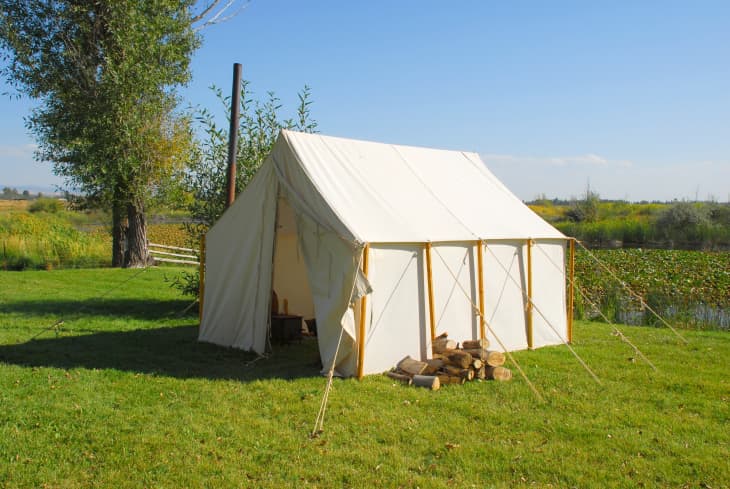 If you've ever watched an old western or a Civil War movie, chances are you've seen a wall tent. Today they're often used for hunting camps because they can be left up for a long period of time and offer better protection from the elements than a regular tent — plus, you can add a wood stove or a propane or electric heater to keep it warm year round.
Follow Topics for more like this
Follow for more stories like this
But wall tents are more versatile than just as a home base for hunting or camping. They can be used as an Accessory Dwelling Unit (ADU) and turned into a home office, makeshift art studio, getaway space, guest room, yoga and meditation room, or even a playroom for kids.
If you're looking for added space but don't want the cost of building an addition on your home or a separate space on your property, a wall tent may be the perfect compromise. You can use a simple set up or get creative like this three-tent home in California complete with various living spaces, an outdoor kitchen, and multiple decks.
A wall tent is a canvas tent with side walls and a roof. It's placed on a frame — either wood or metal — and can rest on the ground or on a more permanent space like a wood platform or concrete slab. The tent is stabilized with guy wires — cords that run diagonally from the tent to the ground and attach to stakes. A fly sheet can also be added over the roof for additional protection from rain.
How do I set up a wall tent?
Wall tent kits often come with a frame, made of aluminum or wood, that includes everything you need to set it up, including the poles, angle kids, base, and tools. Some offer just the canvas with the frame purchased separately. Once the top of the frame and one of the side walls is assembled, you can pull the canvas over the ridgepole, then add the side poles lifting the tent into position. Setting up a wall tent only takes two people and about 30 minutes.
Wall tents come with a floor kit that essentially provides a protective barrier between the ground and the inside of the tent. But for a more permanent feel, you can build a wood platform to raise the tent off of the ground and create a solid floor. You can also build a wood frame and side walls that will support the canvas and form a protected space.
Get inspired with these 3 wall tents.
White Duck Alpha Wall Tent
White Duck Alpha Wall Tents come in different sizes starting at 8 feet by 10 feet and get as large as 16 feet by 24 feet, so you can choose the one that fits your needs. Whether you need a cozy yoga studio or a spacious office, these tents can stand up to harsh weather conditions and are meant to last a lifetime. The windows even allow natural light into the space.
Denver Tent Colorado Wall Tent
Featuring a ridge pole opening with a screen, this tent could serve as a space with views of the outdoors. With an abundance of natural light, this is the perfect place to include plants in the interior design and sip a drink while you watch the sunset. The Colorado Wall Tent from Denver Tent doesn't come with a frame, but you can purchase their couplers and buy conduit pipes from a hardware store to build your own. You can also find aluminum frames online.
Sweetwater Bungalows Sonoma Bungalow Kit
The Sonoma Bungalow Kit from Sweetwater Bungalows creates a semi-permanent structure with a wood frame, enamel slider windows, and a storm door. Meant to accommodate outdoor living, this wall tent can be as simple or complex as you want. This is a more expensive option than other wall tents, but its construction more closely resembles that of a home.