This Wallpaper Collection Is Inspired By Wes Anderson Movies
We independently select these products—if you buy from one of our links, we may earn a commission. All prices were accurate at the time of publishing.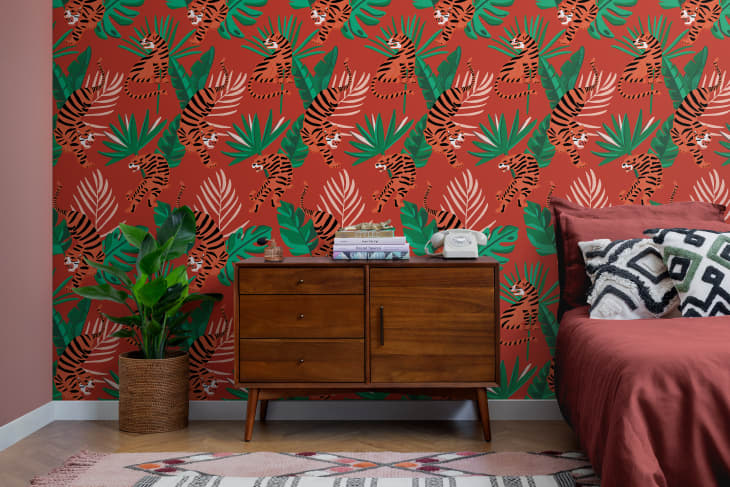 Do you ever wish you could live your life like a Wes Anderson movie? Well, now you can, thanks to Hovia, who is helping fans achieve the Anderson aesthetic this fall with its "Accidentally Wes Anderson" collection.
Back in 2019, the wallpaper company released three eye-popping Wes Anderson-inspired wallpapers, with each playful paper a nod to one of his classic movies. "Suzy", a sleek white paper with a whimsical vintage-style butterfly print, was inspired by 2012's "Moonrise Kingdom". "Agatha", a gorgeous Georgian-inspired blush pink paper, is a nod to "The Grand Budapest Hotel". The third paper to complete the collection: "Margot", a bold and bright tropical print that would not look out of place in "The Royal Tenenbaums".
To celebrate Anderson's latest release, "The French Dispatch", Hovia has put together a dedicated page on their online store to help customers pick their favorite "Accidentally Wes Anderson" styles, including the three 2019 releases, and some fresh, new styles.
Each paper is a fitting homage to the work the director and author has produced so far in his career and perfectly encapsulates the quirky and distinctive style that's found in Anderson's beloved filmography.
Joining the three papers are a selection of styles that have been inspired by the subtle vintage styling and bold color palettes we associate with Wes Anderson's movies. "Gatz" is a sleek style that's perfect for those who are a fan of dark walls. Bringing a glamorous Art Deco feel to any room, "Gatz" features a gold and navy fan repeat pattern.
"Droplet" is a retro-inspired burst of color, and the perfect pick for a stylish mural wall. "Cornelia" is a botanical delight, while "Mahler" and "Henningsen" are celebrations of geometric patterns and mid-century modern style.
All of the Anderson-inspired designs are available to shop via Hovia's online store, with prices starting at $4.40 /ft2.