5 Things You're Doing Wrong When You Wash Your Laundry, According to an Expert
We independently select these products—if you buy from one of our links, we may earn a commission. All prices were accurate at the time of publishing.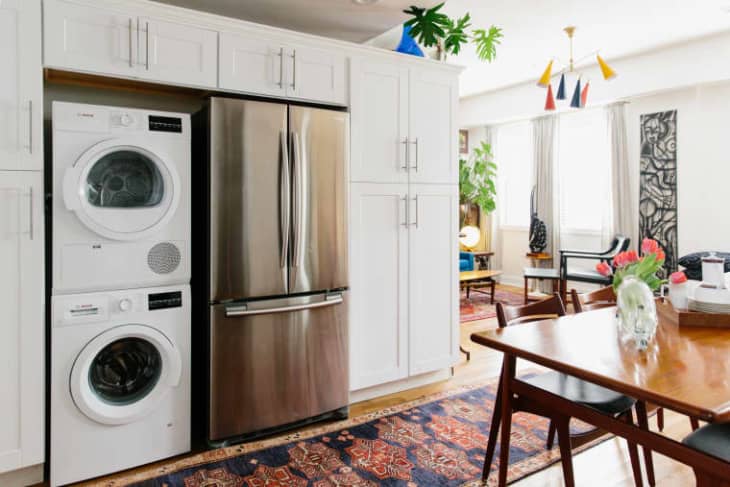 Take a look in your closet. If a garment isn't 100 percent cotton, linen, wool, or bamboo, chances are, it's at least partially synthetic. Synthetic materials like polyester tend to get a bad rap, but laundry expert Patric Richardson, author of Laundry Love: Finding Joy in a Common Chore, says they exist for a great reason. 
Synthetic fabrics, which include polyester, spandex, microfiber, and polar fleece, are man-made to be both durable and stretchy (unlike that cute linen jumpsuit hiding in your closet). One of the best parts about synthetic fabric? It's also super versatile. "Polyester is like cauliflower. You can turn it into anything you want," Richardson says. Activewear, swimsuits, leggings, sports bras, ball gowns, even your microfiber cleaning cloths — they're all synthetic to serve a particular purpose in your life. 
To keep your yoga pants stretchy and your swimsuit absorbent over time, you'll need to follow a few important steps when you wash them — and, just as importantly, you have to know what not to do. Here are some of the most common mistakes people make washing synthetics, according to Richardson. 
Washing Synthetics With Other Clothes
One normal load of laundry probably won't straight-up ruin your polyester gear, but Richardson says to maintain its functionality, it's best to wash your synthetics separate from other laundry. Why? Because synthetics absorb oil (that's a good thing, when you're working out!), normal detergent won't do the trick. In fact, the clothes will probably come out smelly and coated in detergent, which will make them less effective. It's best to run a separate load for your synthetic gear, especially if you want those items to maintain functionality for a technical reason (yoga wear and microfiber, for example).
Using Regular Detergent on Synthetic Fabrics.
Washing Without an Activewear Bag
Putting Synthetics in the Dryer
Another big no-no: Never put synthetic items in the dryer. Richardson says the heat will zap the item's elasticity over time, which kind of defeats the purpose. Plus, synthetic items tend to dry really quickly on their own, so you shouldn't need a dryer's help.
Washing Synthetic Clothes Too Much
Richardson, in general, recommends against washing any clothes too much — wait to throw your stuff in the laundry until it's smelly or you spill something. Too much laundering can cause early wear, and that's especially true for synthetic items. "If your yoga gear is all sweaty from a workout, then it's probably time to wash it," he says. "But if you laid in your yoga pants watching Netflix, definitely rewear it — washing it too much will just promote damage."