8 Big and Little Ways to Save Money After Holiday Shopping Season
We
independently
select these products—if you buy from one of our links, we may earn a commission. All prices were accurate at the time of publishing.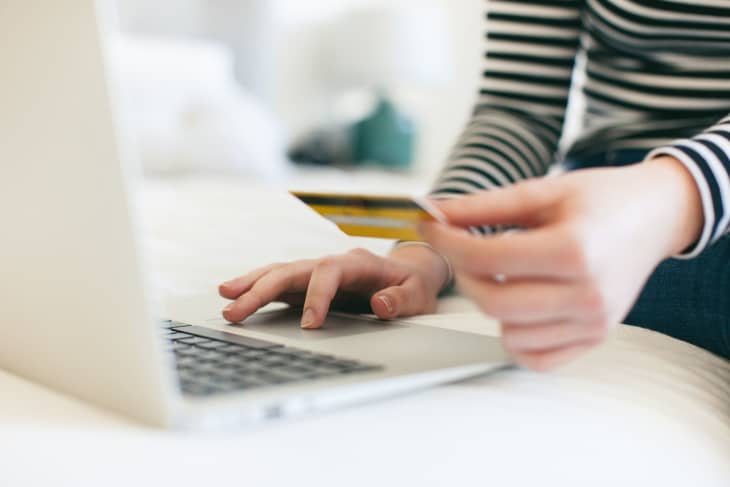 Did you blow your budget on holiday gifts for your friends and family? Been there. Going overboard happens, especially during the season of "buy, buy, buy." (And if you overspent buying yourself gifts, well, been there, too.) 
Once the season is over, the gifts are unwrapped, and the decorations have been put away for next year, it's time to take a look at your finances and see how you can bounce back and beef up your savings balance after being so generous to your loved ones. These tips from finance experts will help you work through the hard stuff and get back on track.
It may not be fun, but taking a good, hard look at your holiday spending and where you overspent or racked up credit card debt is your first step. "Write down your balances across your various credit cards and note the interest charge on each, then make a repayment plan," advises money-saving expert Andrea Woroch. Tracking your progress will help you stay motivated. 
Don't sleep on return windows.
Need to swap out a gift or get your money back for a purchase that didn't work out? Pay attention to the retailer's return policy and hit up the post office or head to the mall to make your return on time, even if the lines are long. "Although it may seem like a ridiculous suggestion, it might free up some of your money," says Levon Galstyan, a CPA at Oak View Law Group. "You can recoup any money you might be wasting on pointless purchases in this way."
If your stocking came full of gift cards for Starbucks, Nordstrom, Amazon, or your favorite local restaurant, use that plastic money wisely. "Don't just blow the gift cards you got during the holidays on frivolous purchases. Think about how you can use them wisely to help your financial situation," says Woroch. "For instance, if you received gift cards to stores you don't shop at or for restaurants you don't really like, consider selling them for cash that can come in more helpful after the holidays to pay down credit cards. Sure, it's not as exciting, but it will go much further in benefiting you in the long run so you can enjoy more excitement later on."
Did you get a bunch of new clothes for the holidays or take advantage of post-holiday sales? Make room for new arrivals and get a little cash for your castoffs, which you can then save or apply to any outstanding balances. "Take this as a chance to go through your house and identify what you no longer want or need," says Kendall Clayborne, certified financial planner at SoFi. "You can sell these items, whether it be a yard sale, Facebook, or even apps like Poshmark, for a bit of extra cash to put toward rebuilding your emergency fund or paying off debts."
Kimberly Palmer, personal finance expert at NerdWallet, suggests revisiting your budget going forward, as well. She recommends using a specific method to get your bank account back to balance: "If it makes sense for you, you can start with the 50/30/20 budget, where half of your take-home pay goes toward needs, 30 percent toward wants, and 20 percent toward any debt payments and savings," she explains. "That last piece — savings — is important as you build an emergency fund and a cushion to reduce the risk of taking on more debt in the future."
Consider a "no spend" month (with some leeway, of course). 
Clayborne says to try your best to not spend outside of necessities for one month — but don't get down on yourself if you slip up and go out with friends, either. "​​Normally, I don't recommend cutting out anything completely because I find it is unsustainable. However, when you know it is for a limited time period, you may find it easier to commit to," she says. "After a big spending event, this could be a good chance to take a spending break. Limit your spending to only the necessities for a month and use the money you would on discretionary expenses to pay off any holiday debt or to rebuild your savings." 
Move credit card balances to save on interest.
If you swiped a little too hard over the holidays and are reeling from the interest, it may be worth moving your credit card balance to a 0 percent APR card, advises Woroch. "Transferring your balances to a new card offering 0 percent interest on balance transfers will give you anywhere from 12 to 21 months to pay off your balances without interest, and this can help you get ahead faster and save a lot of money," she says, adding that you can compare card rates on sites like CardRates.com. 
Spend your holiday bonus responsibly.
If you were lucky enough to get a holiday bonus from your employer or a particularly generous cash gift from a family member, take advantage. "If managed carefully, holiday bonuses and tax returns are two significant lump sums of money that can be used to reduce debt," says Galstyan. "Make sure you make the most of any additional income by applying it to credit card debt or setting aside money for holiday costs the following year. Instead of treating these items as free money to spend, utilize them to reduce debt and improve your credit score to achieve your goals."