7 Things to Do with Used Lemons Before Throwing Them Out
We
independently
select these products—if you buy from one of our links, we may earn a commission. All prices were accurate at the time of publishing.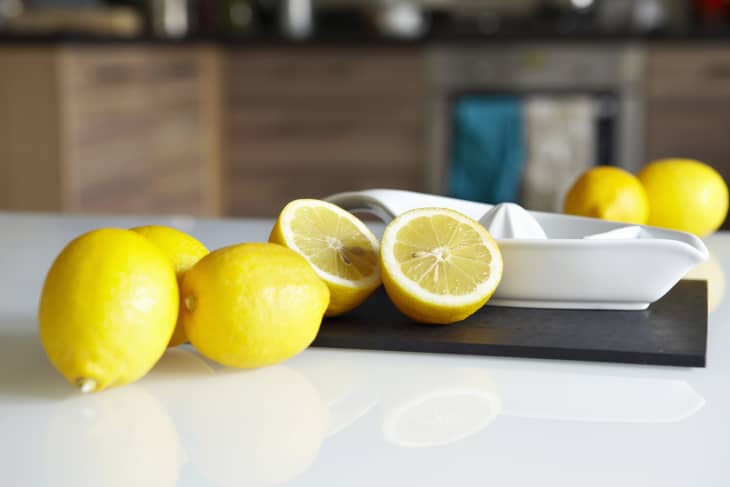 A few years ago, right after my first miscarriage, I planted a Meyer lemon tree. I imagined all the lemon desserts (and drinks) I would be making in two years (which is about how long a grafted tree would take to produce fruit). What I didn't realize was this little dwarf tree — one that I didn't think I fertilized or watered enough — would produce way more lemons than I had recipes (or neighbors) for. 
Then my mom suggested I use the old, shriveled ones — or ones that I had squeezed dry — to clean my in-sink garbage disposal. She told me to slice or cut them up, drop them into the drain, and grind them up. I can honestly say my sink never smelled better.
Now that my tree is blossoming — lemons will ripen anywhere between four and 12 months after flowering, with the primary harvest season running from late winter to early summer, which is now — I've compiled a list of things I can do with my spent lemons, just before I toss them into my compost bin. 
My microwave is probably the most-used appliance in my kitchen, and I rarely clean it. A friend told me about a simple way to clean my microwave that involves, yes, lemons. Slice a lemon — even an old or used one is fine — and put the pieces in a bowl of water with a few tablespoons of white vinegar. Place the bowl in the microwave and let it heat on high for about five to 10 minutes. Once it stops, let the bowl stand for another five minutes so that the heat can stay in the microwave and steam the inside. Open the microwave, remove the bowl — be careful, it's hot — and wipe down the insides with a damp cloth or paper towel.
Clean (not sanitize) your cutting board.
The method of using lemon and baking soda to clean wooden cutting boards has made the rounds on TikTok — and it really does work. Here's what to do: Generously sprinkle baking soda on the cutting board — wooden or plastic — and squeeze lemons over the baking soda until it starts bubbling. Using the cut side of the lemon, scrub the cutting board to remove food stains and smells. Rinse and dry with a towel. (For stubborn stains, let everything sit overnight before rinsing with water.) According to The American Cleaning Institute, lemons (really citric acid) break down stains that soap alone won't remove. Baking soda provides the grit for scrubbing and absorbs odors. But the combination of lemon juice and baking soda won't disinfect; for that, use hot, soapy water.
Who doesn't love the smell of lemons? Once you've squeezed the juices out, put them in a bowl, cut-side up, and place them in your fridge. It'll freshen up your fridge in hours.
Keep cats out of your garden and houseplants.
Cats are not fans of anything citrus, including lemons — but they are fans of digging up your grow beds and pots. Spread lemon (or orange) peels in your garden or houseplants — you can store rinds in the freezer to use later, too. Or make a solution of lemon juice diluted with water to spray on the leaves of your plants. The citrus scent will deter squirrels, too. Because scents fade quickly, you'll have to reapply often.
Clean copper pots and shine chrome fixtures.
Cut a lemon in half and rub the cut side with salt. Then clean metal pots and chrome fixtures in your kitchen and bathroom (faucets, drains, sinks) with the salt-lined lemon, rinse with hot water, and dry well. The slightly abrasive solution can also remove tarnished spots.
Ever noticed how the plastic container with your blender gets a little cloudy? Drop a lemon, a sprinkle of baking soda, and a few drops of dishwashing soap into the blender. Fill it halfway with hot water. Then blend on high speed until the liquid is light yellow and foamy. Rinse well.
Designer Joanna Gaines shared her simmer pot recipe on her blog, and it's an easy way to make your home smell like spring. On the stovetop, bring a few cups of water to a simmer. Add two sprigs of fresh rosemary, a tablespoon of dried lavender, two to three lemon slices (or just the peels), and a few drops of lavender and rose essential oils. Turn the heat to low and allow the pot to simmer for a few hours, checking on it periodically. Just remember not to drink it.