We Belong Here: Transforming Your Home Into a Place of Healing
We independently select these products—if you buy from one of our links, we may earn a commission. All prices were accurate at the time of publishing.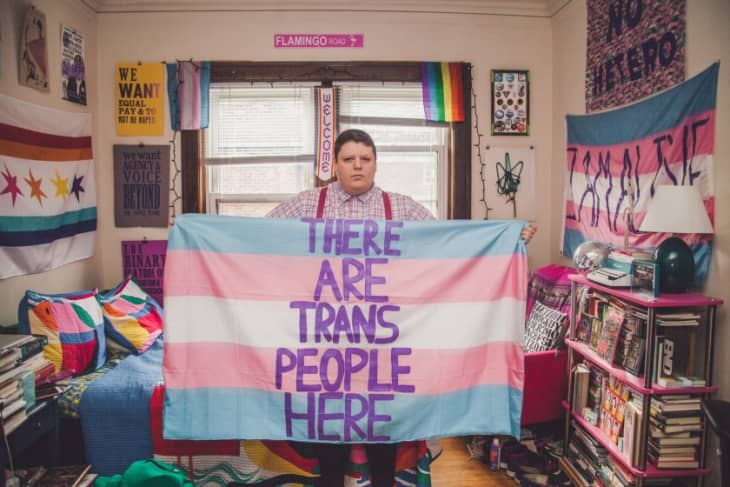 My home is a refuge. It's the place where I feel most safe as a queer and trans person living in America. It's the place where I have the most control over who I interact with, what I'm surrounded by, and the overall feeling. However, my home is not exempt from all interactions with the outside world. I rent an apartment, interact with maintenance staff, my landlord, and neighbors. While I try to protect my home as much as possible (and by extension, myself), I've learned over the past few years that even our most personal spaces can be intruded on. That's why I exert a lot of time and effort to transform my home into a beautiful space where I feel validated, supported and loved, even when I'm alone in my studio apartment.  
Follow Topics for more like this
Follow for more stories like this
In my previous living space, I experienced discrimination from my landlord that made me feel unsafe in my own home. In addition, I was a tenant who lived in the building for several years and paid significantly less than "market value" for where I was living. I was two blocks from Lake Michigan, near many transportation options, and in close proximity to grocery stores and restaurants. I loved my apartment and my neighborhood. But my landlord didn't appreciate my presence. They always raised the rent and clearly wanted to turn over the apartment to charge more money for it. I was constantly misgendered, deadnamed, and intimidated by staff.
When I notified them that I was moving out, I received a letter that told me some items in my apartment "may not be 'suitable for viewing' by the public at-large, especially any minor children which would possibly accompany their parents." The subtext here was obvious to me—they didn't believe that a visibly queer and trans space was acceptable or marketable to potential tenants. They wanted to erase me and sanitize the apartment by scrubbing clean any signifiers of queerness from my home.  
When I looked for a new apartment, I prioritized finding a place that was queer and trans friendly. When a potential landlord made disturbing comments about queer people while showing me an apartment, I knew that was not the right place for me. I moved into an apartment where queer people I knew lived downstairs. I moved into an enchanting courtyard brick building where I passed trees, benches, and plants when I walked in my front door. While the apartment I moved into was physically smaller than my previous one, the room it allowed me to breathe and grow was transformative. I no longer felt suffocated when I came home. I moved down the street from friends. I moved very close to my job. I minimized the time I spent interacting with outsiders by making the people and spaces where I felt comfortable closer to me. 
The inside of my home is filled with reminders that I am not alone. It is filled with books, posters, textiles, and items that remind me of my right to exist and of my history. Much of the artwork in my apartment is made by people I know. Some of it I purchased, but much of it was gifted to me from friends or the artists themselves. A lot of my art is text-based and contains trans affirming language such as "THERE ARE TRANS PEOPLE HERE" and "TRANS FOR TRANS." I wake up to a giant trans flag that reads "I AM ALIVE" and a pink banner that reads "THEY."
I'm surrounded by portraiture of queer and trans activists like Marsha P. Johnson, Miss Major, and Jennicet Gutiérrez from Micah Bazant's Trans Life & Liberation Art Series. Posters of Audre Lorde and Bayard Rustin from Justeeds' Celebrate People's History project hang above my bed. On top of my poetry bookshelf sits a painting by Shira Erlichman of poets Morgan Parker and Angel Nafis holding hands in Italy. I've incorporated many local items into my collection like a poster by Molly Costello that reads "WE WERE BUILT FOR THIS," a portrait of Gwendolyn Brooks, and posters commemorating local events I've attended like Chicago Zine Fest and Dyke March Chicago. 
All of this reminds me that I can create the world I want to live in. I do live in it, every day. Pouring my energy into my relatively small space has made me realize the impacts I can have outside of my own home. It is possible to transform our lives by making our interior spaces visually attractive, physically comfortable, and filled with affirming messages. I love inviting friends over to my apartment for the first time, showing them around and seeing their reactions.
When I welcome people into my home, I want them to feel at home too. There are so many places in the world where I haven't felt at home. The sad reality is that queer and trans people are often kicked out of their homes, experience them as sites of violence, and are forced to leave. In my own way, I fight against this idea that queer and trans people don't have a home or belong in the world by making my apartment welcoming. It's healing for me to come home. 
H. Melt is a poet, artist, and trans activist. Their poetry collection "On My Way to Liberation" was published in 2018.