One Thing You Need to Clean Before You Host Anyone This Season
We
independently
select these products—if you buy from one of our links, we may earn a commission. All prices were accurate at the time of publishing.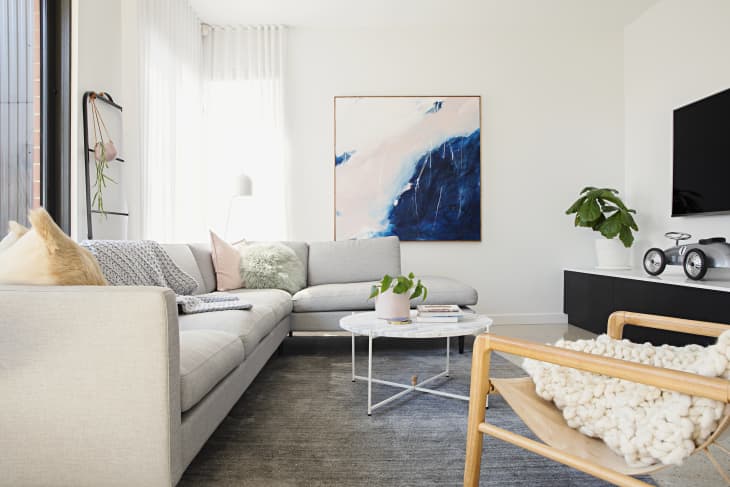 Apartment Therapy Weekend Projects is a guided program designed to help you get the happy, healthy home you've always wanted, one weekend at a time. Sign up now for email updates so you never miss a lesson.
You know what'll make your heart stop when you have guests over? Realizing you need to move your couch or the heavy armchair. Who knows what dust bunnies, toys, or money will be unearthed! But one thing that will certainly come to light is the fact that, despite your best intentions, you don't often move your furniture to vacuum.
I was looking for something recently and checked under the couch to see if it had slipped underneath. It hadn't… but wow, what a graveyard of gross stuff I found. And it's all still sitting there as I write this piece telling you to go clean under your furniture.
So I'm going to go clear it out right now.

I'll be right back…
OK, I'm back and here's what was under there: a popsicle stick, a bunch of blocks, Jenga pieces, green army men, a couple bouncy balls, a few LEGO pieces, a fish from a toy fishing set, a plastic cup the dog chewed, a whole roll of blue painter's tape (I was looking for that!), and a bunch of dust bunnies.
What will you find under yours? Let's find out.
This Weekend: Clean under your furniture.
The gold standard of cleaning under your furniture involves moving it completely out of the way. Do this for whatever pieces you can manage. But one of your reasons for not moving your furniture to clean underneath is probably that it's hard to move. So move whatever you can, but if you can't, there are other ways.
If you do move your furniture, begin cleaning by sweeping up the big stuff. Set it aside and then clean the floor with a vacuum cleaner and possibly a mop, depending on the type of material your floor is. Next, separate the "keeps" from the dirt. Put away the quarters and the toy pieces, and toss the gum wrappers and dust bunnies.
If you can't move your furniture, get out a yardstick or a broom or something similar you can slide under your furniture to push all the junk out. You'll need to get down on the floor to make sure you've gotten it all. Once it's all out, clean the floor underneath the furniture with a low-profile vacuum cleaner or a low-profile dry microfiber mop. Follow with a slightly damp mop if it's a hard floor.
You can catch up with weekend projects right here. Share your progress with us and others by posting updates and photos on Instagram and Twitter with the hashtag #atweekendproject.
Remember: This is about improvement, not perfection. Each week you can either choose to work on the assignment we've sent you, or tackle another project you've been meaning to get to. It's also completely okay to skip a weekend if you're busy or not feeling the assignment.