One Quick Way to Make Your Kitchen and Bathroom Look Less Visually Cluttered
We
independently
select these products—if you buy from one of our links, we may earn a commission. All prices were accurate at the time of publishing.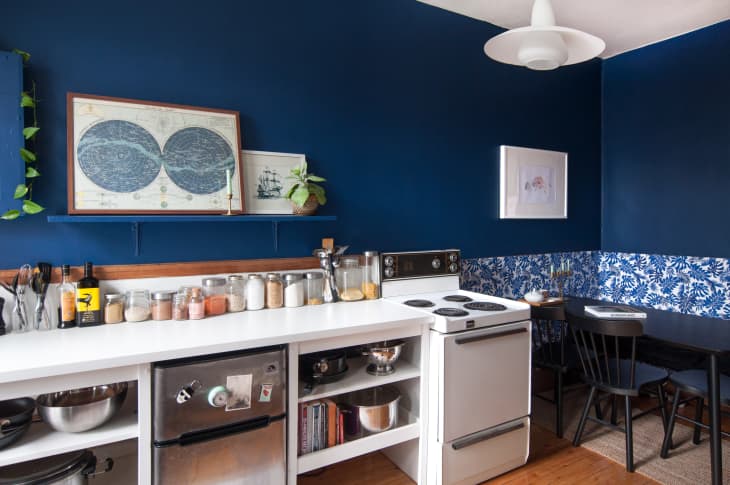 Apartment Therapy Weekend Projects is a guided program designed to help you get the happy, healthy home you've always wanted, one weekend at a time. Sign up now for email updates so you never miss a lesson.
After thirteen years of marriage, my husband and I have mostly figured out what works for us as far as the division of labor involved in household tasks. We've developed a pleasant rhythm and, most of the time, it works.
While my husband is satisfied with getting the big jobs done, I tend to focus more on the details—and how they fit into the whole of a house that runs smoothly. As a result, I admit I have a lot of rules. (Only chop on this counter, never leave trash in the garbage can until the next day, open the shower curtain all the way after giving the kids a bath so it can dry, straighten out the towels when you're done, and on and on.)
I'm extremely visual and sensitive to my surroundings and much of what I do naturally around the house has to do with maintaining aesthetic order for my peace of mind.
This weekend's project is quick, simple, and doesn't require any thought. But it will make an instant difference in the feel of your cabinets and shelves all over the house. Even if you don't count yourself among those who are picky about the look of spaces that no one outside of your household sees, you might be surprised at how much you enjoy the end result.
This Weekend: Clear out extra packaging.
The kind of packaging I'm talking about eliminating here is that extra packaging that often gets stored with the items you keep on hand. This includes the torn plastic that holds your extra rolls of toilet paper together under the bathroom sink, the ripped-open box of diced tomatoes, and so on.
Grab a trash bag or your recycling bin and go space by space around your home clearing out this extra packaging. If the box your items came in is needed to corral your items, keep it, but neaten it up by removing unsightly torn edges or folding them into the box so they aren't flapping around.
What you're actually doing is getting hidden trash out of your home. In addition, when you go to grab that fresh roll of paper towels to clean up the mess from the gravy jar your toddler knocked out of the fridge, you won't have to wrestle with plastic packaging during an already stressful moment. Removing extra packaging is a no-brainer, low-fuss way to infuse order and efficiency into every storage space at home.
You can catch up with weekend projects right here. Share your progress with us and others by posting updates and photos on Instagram and Twitter with the hashtag #atweekendproject.
Remember: This is about improvement, not perfection. Each week you can either choose to work on the assignment we've sent you, or tackle another project you've been meaning to get to. It's also completely okay to skip a weekend if you're busy or not feeling the assignment.