The Once-in-a-While Cleaning Task You Can't Skip if You're a Coffee Drinker
We
independently
select these products—if you buy from one of our links, we may earn a commission. All prices were accurate at the time of publishing.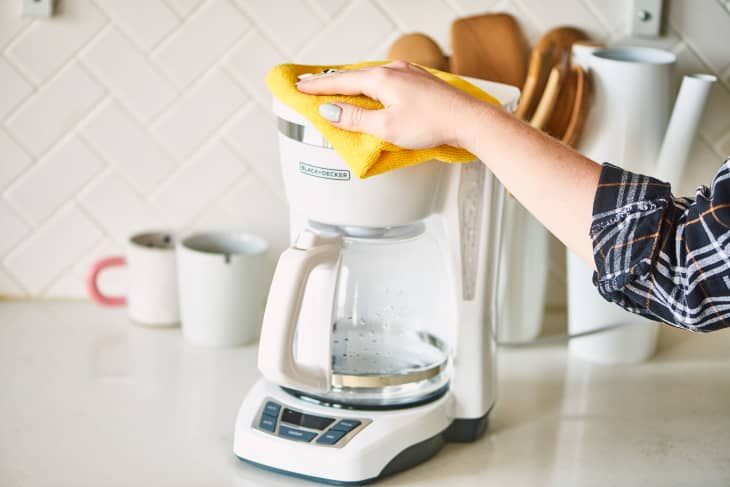 Apartment Therapy Weekend Projects is a guided program designed to help you get the happy, healthy home you've always wanted, one weekend at a time. Sign up now for email updates so you never miss a lesson.
If I had to pick the small household appliance I feel most grateful for, it'd have to be my trusty coffee maker. Day after day, it serves up a perfectly percolated brew that wakes me up, starts my day, and marks one of my favorite morning rituals.
But I'm a little frightened of coffee makers, too, to be honest. I'm scarred for life by an office coffee maker at an old job—my co-worker found an intrusion of cockroaches (a group of cockroaches is called an intrusion; how perfect, right?) living in it, and I'd been drinking out of it for months!
While cockroaches in the coffee maker aren't necessarily a frequent occurrence, coffee makers—like any warm, moist environment with a steady stream of food—can harbor mold and bacteria. In addition, hard water can create a buildup of mineral deposits, which can alter the taste of your coffee and cause your unit to malfunction. (Machines that drip more slowly than they used to, or makers that leak, signal a build up of minerals.) If your coffee starts to look or taste different, it's a good sign it's time to give it a clean-out.
As awful as these coffee maker troubles are, the fix is simple and all you need is distilled white vinegar. This weekend you're going to take care of the small appliance that takes such good care of you.
This Weekend: Run vinegar through your coffee maker.
To clean your coffee maker of built-up oils, hard water deposits, and anything else you don't want to hit your mug, run a cycle of vinegar water through your unit.
Check your unit's manual (you can find it online if you don't have a physical copy) to see if there are any special instructions, but in general, the process for using vinegar to clean your coffee maker is the same for most machines:
Empty out and clean your carafe and filter basket.
Fill your carafe with a half water, half vinegar solution and pour this into your water reservoir.
Start a brew cycle and stop it half way through.
Allow the vinegar to sit in the machine for half an hour to an hour.
Run the rest of the cycle, discard your solution, rinse your carafe and you're done!
You can catch up with weekend projects right here. Share your progress with us and others by posting updates and photos on Instagram and Twitter with the hashtag #atweekendproject.
Remember: This is about improvement, not perfection. Each week you can either choose to work on the assignment we've sent you, or tackle another project you've been meaning to get to. It's also completely okay to skip a weekend if you're busy or not feeling the assignment.