A Quick Curb-Appeal Refresh You Can Tackle in One Weekend for $20 or Less
We independently select these products—if you buy from one of our links, we may earn a commission. All prices were accurate at the time of publishing.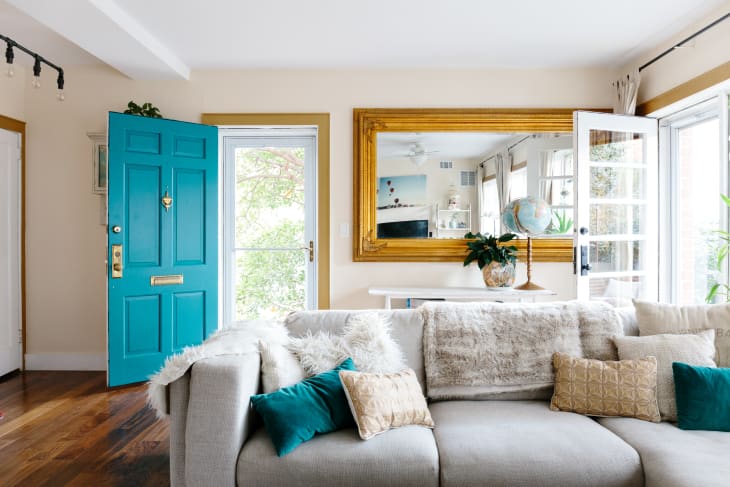 Apartment Therapy Weekend Projects is a guided program designed to help you get the happy, healthy home you've always wanted, one weekend at a time. Sign up now for email updates so you never miss a lesson.
Your front door is like your home's smile. It's the thing that says "welcome" not only to guests who visit but to you, too. Even if you typically enter your house through a side door or the garage, your front door greets you each time you pull up to your house and it should make you feel good.
Follow Topics for more like this
Follow for more stories like this
When you're craving a curbside refresh (and you really might be at this time of year and this moment in the pandemic), paying attention to your front door goes a really long way. And it's so much simpler than, say, re-doing the landscaping, which is what always pops into my mind whenever anyone mentions curb appeal.
Concentrating your efforts on one relatively small rectangle of space isn't only straightforward; it's also cost effective. A front door refresh costs little more than the cost of a quart of paint and maybe some new painting tools and primer.
This weekend we're going to love our homes by giving our front doors some much-needed attention.
This Weekend: Paint your front door. (Or give it a good cleaning!)
Picking a new, fresh color for your front door feels like a new beginning. Browse online for some colorful door inspiration and pick up a few paint swatches to tape up on the door itself. Once you've decided on a color, you can get to work. A quart of paint should do it, and only cost around $20 or less.
You could opt to remove the door, but if that seems like too much, you can still paint it while it's on. The advantage of this is that you can paint both sides without waiting for one side to dry. Tape off windows and remove hardware before painting.
If you're changing colors, use a primer before you use your chosen color. Remember that even if you don't change colors, re-painting your door will make it fresh and bright. Before doing any painting, clean your door thoroughly, sand it lightly, and then wipe it down to get all the sanding dust off. Priming with a roller is fine, but painting your color with a brush will give it a nice hand-painted look.
Even if you don't want to paint your front door, giving it a thorough cleaning is a low-lift option with a similar fresh-feeling impact that will make the experience of coming home even sweeter.
You can catch up with weekend projects right here. Share your progress with us and others by posting updates and photos on Instagram and Twitter with the hashtag #atweekendproject.
Remember: This is about improvement, not perfection. Each week you can either choose to work on the assignment we've sent you, or tackle another project you've been meaning to get to. It's also completely okay to skip a weekend if you're busy or not feeling the assignment.