A Good Day Starts With a Good Morning — And Maybe at Least One Practice Run
We independently select these products—if you buy from one of our links, we may earn a commission. All prices were accurate at the time of publishing.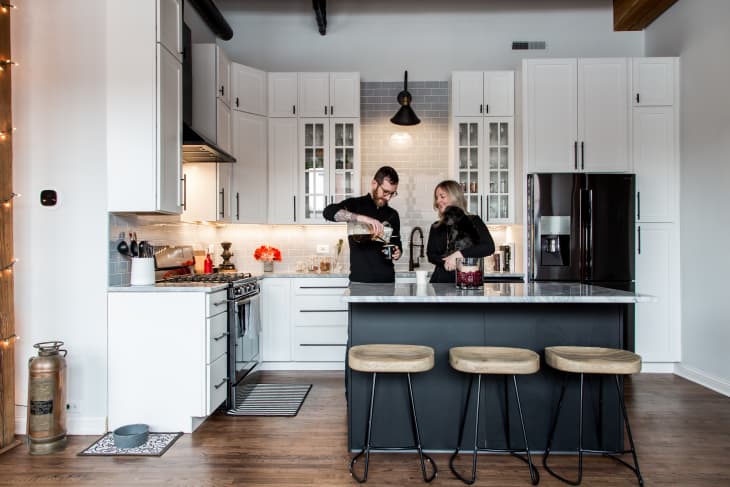 Apartment Therapy Weekend Projects is a guided program designed to help you get the happy, healthy home you've always wanted, one weekend at a time. Sign up now for email updates so you never miss a lesson.
Life has been anything but predictable for quite a while now. And I'll tell you what, this back-to-school season is starting off looking far, far different from what I imagined. But whether it looks like what I hoped for or not, change is around the corner in one way or another. A new season is upon us, bringing that new-start energy with it.
Along with this new season in particular comes the end of the most carefree one, summer, sprinkled with holidays and vacations and a more laid-back attitude in general. Now it's time to buckle down and settle in to busy, productive, more routine days.
Many of you might find the change is welcome and the return to a rhythm soothing. Habits and rituals keep you grounded in the day-to-day and help each one run smoothly. One key to good days, as far as it can depend on you, is setting yourself up for good mornings.
This weekend, you're going to take some time to think about your morning routine and make it a purposeful part of a well-planned start to the day.
This Weekend: Prepare to reset your morning routine.
Maybe you have a schooldays morning routine that's served you well for years. Maybe you long for mornings that are less harried. Or maybe you know that making the best use of your morning time will impact the entire rest of your day. No matter your situation, preparing yourself for success in the mornings is an investment in how the rest of your day unfolds.
Here are some possible morning routine areas to contemplate:
Are there things you should set out the night before? For instance, you might consider putting your purse and car keys by the door or setting out your entire outfit, down to shoes and accessories, the night before because it's too much decision-making too early in the day. Doing this for your kids or having them do it can also be a game-changer. They can make their lunches the night before and put their shoes and backpacks near the door as well.
Do you need to get up earlier? If you consistently find yourself running late or needing to rush, reconsider whether you need more time in the morning. Another reason you may wish to get up earlier is to have some time alone before the rest of the house wakes up, or to have some time to do chores you'd rather not do later, such as prepping food for dinner. Of course, being able to get up earlier starts with what time you go to bed the night before. Take all these moving parts into account as you consider your morning routine and remember that a gradual switch is less jarring than shifting your sleeping and waking hours abruptly.
Should you do some practice runs? Before you have to get up earlier and make lunches and pack your computer bag or get all your kids in shoes and backpacks, consider practicing a few times. Even if your dry run isn't down to the clothes, at least start getting everyone on a good wakeup schedule and see if you can have breakfast made by a certain time. Implementing some changes incrementally will help you tweak your morning routine and make your transition smoother.
You can catch up with weekend projects right here. Share your progress with us and others by posting updates and photos on Instagram and Twitter with the hashtag #atweekendproject.
Remember: This is about improvement, not perfection. Each week you can either choose to work on the assignment we've sent you, or tackle another project you've been meaning to get to. It's also completely okay to skip a weekend if you're busy or not feeling the assignment.