This Has to Be the Easiest, Fastest Way to Elevate Your Home With Paint
We independently select these products—if you buy from one of our links, we may earn a commission. All prices were accurate at the time of publishing.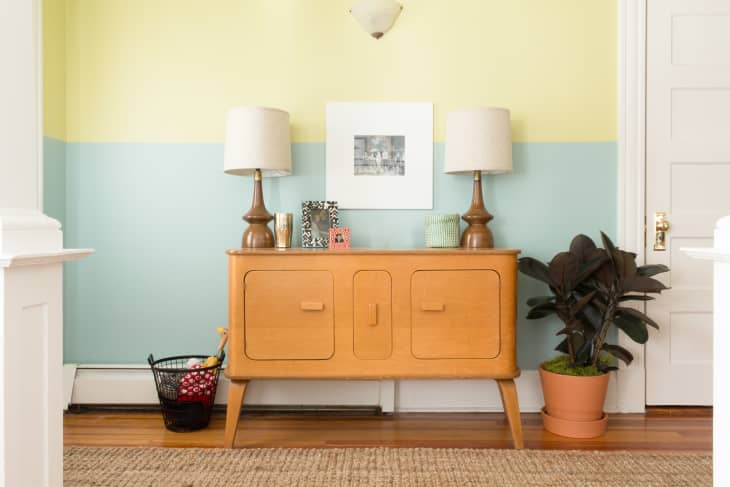 Apartment Therapy Weekend Projects is a guided program designed to help you get the happy, healthy home you've always wanted, one weekend at a time. Sign up now for email updates so you never miss a lesson.
One of the pandemic projects I'm most proud of is that we finally repainted the common areas of our home from a too-yellow butter-hued neutral to breath-of-fresh-air white.
Follow Topics for more like this
Follow for more stories like this
I use "we" loosely. I ordered and picked up the paint and supplies and got started on it in short stints while my boys and toddlers were at soccer practice and my daughter and I could paint without interruption while listening to Atomic Habits.
But the credit for finishing belongs exclusively to my husband, who took over this home-altering project when my well-intentioned enthusiasm fizzled out. The project brought our home into a whole new era of light and bright and not a day goes by that it doesn't make me happy.
Paint has this transformative power, and it's routinely touted as the biggest impact/lowest cost change you try out in any space. But paint-related projects don't have to be as involved as painting an entire room or even a whole wall. Simply fixing some paint issues that you've learned to look past makes an impact and elevates your living space.
This Weekend: Do some paint touch ups.
The first step of fixing imperfect paint at home is looking around your home. There might be a few chips that come immediately to mind when you consider touching up your paint. But going around the house with the intention of finding every imperfection will turn up more.
Keep your eyes open for chips, scuffs you haven't been able to scrub off, stray strokes from previous painting projects, and anything that's been accidentally left unpainted. Look at eye level, of course, but don't forget to look up and down around your walls and trim. As you're going around the house, use blue painter's tape to mark trouble spots and make a list of them.
Next, working from your list, gather your supplies. The biggest hurdle is probably locating the paint you need. Find it in your storage area or call the paint store and order small containers. (Tip: Your local paint store may have a record of all the colors you've bought from them, along with the finish you chose.) Next, gather your brushes and set up a station for cleaning them and switching between colors, if applicable.
Finally, the fun part: the actual touch-ups. To maximize the work you've done, consider putting together a touch-up kit for easier touch-ups down the road.
You can catch up with weekend projects right here. Share your progress with us and others by posting updates and photos on Instagram and Twitter with the hashtag #atweekendproject.
Remember: This is about improvement, not perfection. Each week you can either choose to work on the assignment we've sent you, or tackle another project you've been meaning to get to. It's also completely okay to skip a weekend if you're busy or not feeling the assignment.