How to Clean the One Part of Your Kitchen That Hasn't Been Cleaned in a While
We independently select these products—if you buy from one of our links, we may earn a commission. All prices were accurate at the time of publishing.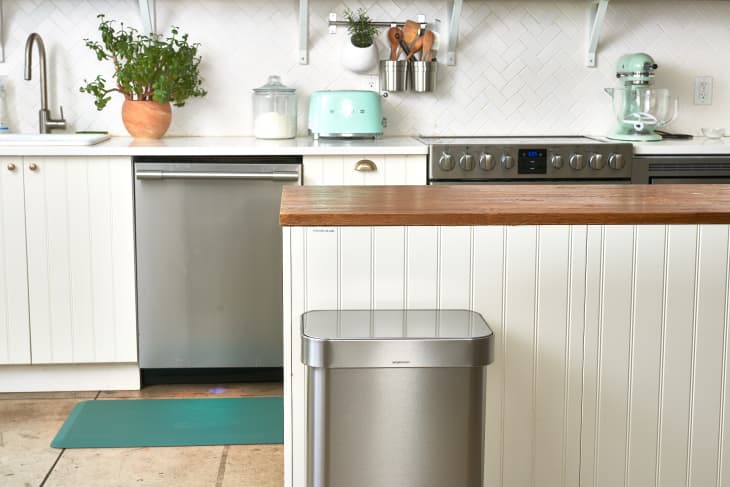 Apartment Therapy Weekend Projects is a guided program designed to help you get the happy, healthy home you've always wanted, one weekend at a time. Sign up now for email updates so you never miss a lesson.
I always find it funny that that many of the household items that deal with my dirtiest messes don't have a place on my cleaning schedule to get cleaned themselves. The exceptions of course are toilets and the (even dirtier!) kitchen sink. But things like cleaning tools, recycling bins, and even hampers are cleaned when they get too dirty to ignore: on a whim of inspiration, or… never.
Early on in the pandemic, when my kids were all home and virtual school hadn't started yet, we did a lot of home projects together, including cleaning out the pantry and washing every single garbage can in the house. We emptied each one and took every single one of them outside onto the grass for a complete scrub-down.
This weekend, you're going to pick one trash can and clean it super thoroughly.
This Weekend: Wash a garbage can.
Whether you pick the biggest and dirtiest trash can in your house (which for most of you is likely the kitchen garbage can), or the easiest one (which might be the little trash can under your desk), getting it squeaky clean is going to feel really good. And it might make you want to clean a few more.
Here are some helpful tips for various types of trash cans:
Use a Magic Eraser to clean stubborn scuffs from plastic garbage cans.
A scrub brush dipped in soapy water will dislodge most crumbs and gunk with ease.
Spray grime with an all-purpose cleaner, especially a strong one like Mr. Clean, and let it sit for a bit for easier cleaning.
A butter knife wrapped around a rag can help you get into those cracks and crevices that get really gross.
Taking the garbage can outside and hosing it down before and after your more detailed cleaning is an easy way to add water to the equation and to rinse off all the dirt you've loosened up.
Leave your garbage can to dry in the sun for some extra disinfecting.
Dry stainless steel trashcans to prevent water marks.
You can catch up with weekend projects right here. Share your progress with us and others by posting updates and photos on Instagram and Twitter with the hashtag #atweekendproject.
Remember: This is about improvement, not perfection. Each week you can either choose to work on the assignment we've sent you, or tackle another project you've been meaning to get to. It's also completely okay to skip a weekend if you're busy or not feeling the assignment.