8 Owners of Old Homes Share the Weirdest Things About Their Antique Houses
We
independently
select these products—if you buy from one of our links, we may earn a commission. All prices were accurate at the time of publishing.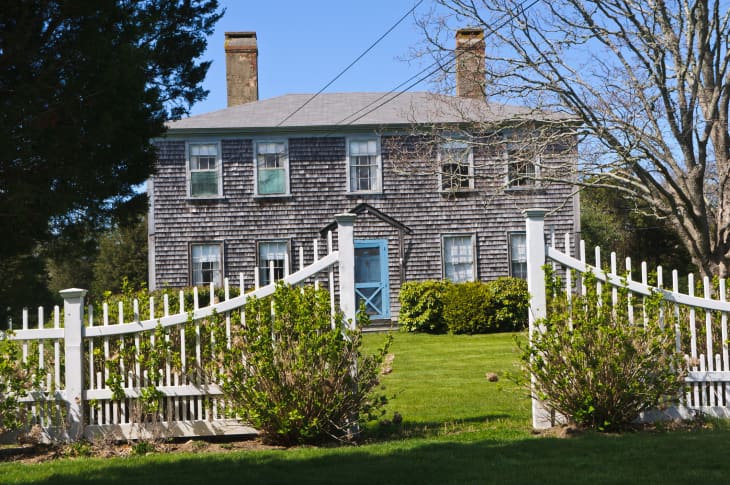 As the owner of a 125-year-old house, I know firsthand how structures built long ago have lots of quirks. Many of those quirks are charming—like having a beehive oven in the kitchen, a dumbwaiter between floors, or an attractive fieldstone foundation in lieu of modern day concrete. A lot of them, though, can require extra TLC. My horsehair plaster walls, for example, are not particularly forgiving; I cross my fingers every time I hang a picture. And that fieldstone foundation? It will most likely leak if not sealed correctly. 
Then, there are the things that are simply unexpected, often not known until after someone moves in or embarks on a renovation. Ahead, eight people—architects, designers, historians, and homeowners—share the things they found in old homes they hadn't anticipated.
"Something interesting about the antique house we just bought for our design studio and shop are the interior 'pocket' shutters that pull out from recesses in the walls to cover the upper and lower sashes separately. A lot of these shutters were painted into the walls and are no longer visible or accessible, but some were still in use and super cool. I personally have never seen them anywhere else before." —Interior designer Stacey Clarimundo of Found Design Studio in Essex, Mass. 
"In the hall niche of an apartment in San Francisco's Mission District I found a wood panel with a handle that pulls down to reveal a pop-out surface—a built-in chair for the telephone that used to be next to it. Old buildings have unique character, high-quality materials, and details that are often missing from today's new construction." —Senior architectural historian and associate principal Christina Dikas of Page & Turnbull in San Francisco, Calif.
"Once, we had a flying squirrel infestation in the attic of our circa 1710 home. After they had been 'evicted,' my husband set to work on a temporary repair to close the entry point. As he was removing rotted wood and cleaning things out, he started pulling out dried corn cobs and I could hear him cursing outside. He thought the flying squirrels had been bringing the corn cobs in, but I quickly realized that was our insulation! Dried corn cobs were stacked in between walls as insulation back in the day, so that is still the insulation in a lot of our home." —Floral designer Laura Seita of Fig & Squill Floral Design, Exeter, R.I.
"In a loft apartment in Tribeca, we anticipated a lighter warmer color for the beams and columns, but when we started removing the paint, we discovered deeply blackened and charred black surfaces. The rich, charred color is warmer and almost creates an ombre effect rising from the floor to the ceiling. Old buildings are imperfect and uneven. We like to embrace these characteristics as features, not liabilities." —Architect Andrew Franz of Andrew Franz Architect of New York City
"My favorite finds in our 1688 farmhouse have come from outside the house. It was common to have a trash pit on site, so when I went walking on trails behind the house and found one, it was like opening a time capsule. A long roll of metal garden edging was buried under old tea kettles, plates, and about 70 years of forest." —Farmer Nathaniel Higley of Lillooet Sheep & Cheesery in Boxford, Mass.
"We found a cool horn-type pipe in the wall of our 1867 house. We're guessing it was how owners and staff communicated between the two floors. There was also a system of bells, 'Downton Abbey'-style; a few of them even worked when we moved in. Many of them had to come down when we renovated, but we saved them carefully and it's always been our plan to strip off the years of paint and get them working again." —Author and style director Donna Garlough of Boston, Mass.
"While renovating an interior space in a circa 1904 Manor House, the original lath and plaster ceiling had to be removed. As the workmen labored through this effort, an intact squirrel skeleton dropped from the ceiling to the floor." —Architect Benjamin Nutter of Benjamin Nutter Architects of Topsfield, Mass.
"When renovating our 1940s Quonset Hut, which was originally used as an ammunition shelter, we did find something peculiar in the exterior wall cavities throughout the home—large assembled sheets made from wonderfully worn antique planks. We pulled them out, gave them some love, and repurposed them for the kitchen countertops. You never know what you'll find hidden in the walls. Always check." —Blair Moore of Moore House guest stays and Moore House Design, Tiverton, R.I.