Everything You Need to Know About "Duplex Downs," the Home Style That's All Over Chicago
We independently select these products—if you buy from one of our links, we may earn a commission. All prices were accurate at the time of publishing.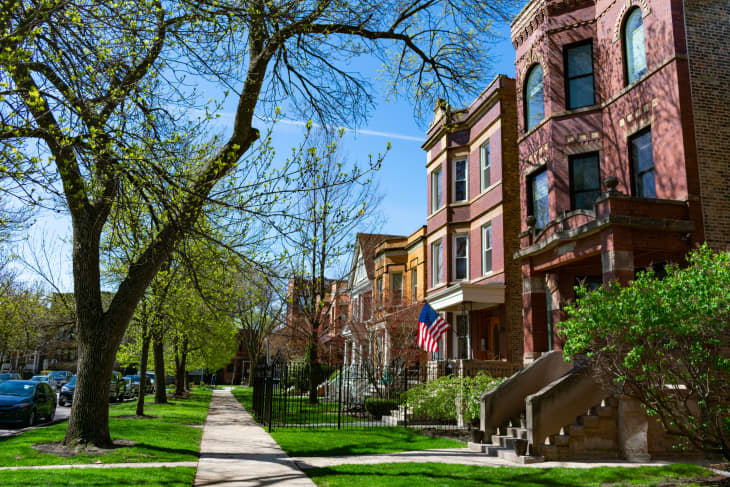 There's a well-known phenomenon that causes widespread panic among med school students during the early stages of their programs. Known as "second year syndrome," the condition arises as students pore over textbooks and lectures, learning more and more about the incalculable diseases and conditions the human body can develop. 
Who can blame these poor students? If I spent 20 hours a day studying all the gruesome details of the ways our bodies can turn on us, I'd be a little freaked out too! Readers, I'm here to share that there's a similar phenomenon that plagues Apartment Therapy writers… or at least me. 
If I come across an article about termites, suddenly I'm frantically typing "Chicago exterminators" into a search engine. If I notice a pool of water on the floor, my brain skips from "Oh, the dog tracked water from her bowl all over the kitchen." I think, "We have a leak and we're all going to drown in it." And when my editor asked me to look into the background of Chicago-centric "duplex down" houses, I was shocked to discover that I actually live in one and had no idea!
Before I dive into the characteristics that make a home duplex down, here's a quick refresher on duplexes in general. Whether side by side or vertically stacked, duplex homes are conjoined multi-family units. They typically feature separate entrances and garages for each dwelling, and often have separate, private green spaces as well. 
As a med student might pull their attending physician aside and ask, "Hey, is this mosquito bite actually leprosy?" I emailed my fabulous Chicago-based Realtor Amy Wu who confirmed my suspicions. "Yes, you live in a duplex down!"
According to Wu, "In the Chicago area, a duplex down typically refers to a condo with a main level and a lower level. The main level is naturally above grade (on ground level) and the lower level is below grade." Unlike the other units in my building, mine is one of just two located on the main floor with an in-unit stairway leading to additional lower-level space. In Chicago and elsewhere, these lower units are often converted to garden units to maximize the number of units for rent. Luckily for me, our building didn't undergo this similar conversion. 
When condo buildings have a main entrance and lobby on the first floor, the units that also occupy the first floor lose significant space in their floor plan to the communal lobby. Because of this, landlords would select this unit for themselves, taking up residence in the sometimes less-appealing lower level or garden level as well as the bonus space on the ground floor. 
Today, many of those duplex down units originally inhabited by landlords are rented or sold to other tenants or house hunters. "This is a very popular type of layout coveted by buyers and homeowners that enjoy living in a condo, but want the extra space," Wu says. And while these are popular in cities like Chicago, it can be tough to find a vacancy. "Because of the layout, condo buildings can only have one or two duplex down units," Wu notes. "This also increases the value of duplex down units."
The pros and cons of living in a duplex down vary from household to household. In my experience, this type of home has been a dream come true. My partner and I love having two floors, which is a rarity and privilege in the city. While we often hear muffled noise from our neighbors above, we can make as much ruckus as we want in our basement without disturbing anyone. One downside, however, is that our unit contains the water shut off for our entire building, which means we must be readily available for maintenance workers whenever our neighbors need repairs. 
Learning about the background of my own home was a far more pleasant surprise than spotting termites or a major leak. You never know what you'll learn about your own home until you dig into the details!