My Diwali Celebrations Last Year Were Low-Key — This Year Is an Opportunity to Reflect on What Celebrating Means to Me
We
independently
select these products—if you buy from one of our links, we may earn a commission. All prices were accurate at the time of publishing.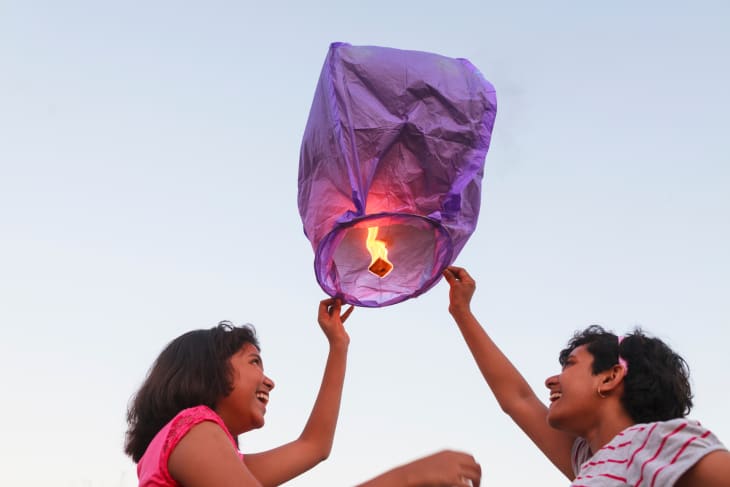 Like many holidays last year, my family's Diwali celebrations didn't have the same cheer and upbeat texture that we were used to. The organizer of my daughter's annual dance performance cancelled festivities, and we didn't travel to anyone's home for traditional Diwali dinner, which often includes sweets like gulab jamun and halwa. As a family, we were hesitant to even consider going to our temple — would it be open, and would going be safe for us and for our community, given the spread of the virus? Although the main floor of the temple was open for prayer, festivities had been canceled: There was no market fair selling food or people gathering near the temple to witness fireworks, admire rangoli in people's driveways or front porches, or hug friends and wish one another a happy Diwali. 
Instead we spent Diwali at home, and the relative quietness felt surreal, even though we had already grown accustomed to muted versions of the holidays we loved. It was something I couldn't shake: To downplay Diwali felt unnatural, given that it is a way for me to reach into the nostalgia of the past, when I celebrated the holiday with my mom, dad, and sister. There is not only a sense of comfort but a way for me to recreate the past and to teach my daughter what Diwali signifies, so she and I made the best of it. We dressed up in our Indian garb, did a mini-puja in front of the deities at home, and attended the temple when it wasn't crowded. It didn't have the same pomp of previous celebrations, but we felt like we were doing something to commemorate the holiday. 
To say Diwali feels different this year would be an understatement. There is a natural zeal to sink into celebrations, even if it means going a little overboard and making up for the year that almost wasn't. This year we are attending not only one, but two Diwali gatherings, and I am looking forward to donning a sari while watching my daughter dance at her performance. We will gather with friends, embrace each other with hugs, and indulge in savory and sweet snacks that have come to symbolize the holiday for many of us.
For many people, this year's Diwali celebrations are also an opportunity to reflect on traditions, whether by returning to beloved rituals, reimagining them, or making new traditions for themselves and their families. Here are what Diwali celebrations will look like this year, according to four people. 
This Year's Diwali is an opportunity to reflect on the holiday's meaning…
For Rohini Sheeba, who lives in Texas, Diwali means recreating the celebrations that she experienced as a child in India. "Diwali is such a quintessential festival that actually spans all of India with equal fervor and enthusiasm," she notes, adding that she believes the holiday's power lies in "unifying so many subcultures that exist within India." 
When she moved to the United States, Sheeba looked for a way to find pieces of her home, and the festival more than delivered. "Diwali was one festival that saw the entire diaspora indulging uniformly in obscene amounts of sugary desserts, visiting friends and family in endless parties, and lighting up the sparklers that was reminiscent of the millions of firecrackers that go up in smoke in the subcontinent," she said. And while these celebrations help her remember past Diwalis in India, they also serve as an opportunity to create new traditions with family and friends.
While many people have missed family and friends during Diwali and other celebrations in the past year and a half, Sheeba admits she "loved the break" from constant socializing that shelter-in-place orders necessitated. As she sees it, "the new celebration format actually holds space [for] Diwali as a time of introspection and quiet contemplation," and offers time to reflect on the significance of the holiday, instead of throwing herself into the "busyness" of Diwali. She spent time making and painting diyas in an effort to support childrens' education; spent hours contemplating, planning and creating a gorgeous rangoli for her home; and also made treat boxes and delivered them to the doorsteps of her close friends and family and waved from afar. 
"Somehow, the pandemic experience bound us together tighter," Sheeba said. "The pandemic Diwali was freed from all social obligations and expectations and turned into a very personal experience. Perhaps this is how it is always meant to be."
… As well as finding the joy in celebrating on a smaller scale…
Diwali can also be what you want to make of it, especially if your celebrations are quiet and you aren't yet ready to share with family and friends. For Jessie Punia, who lives in Brooklyn, New York, with her husband, this Diwali will still be small — they haven't seen family in over two years. "We'll be celebrating Diwali at home — just the two of us," she told Apartment Therapy. "While we will have a small gathering by normal Diwali standards, we'll celebrate big by heading out on a Jackson Heights adventure," given that the New York City area is home to a large south Asian population.
Of course, part of the festivities means eating foods and heading to the revelry in the city. "We'll start by gorging on parathas and chai, then head over to Patel Brothers, a south Indian grocery store, to jostle with folks over snacks, spices, and supplies to cook a big meal later in the day, as well as stock up on enough food to last us for the next few weeks," Punia told Apartment Therapy. She and her husband will also wander the streets and admire the jewelry and clothing stores and likely end their adventures by indulging in favorite sweets like ladoos, jalebi, and barfit.
Small celebrations can still be meaningful, and Punia is excited to honor the celebration's meaning, no matter where her family is in the world. "Back home, we'll cook, light our divyas, FaceTime with family, and eat!" she adds. "The only thing we'll be missing this year is the fireworks, which I'm sure our cat won't mind." 
… and leaning into beloved traditions and foods with loved ones once more.
And sometimes, holidays are all about bringing the memories into your new home, for future generations. For Maneet Chauhan, a chef and judge on "Chopped," her Diwali plans include recreating traditions at home with her family since they cannot visit India because of the pandemic. "In the past six-plus years, my husband and I have brought our kids back to India three times to celebrate Diwali," she told Apartment Therapy. "Since we are unable to travel there this year, we are going to dress up in our best Indian traditional wear and all celebrate together at home."
Food always makes a celebration in Chauhan's eye, and her Diwali meal will consist of kale pakora chaat, Tandoori quail biryani, pumpkin pomegranate raita, dahi bhalla, safed paneer, fish roast, and gulab jamun. "To finish the evening we will set off sparklers with the kids to recreate our childhood phuljhari," she said.
On my part, I'm looking forward to the smells of cardamom and saffron lingering in my home, and I'm excited to be together with family and friends. I cannot wait to smile, exchange celebratory greetings, and sink into the arms of loved ones I haven't hugged for months. I long to embrace it all — from the sounds of kids running around in their finest garb, to the colorful decor, Diwali food, and fireworks. 
There is a "can't wait" feeling underneath all of my preparations for the holiday, whether I'm helping my daughter get ready for her dance performance, looking up different recipes to make, or planning our visit to the temple. We will once again witness fireworks, pray together, and be surrounded by that feeling of cheer that is unique to the holiday. It will feel like coming home again.