What Is a Bay Window, Anyway?
We independently select these products—if you buy from one of our links, we may earn a commission. All prices were accurate at the time of publishing.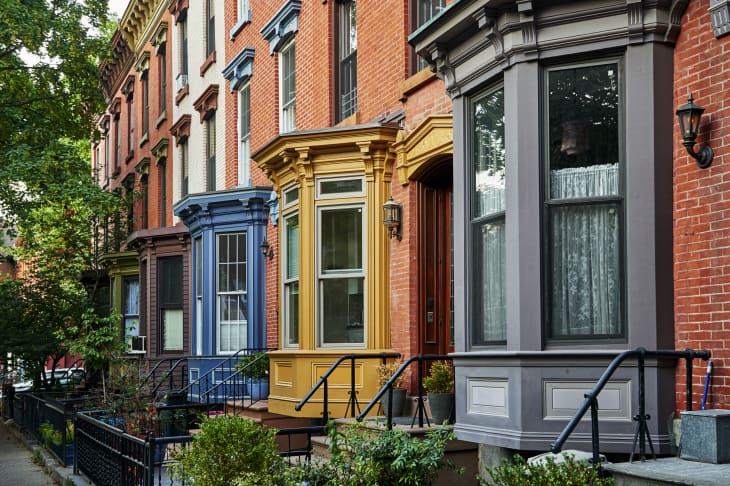 All the times I've gone apartment hunting, my eyes have been drawn to the windows first. I want to know what kind of light the bedroom will get, what view the window near the kitchen sink shows, and, most of all, if there's a bay window. To be honest, I get butterflies when I see this window style. A bay window makes me fall in love with a home — I start to imagine what houseplants I want to hang or what reading chair would make the perfect vignette. 
Follow Topics for more like this
Follow for more stories like this
Bay windows create a sophisticated-looking interior. Understandably, many homes try to replicate their style. But bay windows have specific characteristics — most notably their exterior expression. There are tricks builders use to imitate bay windows, such as adding a window bench for more interior dimension. Similarly, real estate agents might boast about their listing's bright bay window, when it's actually just a large paneled window. Here's how you can separate out all the imposters and pinpoint a true bay window. 
What is the purpose of a bay window?
Put simply, bay windows let in more light. They're traditionally located at the front end of a home, but in more recent builds, you'll be able to find them in the back end or on the side, too. There are usually three separate windows making up the bay: a larger one in the middle and two smaller ones on each side that open for cross ventilation. Across different regions and styles, bay windows might look different with varying architectural embellishments. However, the defining element of a bay window is that the wall is pushed outward — you'll be able to see this from both the inside and outside of a home. This structural detail allows more natural light to flow through the space.
What is the difference between a bow and a bay window?
The term bay window is often used in a generic way — there are several different subtypes of bay windows. For example, oriel windows (usually found on upper levels and supported by corbels) can also be classified as bay windows. Both bow and bay windows have similar characteristics and were created to let in more light. However, bow windows feature a round exterior shape and while a bay window is made up of three windows forming a polygonal shape, a bow window will have four or more windows that come together in an arc shape.
What's the history behind bay windows?
It's not exactly clear when bay windows first originated, but they are typically associated with the architecture of the early English Renaissance. In American architecture, you'll find prime examples of bay windows in Chicago-style bungalows and San Francisco's Italianate homes. Bay windows were often necessary in order to fill these homes, which were situated on narrow lots, with light. The style gained popularity as part of the Chicago School movement which prioritized maximizing natural light. If you take a look at the Manhattan building which was built in 1890 in Chicago, you'll be able to see examples of both bay and bow windows in the same building. But to have multiple bay windows in the same apartment? Now that's the jackpot.