Everything You Need to Know About Dingbats, the Retro Home Style That's All Over LA
We independently select these products—if you buy from one of our links, we may earn a commission. All prices were accurate at the time of publishing.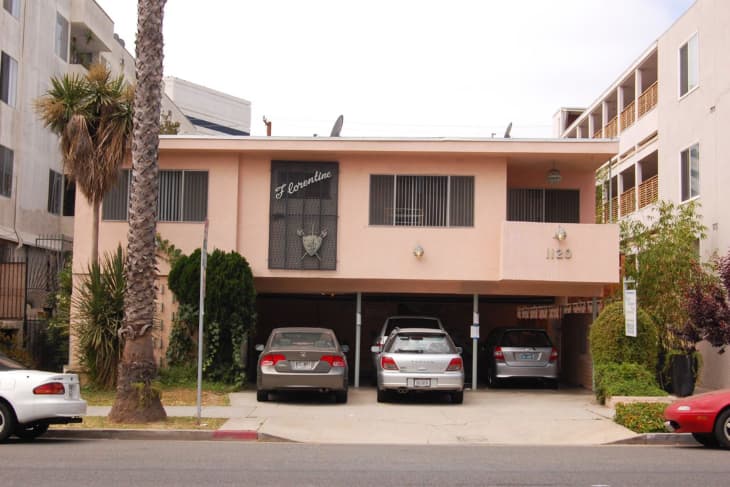 Simple clapboard Colonial homes reign supreme in New England, while pueblo-style dwellings with stucco walls and terracotta flourishes represent the Southwest. But on the West Coast, where mid-century design and beachy flair unite, you'll likely see a lot of boxy structures plopped on top of a few parking spots.
Follow Topics for more like this
Follow for more stories like this
"What are those?" you might ask yourself as you inch through bumper-to-bumper traffic along the 405. Well, they're called dingbats — and they're a hallmark of Los Angeles real estate.
Where did dingbats come from?
Though dingbat apartment buildings might seem as integral to the West Coast as palm trees and sunshine, it's a relatively new style. According to Beatrice de Jong, an LA-based broker and consumer trends expert at Opendoor, dingbats burst onto the real estate scene in the 1950s and 1960s. In fact, Bloomberg reports that 700,000 units were built in the 1950s alone. Decades later, dingbat homes had cameos in movies like "The Slums of Beverly Hills."
"Due to a population boom, there was a high demand for new homes in Los Angeles," de Jong explains. "The dingbat came about as an affordable option to build multiple units and maximize the use of the space on the lot."
A dingbat-style structure is typically divided into smaller units — lovingly referred to as "six-packs" and "12-packs" — ideal for young couples, small families, and up-and-comers in the City of Angels. According to Bloomberg, city zoning regulations required one parking space per unit with more than three habitable rooms. Translation? Dingbats were a space-efficient option that quite literally ticked off all of the boxes.
Of course, there was more to a dingbat's appeal than its space-efficient setup; it remains budget-friendly, too.
"Architects were experimenting with new cheaper materials to make homes more affordable," de Jong shares. "Since the home sits on top of the parking area, this was an economic way for developers to make the most of every square foot. Dingbats were designed for people looking for a cost-effective home without additional expensive amenities."
Though dingbats are particularly prolific in Los Angeles, they also can be spotted in the Bay Area, as well as various other parts of the Golden State.
If you've spent a considerable amount of time in Los Angeles, it's likely you've spotted a few dingbats in your day. Maybe you've even lived in one. By definition, a dingbat is a rectangular structure that sits above an open carport. Though the boxy silhouette is a bit polarizing to Angelenos, many dingbats are swathed in cheery pastel colors and decorative trimmings. While the term "dingbat" is a nod to its cheaper materials and divisive design, the buildings offer plenty of curb appeal.
"Mid-century style homes are always in high demand in spots like Los Angeles," de Jong says. "The simple retro style is appreciated by Angelenos — myself included."
Dingbats may become more rare.
Dingbat homes might've been all the rage in the 1950s, but will it stay that way? Truthfully, it's too soon to tell. Though the style is loved for its retro character and affordability, it does have some drawbacks, like any other home style. As de Jong puts it, dingbats typically have higher insurance rates, and they lack elevators. Their soft-story construction also makes these homes a tad rickety.
"Since the dingbat style is prone to structural issues, it is imperative that the property is up-to-date on modern earthquake safety standards," she shares. "Without proper care, these types of properties will not last."
While some experts call for dingbats to be replaced by upscale high-rises, others want them to be retrofitted to appeal to modern times. No matter what a dingbat's fate is, de Jong firmly believes they'll continue to be a special part of the Los Angeles real estate market.
"While there are many dingbat style homes in Los Angeles, there are far less than there used to be," she shares. "I think this style will only become more rare, which makes it special!"