What Is a Gingerbread-Style Home?
We independently select these products—if you buy from one of our links, we may earn a commission. All prices were accurate at the time of publishing.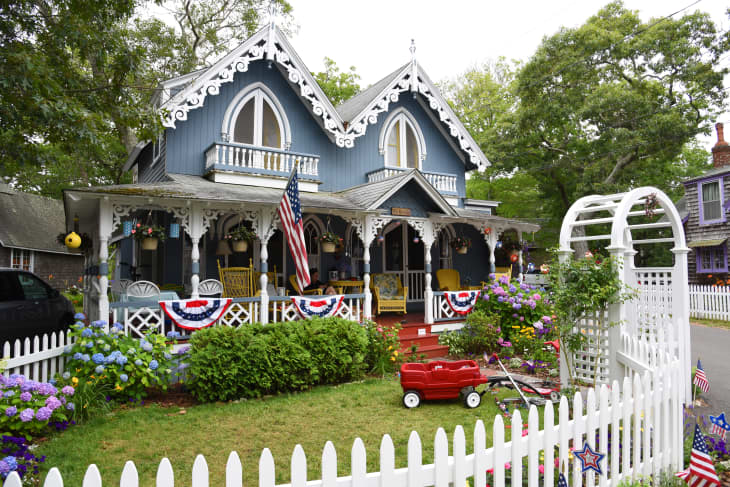 There it sits on the corner. Quaint and cozy, evoking Victorian charm with delicate lace-like trim, a plunging roofline, and color that exudes personality. Though unlike the sweet-tasting gingerbread houses that usually make their appearances during the holidays, these gingerbread houses charm us all year long.
Gingerbread houses, as an architectural style, have delicate latticework and hand-carved details that are enough to make you stop in your tracks on a walk, or do a double-take out of the car window as you drive by. While falling into the broader category of Victorian-era houses, gingerbread-style houses have a signature look — and interesting history — all their own. 
Follow Topics for more like this
Follow for more stories like this
What is gingerbread architecture?
So if it's not made out of a tasty mix of gingerbread, icing, and gumdrops, how can you tell if a house is a gingerbread house?
Gingerbread-style houses are the epitome of charm and whimsy, featuring their trademark gingerbread trim. Gingerbread trim can be "fancifully cut and pierced frieze boards, scrolled brackets, sawn balusters, and braced arches," writes Marjorie E. Gage for This Old House. She explains this special kind of trim transformed "simple frame cottages into one-of-a-kind homes." Their steeply pitched roofs and overhanging eaves provide the perfect backdrop for these intricate embellishments.
While many Victorian-era houses may feature gingerbread trim along their gables and rooflines, a gingerbread house is much simpler. In other words, gingerbread houses are typically smaller and less grand than Victorian houses that share some of the same features.
Gingerbread houses also use color to set themselves apart. From teal and blush to darker colors like maroon and brown, color is employed to highlight the detail of the trim and make it stand out from the rest of the house.
How did gingerbread style originate?
Gingerbread-style trim and details have been around since they were used to ornament Victorian houses in the 1800s. But their popularity as a standalone style grew in the mid-1900s as American travelers visited Haiti and became enchanted with the beautiful detailing of the buildings there. 
When did they come to be known as gingerbread houses?
In 1895, three young Haitian architects, Georges Baussan, Léon Mathon, and Joseph-Eugène Maximilien, travelled from Haiti to Paris to study architecture. Returning to Haiti, they put their knowledge into practice, adapting Parisian architecture trends to the Caribbean. Designed to withstand the Caribbean climate and storms, these houses were ornamented with vèvè symbols, intricate decorative patterns, and vivid colors. 
In the 1950s and '60s, American travelers marvelled at the beautiful details and vibrant colors, drawing the connection to gingerbread houses — and the name stuck. Now, houses that include the gingerbread hallmarks of steeply pitched roofs, intricate lace-like trim, and carved railings and arches claim the "gingerbread" moniker.
This style can still be seen throughout Haiti today, most notably at the Hotel Oloffson in Port au Prince, a stunning example of Haitian gingerbread style. And while gingerbread homes are sprinkled across the U.S., a few textbook examples can also be found in Martha's Vineyard in Massachusetts, where there's a colony of tiny, brightly colored gingerbreads.