What Is a "Raised Ranch" House, Anyway?
We
independently
select these products—if you buy from one of our links, we may earn a commission. All prices were accurate at the time of publishing.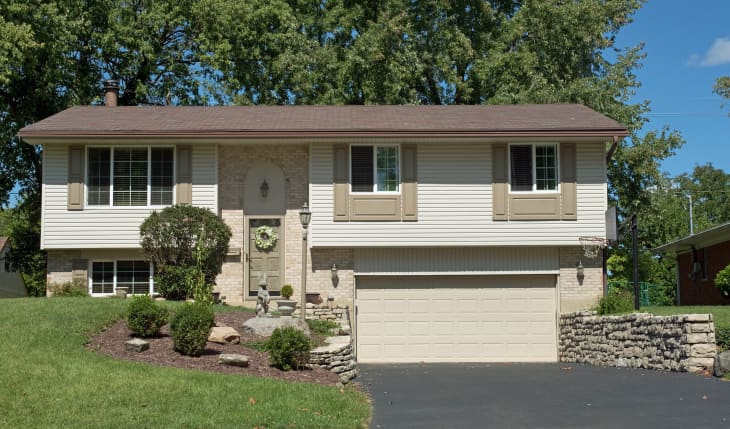 Moving from a tiny apartment in the city to a small suburban house a few years ago, one thing I didn't realize I would have to get used to again was having a flight of stairs. Need a pair of socks? Run up the stairs. Forgot your earrings? Stairs again. Having two floors is wonderful, but part of me still misses my bedroom being on the same level as (actually, just a few steps away from) the kitchen. 
Quick Overview
What is a raised ranch?
A raised ranch is a style of home with living space below the main level. From the exterior, it looks like a ranch-style home with another story below it, often halfway below grade.
Plenty of people love one-level living, which is a big reason why ranch houses have been consistently popular throughout the years. But if you've ever wondered about house types with relative stair counts somewhere between none and too many, there are a range of options, including one similar in style and popularity to the ranch: the raised ranch.
A raised ranch is a ranch-style house that allows for living space below the main level, usually in the form of a basement halfway below grade with a bathroom and/or laundry room, and sometimes a garage. Since it has two levels, there is a staircase in the house — the front door opens to a small landing between the floors where there's a half flight of stairs up and a half flight of stairs down. 
This style became popular in the 1950s and 1960s when growing families needed more living space than what a ranch typically offered. Not only did it solve this needing-more-space problem without having to upgrade to a bigger lot, but raised ranches are also more private since the main living area is above eye level of neighbors and passersby. Ranches and raised ranches usually have shallow rooflines, deep overhanging eaves, and an open floor plan, but other architectural characteristics can include vaulted ceilings, sliding doors opening to a patio or deck, and masonry or stucco decorating the front exterior. 
What is the difference between a raised ranch and a split-level?
With its multiple levels and half flights of stairs, is the raised ranch style considered to be a split-level? Or maybe a bi-level? These terms are often used interchangeably, especially when talking about raised ranches, but what do they actually mean? 
A split-level house is defined by Francis D.K. Ching in his "A Visual Dictionary of Architecture" as "a house having a room or rooms somewhat above or below adjacent rooms, with the floor levels usually differing by approximately half a story." So, in a split-level house there are actually more than two levels — and those levels are staggered with half-story changes or less between them. A traditional raised ranch, like the one described above, doesn't really fit into this definition since there are only two floors, and the top floor pretty much lines up directly on top of the lower floor. 
It's more accurate to say a raised ranch is bi-level, which, defined by Ching, is "a two-story house having the lower level sunken below grade and an entry at grade halfway between the two floor levels." That definition certainly sounds spot on with a raised ranch. But keep in mind that some variations could mean a raised ranch qualifies as having a split-level design, like if there was third level for a garage or an addition. 
What is another name for a raised ranch?
With Ching's architectural know-how in mind, it's safe to say a raised ranch can also be called a bi-level. However, depending on what part of the country you live in, you might also call it a "split-entry,"which is a raised ranch that has storage space or a garage below the main living area, rather than additional living space.
When defining a house like a raised ranch, you have to consider the architectural characteristics, the types of stairs, its floor plan, and whether or not the entrance opens directly to a floor or to a landing between two levels. Houses can be unusual, after all, and some simply resist fitting into any one category.