What Is a "Split Bedroom" and Why Would I Want One?
We independently select these products—if you buy from one of our links, we may earn a commission. All prices were accurate at the time of publishing.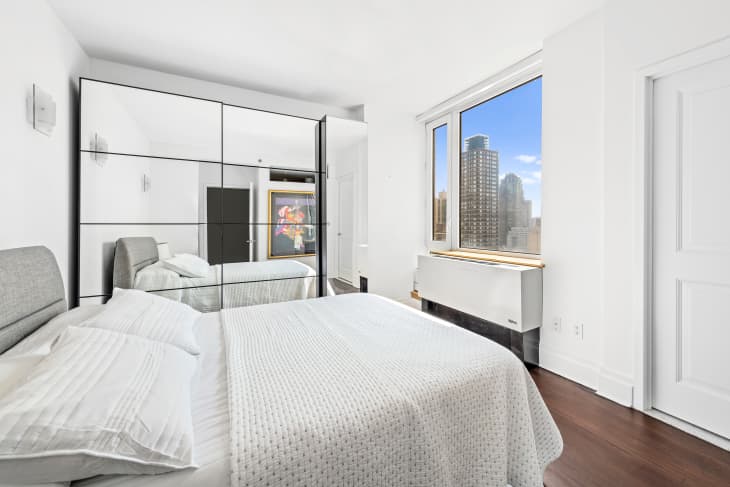 Like many Chicagoans, I've lived in more rentals than I care to admit — and with every apartment, I've been on the lookout for one specific thing: a split bedroom floor plan. 
But if you're like me and grew up in the suburbs in a multi-story house, it's possible you don't know what that is. I certainly had never heard of it until I moved to the city. With this type of floor plan, the bedrooms are separated from one another by other parts of the home.
Follow Topics for more like this
Follow for more stories like this
To be fair, my bedroom in my parents' house was at the other end of the hall from their bedroom — but I did have one of my brothers in the room next to mine, so there wasn't much of a separation. When I moved to Chicago, I only knew I didn't want to be right next to my roommate's bedroom. I just didn't know there was a term for it.
You can be more prepared than I was, though. Here's everything you need to know about split bedroom floor plans.
What exactly is a split bedroom floor plan?
In a property with a split bedroom floor plan, the main bedroom or suite is separated from the rest of the rooms in the house. So you'll have the main bedroom on one end of the house, then the common living spaces in the middle, and the other bedrooms grouped together on the other side of the house. Occasionally you can find a multi-split bedroom plan, where each bedroom is in a separate part of the house — I had a three-bedroom apartment once that had a bedroom at either end and one in the middle — but that's pretty rare.
What kind of homes have a split bedroom?
Split bedroom floor plans are highly sought-after in apartments — especially when you're living with friends or roommates in general. Otherwise, they're pretty popular in ranch-style houses.
"This floor plan is typically found in one-story homes," says Beatrice de Jong, a consumer trends expert at Opendoor. "If it's a two-story house, typically all the bedrooms will be upstairs. It's not very common to have bedrooms so far apart from each other."
Why would I want a split bedroom?
Although it's not as common as other layouts, the split bedroom floor plan is still pretty desirable — especially if you're hoping to get some privacy from the other people living in your home.
"If you have children it can be nice because you can stay up later and you don't have to whisper," de Jong says. "I also recommend it for friends, renters, multiple generations, or siblings that live together so you can have a healthy amount of space while still living under the same roof."
It's also a positive if you're working from home like so many people are these days. Having to "commute" to your home office with a longer walk adds a sense of separation between your work life and your home life.
"It's really practical and worth considering," de Jong says, noting that it also ups the resale value of a home.
What are the drawbacks of a split bedroom?
Truthfully, there aren't many. De Jong notes that the style is not really considered modern anymore, but it's still highly sought-after in home purchases or apartment rentals. The only real downsides, she says, might be due to babies or teenagers.
"People with babies or very young children, every minute counts when you're losing sleep," she says. "If you're having to get up in the middle of the night and your baby is on the other side of the house, you may choose to have the baby sleeping in your room for a longer period of time."

The floor plan might also be an issue if you're a parent to teenagers who want to sneak out of the house at night, and you have a large home. With a bedroom so far away from them, you might not hear it happening. But "almost everyone has security cameras now," de Jong notes, so that might not be an issue after all.