How "Body Doubling" Can Help You Get Chores Done More Efficiently
We independently select these products—if you buy from one of our links, we may earn a commission. All prices were accurate at the time of publishing.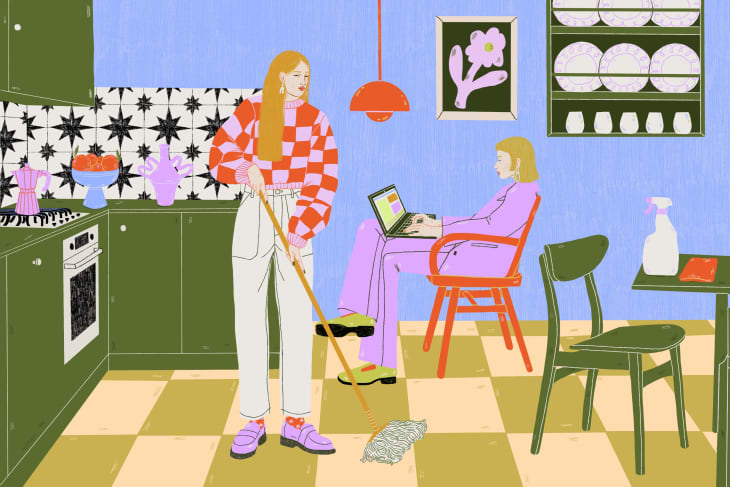 As a professional organizer who also has ADHD, I have had the unique perspective of helping people push through their clutter when they lose focus while also continuously learning how to manage my relationship with ADHD and how it affects my clutter and completion of tasks. One strategy that helps both my clients and myself? Body doubling.
Follow Topics for more like this
Follow for more stories like this
Body doubling, the buzzy self-help term gaining traction lately on social media, specifically #ADHDTok, is a productivity strategy that's long been used in ADHD communities. Now, it's becoming more common for neurotypical people to use it — especially when people were trying to figure out how to stay focused on their work during the pandemic. 
My clients used to refer to me as their "adult babysitter." This made me laugh, but I also tried to steer them away from this somewhat self-deprecating description. I assured them that if the method of having someone with them motivated them to complete their decluttering tasks, it didn't mean they were a child, lazy, or that something was wrong with them. I could see the effectiveness in so many homes. And now, a new term for it has been developed.
Body doubling is a strategy that was first used for people with ADHD, but is now becoming more commonly used (and recommended by therapists) while people clean, declutter, or finish their to-do lists. If this sounds familiar, it's because you've probably already tried it before. It's a fresh take on the "accountability partner" or "co-work buddy."
"When the COVID-19 pandemic started, everything went virtual. Online fitness classes, book clubs, and video calling for pretty much anything to feel a social connection. Inadvertently these are all examples of body doubling," says Brooke Schnittman, an ADHD coach.
Body doubling works when you work alongside another person, each doing your tasks, but using each other's company as motivation to stay focused and on-task. The magic is in the presence of a person, but not someone doing the task for you. Sometimes, you might not interact with each other at all.
This can be especially helpful when you're trying to tackle a big project like decluttering your home, and tedious tasks like getting through doom boxes or folding laundry. 
Why Therapists Recommend "Body Doubling"
Although research is still being collected on this phenomenon, many therapists are recommending this strategy. "Body doubling is a tool that is being heavily discussed in the ADHD world as a means to improve task initiation and completion," says Billy Roberts, a therapist in Columbus, Ohio, who owns a group practice called Focused Mind ADHD Counseling, where they work exclusively with adults with ADHD.
While there is little research on exactly why body doubling helps, there are lots of ideas on why it works. "Body doubling is a form of externalizing motivation. It keeps a person accountable to a timeline. In addition, body doubling also acts as a sort of reminder system to stay on track. If a person is sitting by another person quietly, they are aware that if they wander off course, someone will know what is happening, which prompts them to get back on track," says Roberts.
One thing is for sure: The anecdotal evidence is being noticed and recommended by professionals. "People are using it as a productivity strategy to finish their tasks on time and be more efficient. It helps them to conserve their energy for jobs that matter more, as the body double helps them to stay focused on the task at hand and avoid potential distractions," says Marta De la Cruz, a clinical psychologist at Balance Luxury Rehab.
How You Can Use "Body Doubling" Effectively 
While anyone can be a body double, not everyone is a good one. Pick someone who you might not see every day, and won't butt heads with. You can meet up in person, online, or on the phone. You can schedule time with a professional organizer or productivity coach so they can work in tandem with you, working on one task while you do another to get things done efficiently.
Inviting a friend over to help you go through your closet and decide what to keep and what to donate is a great way to use body doubling effectively. Be sure to ask someone who doesn't judge or distract you. You can also set up a video call with someone who is also working on their own tasks. You can check in on each other periodically to share progress and encourage each other to keep going.
I use this strategy a lot with both my professional organizing clients and myself. When I'm working from home, I call up two of my friends, who are in different industries than I am, and we get on Zoom, share the tasks we want to complete with each other, and set a timer. We stop and ask each other for feedback or chat during a snack break. We don't always do office work; sometimes a friend is washing their dishes while the other is making social media graphics while another is paying their bills. 
With organizing clients, I will give them a very specific task like trying on clothes they are unsure still fit; meanwhile, I am nearby sorting through the sock drawer. They check in with me, asking if something looks good or is out of style or to even gain reassurance they are making the right decision when letting something go. The results of this accountability are promising.