How Earnest Money Can Help You Buy the Home of Your Dreams
We independently select these products—if you buy from one of our links, we may earn a commission. All prices were accurate at the time of publishing.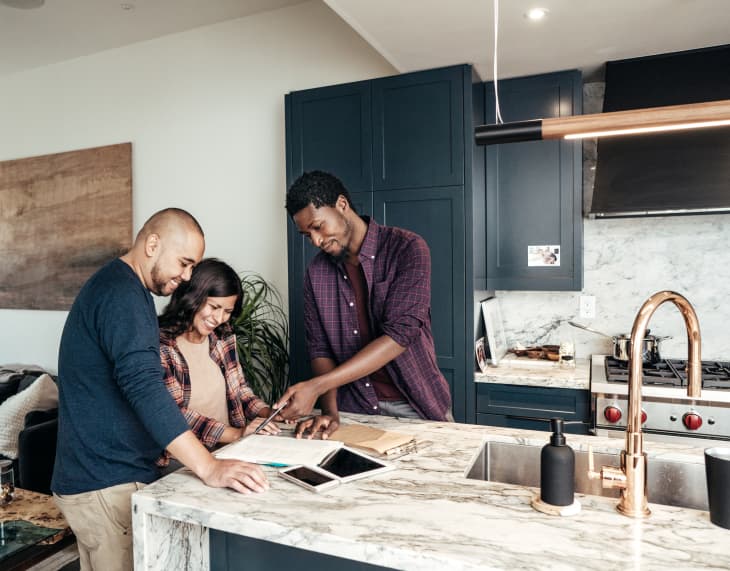 Looking for houses in Los Angeles sometimes felt like I was on a game show. Who could find the perfect home, go to the open house, and make an offer the absolute fastest?
Follow Topics for more like this
Follow for more stories like this
In some situations, we'd find out from our agent that a house already had five offers—less than 24 hours after its open house.
In such a competitive market, people feel rushed to make a decision. I had constant nightmares, and every single one was the same: I would make an offer on a house, find out something was terribly, irreparably wrong with it, and be stuck with it forever.
Luckily, there are steps in place to stop that from happening, even in the fieriest of housing markets. One of those steps is requiring earnest money, or a "good faith" deposit.
Earnest money is basically a deposit on a house a prospective buyer makes on the house for sale. The funds are usually kept for safekeeping in an escrow account.
The point of the deposit is to indicate the buyer is serious about making the purchase. Once the amount is submitted, the seller has to take their house off the market. Earnest money is usually tied to specific contingencies (or conditions that need to be met) in place in the contract, like making sure the buyer is able to get financing, can inspect the property and get it appraised, and conducts a title search. If everything goes smoothly, the "good faith" deposit can go toward the down payment and closing costs—or it could be completely refunded.
If the buyer isn't satisfied with the inspection, for instance, or doesn't get their loan approved, their earnest money is refunded and the seller is able to put their house back on the market. However, if the buyer gets cold feet and backs out of the transaction with no valid reason, the seller keeps the earnest money.
It's kind of like putting a ring on it. Karen Kostiw of Warburg Realty tells Apartment Therapy, "An earnest money deposit is similar to someone in a deeply loving relationship offering an engagement ring as declaration of their love, dedication, commitment, and intention to marry."
Is earnest money required?
There are no minimum amounts legally required in any state in the U.S. Whether earnest money is required (or how much) is typically based on how competitive the housing market is. In California, for example, the contract between buyer and seller legally has to include consideration of earnest money, but the amount can be whatever the seller wants. 
Usually both seller and buyer will prefer to include earnest money in the contract, since it protects both parties.
Is earnest money refundable?
The earnest money deposit is refundable unless the buyer backs out for reasons outside of the contract between them and the seller. For example, if the buyer simply decides they don't want to purchase the house without a reason outlined in the contract, the seller has the right to hold on to the entire amount. After all, they did take their house off the market for that particular buyer, and now that the deal isn't going through, the seller may have lost time and potential successful offers. 
However, if the buyer (or seller) decides they don't want to move forward with the transaction "as a result of a legitimate reason or failure of one of more of the contingencies being met, the earnest money deposit must be legally returned," Kostiw says.
What's generally the amount of earnest money required?
It depends on the local housing market, but generally 1-5 percent of the selling price is asked for. However, some sellers may ask for a standard amount, like $500 (this is usually done if the market is cooler, or if the seller wants to get the house off their hands as quickly as possible). In hotter markets, the seller may ask for 10 percent or more.
Totaro tells Apartment Therapy that the amount depends on where you live and the health of the housing market: "For example, NYC is always a deposit of 10 percent of the purchase price due at signing of a contract."
Uh, what if i don't have earnest money?
If earnest money is required by the seller, there usually isn't a way around that. Especially in a more competitive market, if you're unable to fork up the deposit, the seller will assume someone else interested in the property will.
Los Angeles-based realtor Leslie Marquez says, "A buyer can [technically] submit any offer he or she desires. However, the goal is to get your offer accepted and this requires strong terms. Earnest money is one of those terms, and without a minimum of 3 percent, it's unlikely your offer will be accepted in a competitive market like Los Angeles. An offer without a deposit can be accepted if the seller agrees to those terms, though."
Although it's not super advisable, you can get the earnest money amount as a gift from family or friends. You'll need to tell the lender, so they can provide gift documentation (documentation is important, since the buyer will need to indicate how much money was deposited when filling out their taxes the year the house was purchased).
What's the earnest money process if you take out a VA loan?
Earnest money is treated exactly the same when a buyer takes out a VA loan, but the only difference is that, since a VA loan won't require a down payment, the deposit either goes toward closing costs or a complete refund. 
Can you get earnest money deposit assistance?
There currently aren't any programs that help with earnest money deposit assistance, according to Marquez.
What counts as proof of an earnest money deposit?
Generally you'll pay by certified check, personal check, or a wire transfer. You'll typically receive confirmation or a receipt that you deposited the amount, and you'll definitely want to hold on to that documentation.
The earnest money transaction is super cut and dry, but it's important to stay vigilant and make sure, whether you're the buyer or seller, that all parties are adhering to the contract. When you're dealing with huge sums of money like this, it does help that agents and loan officers are usually involved as middlemen—they'll make sure that their clients aren't being ripped off, and if there are any issues, they'll act as the go-between until everything is solved. 
The day I filled out the amount for my first "good faith" deposit check was scary. Would I ever see that money again? What if it got lost?
Luckily, the process was easy—and I did see my money again, it was just put toward the down payment and closing costs. Submitting earnest money is just one of seemingly thousands of steps involved when purchasing a home. But it's there to protect both buyer and seller.
What if after all that time and energy spent, the seller decided they didn't want to sell their home anymore? What if they received a bigger offer and wanted a way out of their current transaction? After my husband and I closed on the house, we were glad that we had the added level of protection earnest money gave us. If the process of buying a house really was a game show, we (eventually) won.