The Thing Everybody Gets Wrong About Pickleball, According to a Pro
We independently select these products—if you buy from one of our links, we may earn a commission. All prices were accurate at the time of publishing.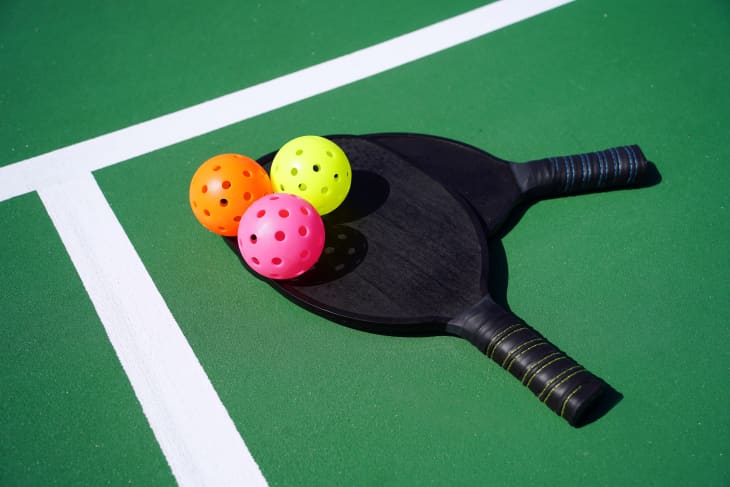 Chances are, at this point, you've probably heard at least a little about America's fastest growing sport, pickleball. Yes, pickleball. The tennis/ping-pong/badminton hybrid sport's popularity has grown rapidly since the global pandemic began in 2020, and is growing in popularity everyday it seems. Plus, the sport is not just recreational. In fact, there's a whole professional pickleball league — and celebrities like LeBron James and Tom Brady are investing in the sport at the highest level. 
Follow Topics for more like this
Follow for more stories like this
I recently chatted with Kaitlyn Kerr, better known as @pickleball.chick on Instagram and TikTok, about all things pickleball, and her love of the sport runs deep. Kerr's content ranges from educating amateurs on the sport to hosting pro interviews, and she's even invested in the same Major League Pickleball team that Tom Brady has. Read on for a few things Kerr wishes more people knew about the sport she loves so much, and what people may get wrong.
Pickleball really is for everyone.
So why is pickleball so popular? Well, for one, it's is easy to learn. The equipment you need doesn't cost much, it's a social game that you can enjoy with friends, and almost anyone can play. But singular visions of an older generation playing at a retirement community down the block is a narrow view of what pickleball is and who it's for. "Pickleball is a democratizing sport with a low barrier to entry," Kerr says, explaining that there are younger and older pickleball players alike. "A four-year-old can go out and play with her grandpop and have a lot of fun. Couples can enjoy this sport together. Coworkers can sip cocktails, play, and release stress. Retired athletes play pickleball. It is for everyone!"
Pickleball isn't brand new — it's been around for decades.
With pickleball growing in popularity since 2020, many people (myself included!) assumed that the sport is brand-new. But contrary to popular belief, it's actually been around since 1965. It was invented by Joel Pritchard, a congressman from Washington state, and businessman Bill Bell. The two men were playing golf together over the summer, and came back to Pritchard's home to find their families with nothing to do. The property had an old badminton court, but they had no badminton equipment. In an effort to create a game that the whole family could enjoy, they gathered what they could (which was a set of ping pong paddles and a perforated plastic ball) and pickleball was born. 
But why did the sport start to get so popular over the pandemic? Kerr has a few thoughts about that. "I think COVID-19 started the pickleball boom because people had a lot of time to explore new outdoor activities," she says. "Then, once people try pickleball, they get addicted. They then get their families and friends into the sport, and the web of pickleball lovers and players continues to grow!"
Pickleball isn't just recreational.
While many people play recreational pickleball, the sport moves beyond just a hobby, or a fun thing to do over the weekend. Professional pickleball leagues have been around since 2018, and the pro leagues are booming. There are three main professional tours: the PPA (Professional Pickleball Association), APP (Association of Pickleball Professionals), and MLP (Major League Pickleball). "All of them have their own distinctive characteristics and are growing at the speed of light," Kerr shares. "I hope that there will be one grand stage for the best players in the world to compete together soon!" 
Kerr herself has bought into an MLP team, and hosted an MLP tournament in Columbus, Ohio. Pro leagues and tournaments are bringing the magic of the sport to more people, and while truly anyone can play, professional pickleball proves that there is a high level of skill and athleticism needed to play at the highest level. 
Pickleball isn't a boring, less-athletic version of tennis.
Since pickleball is a hybrid of sorts, many people assume that the sport is a version of other racquet sports, like tennis, just not as flashy or challenging. Kerr strongly disagrees with that assumption. "There are different levels to pickleball, but it is easy to learn and difficult to master," Kerr explains. Much like tennis, professional pickleball requires power, speed, lightning-fast reflexes and accuracy. If you watch the pros and play yourself, you'll know the pros make it look easy!
You can enjoy pickleball socially, competitively, or both.
There is a wide range of pickleball play, from weekend hobby and amateur tournaments, all the way to the pros — and Kerr says it's OK to have fun and mix it up if you choose to. Kerr enjoys both the social and competitive aspects of the sport, and plays locally herself, as well as in amateur tournaments. It's all in the name of fun and bringing people together. "I wish people knew that truly anyone can play," Kerr shares, adding that being a fan of pro pickleball is also tons of fun. "Major League Pickleball will be hosting six tournaments throughout 2023 in locations across the United States and streamed online, and there is truly nothing else like it. The hype is real!"