What a Fresh Dusting of Snow Can Tell You About Your Home
We independently select these products—if you buy from one of our links, we may earn a commission. All prices were accurate at the time of publishing.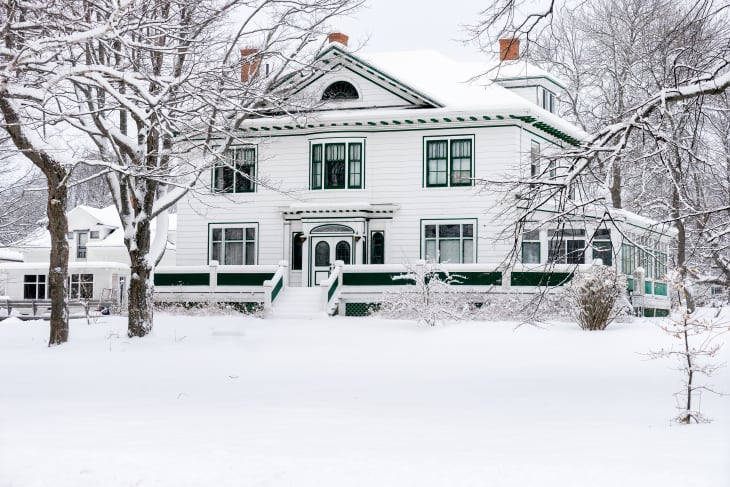 When you wake up to a fresh snowfall, you might have visions of getting out there to throw snowballs and make snow angels. But before you make too many footprints in that even layer of snow, you might want to glance around.
Follow Topics for more like this
Follow for more stories like this
Freshly fallen snow can reveal a few things about the health of your home. Here are some things to pay attention to.
Neighborhood critters are often the first ones to make tracks in new snow. It could be worth your while to follow them. 
"Snow can be a helpful tracker of unwanted guests," says Eric Marie, a handyman and contractor in Chicago. "Snow is perfect for tracking small animals and rodents that may be taking up shelter somewhere you don't want them."
Those tracks could lead you into your basement or garage. Mice only need about half an inch of opening to slip through and make a home in your nice cozy abode. Pay special attention to gaps around windows, vents, or pipes. Fill them in with steel wool or caulking to prevent unwanted roommates from settling in.
An even layer of snow on the roof surely bolsters your home's hygge factor. It also indicates that your home is well insulated. If you notice bare spots on the roof or icicles hanging down while temperatures are still below freezing, you might have uneven insulation causing heat loss. To save money on your energy bills, add another layer of insulation in your attic.
If you notice that the roof is sagging under the weight of the snow, you have a problem. 
"This is a sign you will need to replace it as soon as possible in spring, but I suggest at least having someone to come out and look for it," Marie says.
Condensation on the inside of windows is expected in the winter months. But if you notice condensation between the panes of glass or if the window seal is wet, you might need to reseal your windows. Dry them off and reseal with caulk.
If you feel warm and cold spots in your home, a cold, blustery day is the right time to investigate. Run your hand along the seals of doors and windows. Do you feel a breeze? If so, you probably need to reseal. Another test involves carefully holding a candle or some incense. If the smoke billows or the flame flickers, you've found your leak. Block the draft with some stylish draft solutions until you can reseal the window or door. 
Remember, snow has to go somewhere when it melts, Marie says. So get outside again when the temperatures start to rise. 
Notice where the melt is going. If it's flowing toward your home's foundation, your yard might need to be regraded so it slopes toward the street. If there are cracks in your foundation or leaks in a window frame, you'll get water inside quickly. Check the lowest level of your home for dampness.
"When in doubt, it is always a good investment to pay for an expert's time to come out and check things out for you," Marie says. "You can put together a plan for immediate fixes and long-term fixes you can save for and ultimately you will save on surprises."