Pros Reveal the 11 Things They'd Never Pay for in Their Own Bathroom Remodel
We
independently
select these products—if you buy from one of our links, we may earn a commission. All prices were accurate at the time of publishing.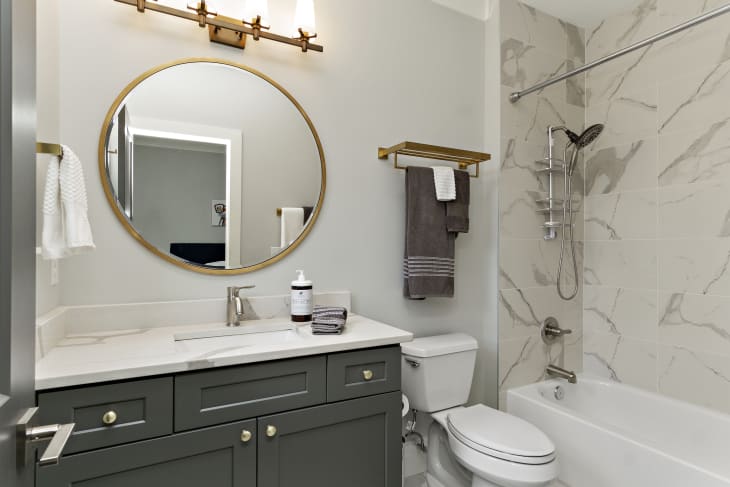 Your bathroom may be small, but undergoing a bathroom remodel can quickly turn into a big undertaking with the dollar signs piling on. We asked professional contractors and designers what high-cost changes just aren't worth it. Here's what they all skip when they're doing their own projects.
1. Moving the vanity or toilet
"I wouldn't spend money moving my toilet over or relocating where the vanity is. Moving plumbing comes with a cost," says Cathy Nyarkoh, designer at Block Renovation, an all-inclusive renovation company specializing in bathrooms and kitchens. 
Nyarkoh says that once you have all the other changes in place, it's going to feel like a completely new, fresh space, so moving the toilet over 3 inches is an expense you can skip.
2. New stuff to replace perfectly good vintage fixtures
"If you have an older home with a vintage tub or sink, don't replace it," says Nyarkoh. She says a good reglazing will make it look fresh, and you'll get to keep your one-of-a-kind item.
"So much maintenance, so little time," says Sharri Fermoyle, Material Selection Coordinator at Ottawa General Contractors. "It's just not worth the time and effort to constantly seal this tile." Instead, she recommends getting porcelain tile for a quarter of the price.
"You don't really need to have tile everywhere," says Nyarkoh. "Definitely in the shower area and tub area, but then paint the rest of the space." She says if it were her own bathroom, she would keep the walls simple with a fresh coat of paint and open shelving that displays some nice towels, as well as having a beautiful mirror in place.
Fermoyle says the big snag with this is not only the high price, but if you decide to change it up down the road, then you have to remove the stone, get a new sink, and so on. "You can get a great laminate countertop with an HD finish that looks just like 'stone' and with the choices of top mount sinks, you could change this look over and over."
Le sigh. But we love heated floors! Too bad they usually require plumbing rerouting, and if you're trying to keep your budget down, Fermoyle says this is one you can skip.
Fermoyle says that contrary to popular belief, wallpaper is labor-intensive and in a small space like a bathroom, you really need a professional installer to make it look fabulous. She says she'd much rather paint her bathroom and use peelable designs that she can easily remove if she wants to refresh the look.
8. Specialty glass or crazy-patterned tiles
On the subject of tiles, some are more expensive than others to purchase and lay. "Go with subway tiles. Skip the glass mosaics and heavy patterns," says Nyarkoh. "They take more time to lay and tend to be a bit more expensive."
If you want to add some personality to your tile, she recommends experimenting with colored grout. It's a great way to add some impact to the space without spending the money to lay a patterned tile. Nyarkoh adds that she would encourage spending the money on waterproofing and making sure you have a great foundation to lay the tile. 
9. Fancy lighting fixtures
The problem with fancy lighting fixtures is not only that they are expensive to purchase and expensive to install but they also pose the problem: what finish do you buy to match the other fixtures? It can be hard to get something that matches the rest of the plumbing fixtures and hardware, says Fermoyle. Instead, she says to go with can lights and set the mood with a dimmer switch.
"I had a client spend $22,000 just on a steam shower. He's used it three times in six years," says Eddie Smith, contractor at Smith Remodeling Company in Tennessee. So, yeah, we'll skip that one.
For a bathroom that will stand the test of time, skip the latest trend—expensive or not. Instead, pick one item you love, and design around it. "If I found something I really loved, I would design around that one item," says Nyarkoh. She says for her, that might be towels that inspire a color palette for the whole space or even a big, beautiful mirror that adds some dimension.
"You do spend a lot of time in there, so having something that's beautiful that you love and that makes the space feel a lot bigger is important," she adds.