11 Things You Can Toss From Your Grown-Up Bathroom, According to Experts
We independently select these products—if you buy from one of our links, we may earn a commission. All prices were accurate at the time of publishing.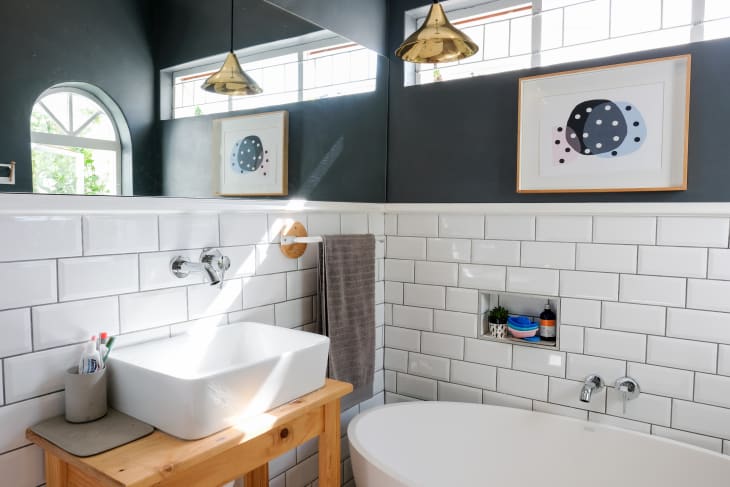 Truthfully, there's no "right way" to be an adult. But there are certain things that might make you feel more like one, whether that's a full-fledged skincare routine or a salary that meets your needs and allows you to save a bit in the process. And sometimes, nabbing that adulting feeling can be as easy as taking your bathroom to the next level with a few easy fixes. 
If you're approaching adulthood or you're already there and looking for some tips, here are 11 things you shouldn't keep in your bathroom — and your medicine cabinet — after 30, according to the experts. (Your skin and your storage space will thank you.) 
Scrubs with fruit pits, seeds, or microbeads
Did you know that there are exfoliants that don't feel like rubbing sandpaper across your face? Just because a product feels gentle doesn't mean it's not effective. There's a time and a place for exfoliation (two to three times a week, max!), so instead of abrasive scrubs, try a chemical exfoliant instead. Shani Darden, a celebrity facialist and the creator of Shani Darden Skin Care, is a fan of Dr Dennis Gross Peel Pads. "They're more effective than a scrub, yet less harsh," she notes.
There are few things more satisfying that extracting blackheads. While pore strips can be effective at removing buildup inside the pore, the results are temporary and can irritate sensitive skin. Instead, Celeste Hilling, the founder of Skin Authority, recommends graduating to a therapeutic clay mask. Retinoids and exfoliating BHAs also help sweep out pore-clogging debris. 
This may seem obvious, but it's time to stop holding onto expired products or formulas that aren't right for your skin because they're too harsh, irritating, or drying. All they're doing is taking up valuable space in your medicine cabinet. Just one note: Before tossing old, expired makeup and skincare in the bin, see if you can recycle the packaging first. 
If you notice any signs of wear — holes, tears, frayed edges, or bleach spots from benzoyl peroxide products — on your body, hand, or face towels, then it's time to replace them. Treat yourself to a plush new set, because nothing says adulthood like matching towels. 
Highly-fragranced products 
When it comes to the skincare community, fragrance is polarizing. While fragrance-heavy skincare formulations can irritate the skin, especially if you have sensitive skin or an inflammatory condition, that doesn't mean they necessarily will for everyone. Still, Laura Geller, a makeup artist and the founder of Laura Geller Beauty, suggests replacing those highly-fragranced products with fragrance-free alternatives just to be safe. 
An easy want to add a bit of sophistication to any bathroom is to invest in discrete essentials. A trash can with a lid. A hideaway toilet brush and plunger. A chic toilet paper holder. Little things like this can elevate your restroom — and ensure that your business isn't out in the open. 
To be fair, no one looks their best in fluorescent lighting, no matter their age. But good lighting is especially important in the bathroom, where you're regularly looking at your skin and applying makeup. So avoid yellow bulbs and fluorescent lighting, and instead opt for bulbs that best mimic natural light, processing light containing all colors of the light spectrum. 
There's truly nothing worse than a smelly bathroom, and while plug-in air fresheners are a quick fix, they're not the only solution for freshening up a space. 
"Between the harsh, almost suffocating smell, and the negative environmental impact, plug-in air fresheners should be a thing of your past," Alicia Grande, the CEO and founder of Grande Cosmetics, says. "Instead of choosing a vanilla passionfruit plug-in, switch your scent up and incorporate fresh eucalyptus into your shower. The steam from your shower will activate the eucalyptus to help in relaxation, reduce inflammation, and even clear congestion!" It also adds some much-needed green to your bathroom. 
They might be fun to look at, but loofah sponges carry a lot of bacteria — and spreading more bacteria onto your body is counter-productive in the shower. Not to mention, loofahs can really irritate the skin if you scrub too hard. (Just because it hurts, doesn't mean you're getting a deeper clean!) Instead of a harsh loofah, try a gentle body cleanser with one of those fresh new towels you picked up. 
Shower curtains and liners can be a breeding ground for all kinds of bacteria and unsightly mold, so make sure you're cleaning it regularly, as well as replacing your liner every six months to a year if you need to. And if you have a fabric shower curtain, make sure to throw it in the wash regularly. 
Disposable, one-time use items 
Consider this your first step toward sustainability. When it comes to razors, toothbrushes, and makeup wipes there are more reusable, sustainable options out there. According to Grande, instead of buying that pack of disposable single-use makeup wipes, invest in reusable microfiber towels. "Not only is it much better for the environment, they can also save you money in the long run," she says, "and look super cute on your vanity."