What Would the "Aladdin the Musical" Characters' Homes Look Like IRL?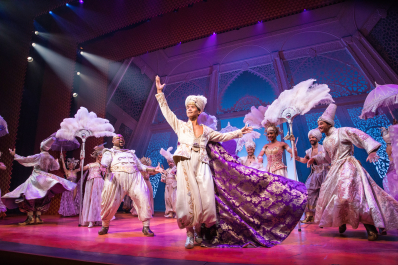 (Image credit: Matthew Murphy)
The award-winning Aladdin on Broadway brings the adventure of Disney's classic film to a whole new world. (Sorry, too easy!) Which got us thinking...What would Jasmine, Aladdin and all the other characters' digs look like in real life? With a little help from our library of House Tours we came up with a few ideas...
Aladdin
Design Personality: Modern Desert Rustic
We start in the desert. Not the Seven Deserts outside Agrabah, but the Mojave Desert in CA. Our main man Al would do nicely in humbly stylish digs like this Joshua Tree Hacienda. It's not too fancy, but still a nice upgrade for our favorite street rat. Aladdin's going to want a relaxed space—with a special rug, of course—that gives him enough space to store a new wardrobe, jewels, and other Prince Ali-esque baubles. (Thanks, Genie!) Think glamping chic.
Genie
Design Personality: Genie Bottle Boho
Speaking of Genie, if there's someone who knows how to fit phenomenal cosmic inspiration into an itty bitty living space, it's that guy. You know his place would be playful and filled with knick-knacks collected over a few thousand years of travels. He'd feel right at home in this small-space, huge-personality eccentric apartment in Oakland. No doubt that even after he's free from the lamp (spoiler, sorry), Genie's resourceful personality will show up in his home design.
Princess Jasmine
Design Personality: Empowered Modern Glam
Let's be honest, Princess Jasmine was the Beyoncé of her time. Empowered and fabulous, yet down to earth...she woke up like that. She'd certainly bring along some of her old palace glam in the form of perfectly curated, just-so exotic accessories. And she'd likely set down roots in some appropriately princess-ly neighborhood, perhaps in this bold Beverly Hills abode. But Princess J doesn't fuss too much over her royal blood, and would therefore want a home with an air of nonchalance.
Jafar
Design Personality: Luxe & Dramatic
We always say a room should foster the things you want to do in it, so the conniving Jafar will need an abode that cultivates his sinister doings. Jafar's place needs to inspire him to do evil, but one of the first things you learn in Villain-ing 101 is that it's essential to do your bidding in high style. He'd feel right at home in this bohemian enclave in Los Angeles, which is full of drama and character. It's all just a little larger than life, perfect to fit a larger-than-life ego.
Sultan
Design Personality: Modern Palatial
The thing about sultans is that they require a grand estate. The Sultan, Princess Jasmine's well-meaning but bumbling father, has a totally Modern Palatial design personality. (Have you ever met a subtle monarch?) This light-filled, dreamy beach house is the relaxed answer to the Sultan's overstated palace in Agrabah. The home's ocean view (you can practically smell the fresh sea air just looking at the photos) is certainly worthy of a sultan's status, and that spacious patio is ideal for some royal R&R.
Whether you're in an airy California coast abode, a Mojave Desert hacienda, or a Broadway theater, you want life to have some spectacle. Aladdin brings more adventure, romance, and fireworks to 42nd Street than you think could fit. So visit Agrabah now for some very IRL fun!
Ready for more adventure? Get tickets to see Aladdin, the hit Broadway musical, today!
Aladdin photos by Matthew Murphy and Deen van Meer.
This post is sponsored by Aladdin - The Hit Broadway Musical by ©Disney and was created by the Apartment Therapy Creative Studio.
Thank you for supporting the brands that make Apartment Therapy possible.
Comments have been disabled.