Why Fabuloso Continues to be a Cultural Cleaning Staple for More Than 40 Years
We
independently
select these products—if you buy from one of our links, we may earn a commission. All prices were accurate at the time of publishing.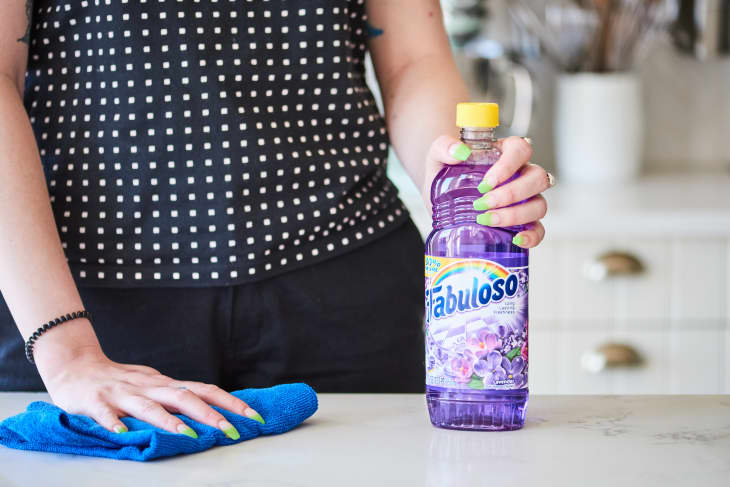 Recognized for its iconic purple bottle and fragrant lavender scent, Fabuloso has been a staple cleaning product. It's especially celebrated in the Latinx community and used by parents and grandparents since the early '80s. Fabuloso is so popular that many people tie some of their clearest childhood memories to it. 
While food, music, and family traditions are the lead vehicle for nostalgia, cleaning rituals have ingrained a sense of pride and culture in many families — and this Latin-American brand quickly became a figurehead for it.
Created in 1980 in Venezuela, Fabuloso took the country by storm, changing the way people cleaned their homes with its fresh, joyful scent and cleaning ability. Its lingering fragrance signaled a tidy home — and the rest was history. The residue-free, all-purpose cleaner made its way to Mexico next, then eventually to the U.S.
So why is Fabuloso so beloved? Here's what people had to say about the staying power of this all-purpose cleaner.
It motivates and inspires them to tidy up. 
"I instantly think of my mom and become motivated to clean, almost like a Pavlovian instinct at this point. Growing up, Saturdays were dedicated to cleaning. First, my mom would cook a big breakfast of chorizo, beans, eggs, bacon, and tortillas so that we, my sister and I, would be ready for the (ever so fun) cleaning ritual. Anyone who enjoys chorizo and bacon knows the smell lingers for a few days. The only thing that would remove the smell was the sweet smell of clean lavender Fabuloso. Now as an adult, when it is time to deep clean, I turn to Fabuloso because nothing else feels like it would clean as well." —Maegan Bucur, editor-in-chief of rhythmofthehome.com
It's a sweet reminder of childhood memories — combining culture and joy with a bright scent that indicated a cleaning job well done.
"Growing up every summer break my mom would send us to stay with all of our family in the Dominican Republic. It was my favorite thing to do every year. I remember the days I'd wake up to our cement floors being mopped and smelling the amazing Fabuloso. It's a smell you never forget. Or coming home and being outside of the house and smelling it from the walkway. I always knew when someone had mopped the floors by the infamous smell we knew, we had to take our shoes off. I grew so accustomed to the smell and cleaning with it that everyone knows now if there is music playing on a Saturday morning and we smell that fabulous Fabuloso, it's time to clean or the house is already looking immaculate from kitchen cabinets, floors, windowsills, to sprinkling a bit in the toilet to have smelling fresh and clean." —Keyla Caba
Chores from growing up stick with people from childhood to adulthood. Cleaning is not just about cleansing, it's a chore that defines a part of our identity. It's nostalgia and duty combined. 
"The smell of Fabuloso takes me back to Saturday mornings — cleaning with Los Bukis blasting in the background. It reminds me of home, and I wish they made it in a to-go scent. Brand loyalty runs deep in our Hispanic household, and it was all about the purple bottle." —Pattie Cordova, owner of livingmividaloca.com
Representation matters when it comes to brand loyalty. While the company was eventually bought out, it has remained rooted in many families' cleaning rituals and early memories, even as Latino-owned cleaning brands are on the rise.
"What Hispanic didn't grow up with Fabuloso? It reminds me of my family home; a household of Hispanic women with my grandmother, an avid Fabuloso user, as the matriarch. It reminds me of going into the kitchen in our Jackson Heights, New York apartment and seeing Fabuloso front and center beneath the sink. It's had an impact on me as a shopper as it's the brand of floor cleaner that I always go for." —Kevin Mejia
What memories do you have of using Fabuloso in your home? Share it with us in the comments.