This Wildflower Front Lawn Is Going Viral for Its Beauty and Functionality
We independently select these products—if you buy from one of our links, we may earn a commission. All prices were accurate at the time of publishing.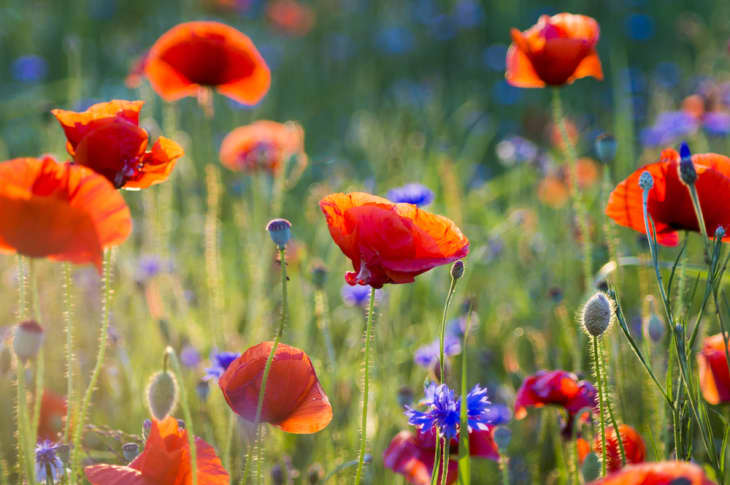 One TikToker is taking "save the bees" to the ultimate next level. Amanda C., who goes by @modernjunecleaver on TikTok, completely overhauled her front yard to make it a bee haven. Like, "overhaul," as in removing her front lawn and replacing it with wildflowers.
"Remember when we removed all our grass, planted wildflower seeds, and hoped for the best?" she captioned a July 2022 TikTok. The video shows a couple of clips from before the transformation in which the house looks totally ordinary. But once the wildflowers sprang up, the place looked like a secret fairytale garden.
Follow Topics for more like this
Follow for more stories like this
"Thinking about all the pollinators and insects that have this fabulous new home makes me emotional," one person commented.
Amanda hopped back on TikTok this spring to show just exactly how she and her partner turned their yard into a pollinator palace.
After cleaning out the dead flowers from last year, they mix Amanda's wildflower seed mixture into a bag's worth of soil. She and her partner then spread the soil evenly over the yard and then tamp the seeds in using a square of cardboard to make sure the seeds don't fly away.
Then, the seeds get a good watering and they're ready for takeoff. 
Amanda also showed a plaque she received from the National Wildlife Federation declaring her home to be a Certified Wildlife Habitat. She also has a cute sign on her fence that says, "Pardon the weeds, we're feeding the bees."
You don't have to replace your entire yard with wildflowers as Amanda did (although, the final product does look fantastic). But planting a large patch on your property is an excellent way to invite pollinators to your yard and keep their ecosystem alive and thriving in your area.