4 Things to Know Before You Plant a Dreamy Wildflower Lawn
We independently select these products—if you buy from one of our links, we may earn a commission. All prices were accurate at the time of publishing.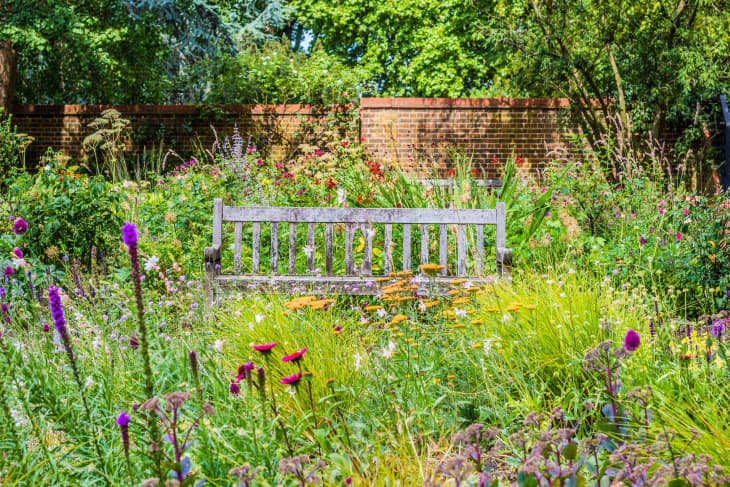 If you've been anywhere on the internet lately, you've probably noticed a (seriously gorgeous) trend in yardscaping: wildflower lawns. They're just what they sound like — instead of sticking with classic grass lawns, intrepid homeowners are planting their yards full of freewheeling wildflowers. The effect is stunning, and beneficial for a number of reasons. While traditional grass lawns are costly to maintain, water-intensive, high-maintenance, and provide zero habitat value to important species like pollinators, wildflower lawns are bee-friendly, support the local ecosystem, and are low-cost and low-maintenance once established. If you're tired of the constant upkeep of a grass lawn and are interested in turning your yard into a wildflower oasis, here's what you need to know first.
Follow Topics for more like this
Follow for more stories like this
Prep your space.
Properly preparing your yard will set you up for success when planting a wildflower lawn. Make sure that you remove all of the existing grass and plants in the area that you intend to use, including the roots. This will ensure that the plants don't grow back. Then, "till the soil to a depth of at least 6 inches and add organic matter like compost to add nutrients to the soil," says Amy Hovis, principal designer of Austin-based Eden Garden Design and owner of Barton Springs Nursery. While it's simple enough to do these steps yourself, don't be afraid to hire professionals to help you out with the lawn removal if needed, Hovis advises.
Choose plants that are native to your specific area.
Generally speaking, opting for plants and grasses that are native to your area is the best option if you're aiming for a truly low-maintenance and eco-friendly yard. While non-native plants might require some babying to thrive, native plants are well-adapted to your region's specific climate and soil conditions and will help to support wildlife in the area, says Hovis. Start by identifying the USDA growing region that you're located in, and then research the flowers that are native to the area. While this requires some upfront research, it will be worth it in the long run, as native plants will be self-sufficient (aka low-maintenance!) once established. You can purchase seed mixes or individual plants from your local nursery, says Hovis. (Your local library might have free seed options, too.)
Keep sunlight top of mind.
Most wildflowers need plenty of sun, so choose your location carefully. If your yard is mostly shaded, start with the spots that get the most light and then consider some other grass lawn alternatives for the shadier spots (think: microclover!). 
Water regularly for the first year.
One of the main benefits of grass-alternative lawns is the fact that they are less water-intensive in the long run. However, it's important to know that while your new wildflower lawn is becoming established, it will require regular watering. In the first few months after planting, it's best to keep the soil evenly moist, says Hovis. This is particularly true if you are growing the flowers from seed rather than transplanting plantlings. As the lawn matures and the new plants become established and accustomed to their new environment, you can cut back on supplemental watering and rely primarily on rainfall to water your lawn. To keep your wildflower lawn looking healthy and luscious at all times, you might need to manually water it during times of drought, even once established.