So, Uh, Will the Price of Houses Ever Come Down?
We independently select these products—if you buy from one of our links, we may earn a commission. All prices were accurate at the time of publishing.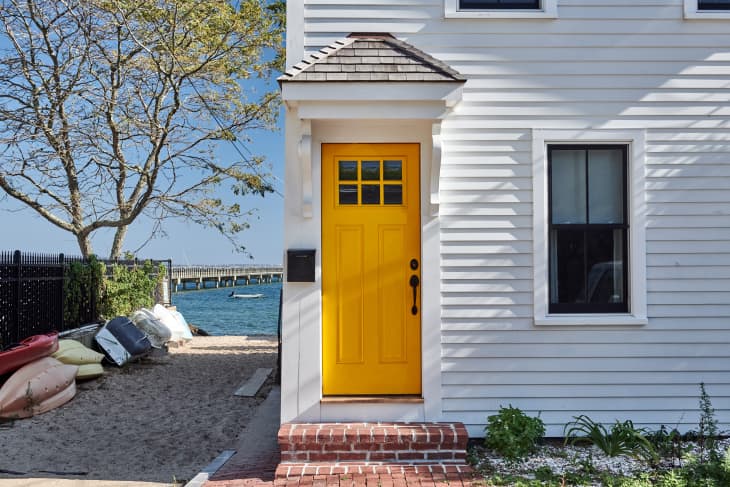 If you've been waiting (somewhat) patiently on the homebuying sidelines, refreshing Zillow every few minutes and resisting the urge to email your real estate agent three times a day to see if there are any new houses for sale in your price range, you're not alone. With soaring prices and extreme bidding wars in communities across the country, it's become increasingly difficult to buy a house since the start of the pandemic (and increasingly frustrating, too).
Some good news may be on the horizon for 2022: Though no one has a crystal ball for predicting the exact future of the housing market in the year to come, real estate agents are cautiously optimistic that home prices will come down to slightly more reasonable levels. 
Though 2022 will look a lot like 2021 — low inventory, high demand — real estate agents expect that some of the all-out-craziness we've seen lately will subside in the new year and eager buyers may finally be able to get into a house. The market might cool off a bit, but will still remain strong.
"Prices will most likely return to pre-pandemic appreciation and some hyper-inflated markets will see a subtle price adjustment down," says Glen Pizzolorusso, a real estate broker in Fairfield County, Connecticut.  
Don't expect home prices to plummet (most experts agree this isn't a housing bubble like we saw in 2008), but they should decrease enough to make buying a house a slightly more achievable feat for many buyers, says Todd Maloof, a real estate agent in New Jersey. Interest rates may increase slightly, but will remain low, which will also help make buying a house more affordable. 
"Pricing will soften over time, but this will be a housing correction, not a crash," Maloof says. "The craziness of the last few months will taper off and once the holiday season is in our rearview mirror, the people who have lost out on numerous bidding wars will be able to finally get a home, if they exercise enough patience."
Inventory — or the number of houses for sale — will likely continue to remain low, especially as home builders continue to grapple with supply chain and labor complications. Many people also took advantage of historically low interest rates and the pandemic downtime to renovate or refinance their existing homes, and they've decided to stay put.
Sellers looking to get top-dollar for their home should list right now right now, or at least before the end of the year.
"For sellers who are on the fence about selling, we would caution that the window of opportunity may be starting to close," says Amy Owens, a real estate agent in New Jersey. "We would not advise a seller to keep their sale timeline open-ended, as we are at the height of the market." 
Market forecasts aside, remember that the most important factor when it comes to buying a home is whether the timing, price, location, and other characteristics are right for you and your specific situation. You can try to make guesses about where the market will go next year, but you should also spend some serious time reflecting on your own personal goals and finances. 
Also remember that real estate is typically a long-term investment, so while what happens in 2022 is important, it's just one piece of your larger housing and financial story.
"My best advice to both my buyer and seller clients is to not let predictions make your real estate decisions for you," says Lauren Kolazas, a real estate agent in the Washington, D.C. area. "They are, after all, just predictions and could be wrong. Your life circumstances, finances, and goals should be what is driving your real estate decisions."