5 Window Cleaning Hacks from High-Rise Window Cleaners
We independently select these products—if you buy from one of our links, we may earn a commission. All prices were accurate at the time of publishing.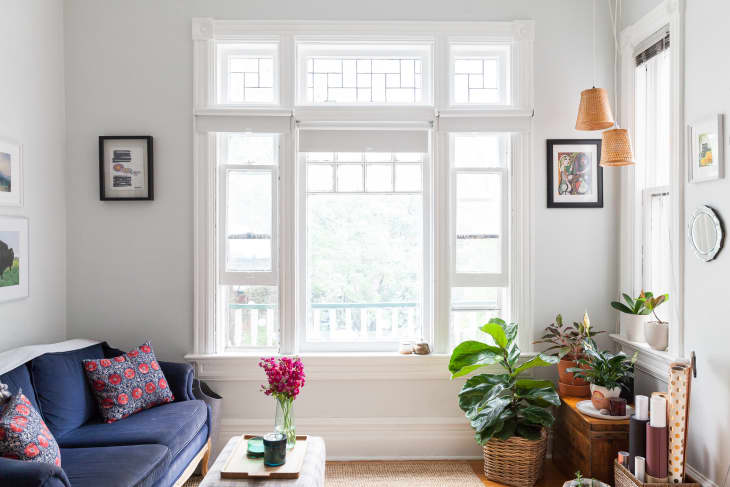 When I lived on the 22nd floor of a building in downtown Chicago, I loved watching the window cleaners come by. It was fascinating to me — they were so calm at 22 floors up, riding on a little cart and cleaning windows streak-free with no worries about the weather or the height. And it's good they came by too because our windows could get pretty gross thanks to the weather.
Follow Topics for more like this
Follow for more stories like this
After I moved out to a first-floor place, I realized the windows on my home got just as dirty as the windows at the condo. Cleaning them was always a pain for me because I could never figure out the best way to do it. If only I had some of that high-rise window cleaner knowledge!
Some of you might be struggling with the same window woes. So, I spoke to several high-rise window cleaners to get their best tips for especially tricky windows to clean, no matter the height.
Safety first, everyone. Make sure you move everything out of the way before you start cleaning your windows. That way if you slip, you won't have to worry about falling on something. You'll also be able to move around easier and get to the various parts of your windows without obstacles.
Gather the right materials.
Treat window cleaning like mise-en-place for cooking. Gather all your supplies before you start to ensure you don't need to take a break mid-clean, which can lead to spots on the windows. "You need to have the right equipment," says Phi Dang, director of Sidepost, a home services company. "This includes a ladder or scaffolding that is tall enough to reach the windows, as well as a bucket, sponge, and squeegee." And don't forget rags to catch your drips!
Clean from top to bottom.
We all know what it's like to get something clean only to have it immediately dirty again. Avoid it with your windows by cleaning from the top of the window to the bottom. That way, no dirt from the top will fall onto your freshly cleaned window as you move upward. Plus, says Justin Carpenter, founder of Modern Maids, "it will help to avoid any streaks that may occur from cleaning the same area twice."
Clean both sides of the window.
If you think only one side of your windows gets clean, that's not true. Both sides can get equally dirty — even though the indoor part doesn't have to deal with the elements. "Make sure to clean both the inside and outside of each window for a complete job," says Alex Capozzolo, co-founder of SD House Guys. "This will help ensure that all dirt, dust, and grime is removed from the glass." Plus, then your windows will be extra sparkling clean.
Streaks: the bane of everyone's existence. They love to stick around on windows after you've finished cleaning them, catching your eyes and irritation in the sun. But there's a trick to avoiding them. Use a squeegee, wipe in crisscrossing back-and-forth strokes, and dry the window in one direction only with a clean cloth. Voila — no streaks!