6 Winter Home Maintenance Tips Real Estate Agents Always Tell New Homeowners
We independently select these products—if you buy from one of our links, we may earn a commission. All prices were accurate at the time of publishing.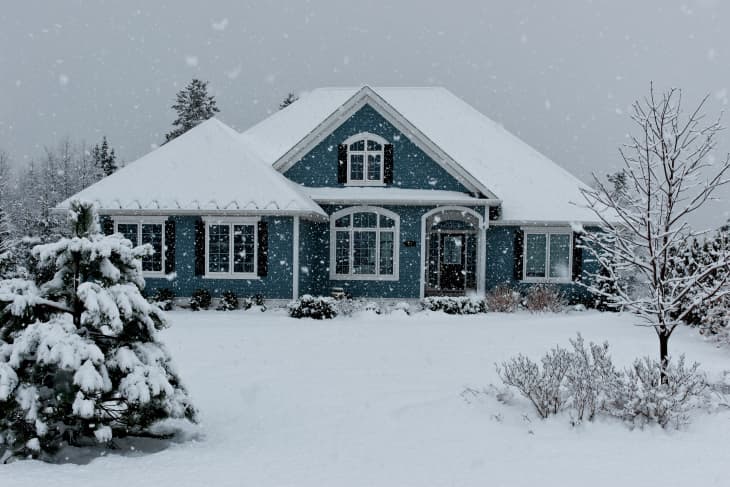 Just like it's in your best interest to get a head start when it comes to holiday shopping, it's also a good idea to start prepping your home for winter early, too. Once the first signs of crisp air and winter-like weather make an appearance, you know it's the perfect time to start making sure you won't be left in the cold literally and figuratively.
If you're a former longtime renter new to homeownership, you may be at a loss determining how to best prepare your home for winter. I talked to seasoned real estate agents to learn the best winter home maintenance tips which will spare your home in the cold and possibly save you time and money. 
If you want to preserve your walls, ceilings, and insulation, it's best to keep your gutters clean, says Patricia Matus, a Realtor with CENTURY 21 Alliance Realty Group. Allowing snow and water to freeze and accumulate at the eaves of the house can cause damage to the roof and create leaks in your home, she explains. Use a snow rake to remove heavy snow when temperatures fluctuate between above and below freezing — this can prevent ice buildup and reduce the potential for leaks.
Make stray branches disappear.
The trees you admired in the spring and summer can do damage to your property come winter. Dealing with fallen branches after a snowstorm can be a huge headache turned financial burden, especially if they land on your house. Hire a professional to identify dead trees and trim branches before it's too late, suggests Matus.
Drain your hot water heater.
Sediment build-up is a common problem for hot water heaters. Draining the heater can help the reduction of sediment so it runs efficiently, says Ryne Lambert, co-founder of Sell My House In Wisconsin.
Nothing is worse than having the first big snowfall of the season, pulling out your snowblower, and finding that it doesn't work. You'll end up frustrated and tired from shoveling your way out a foot of snow and thinking about the money you wasted on the snowblower. Avoid this pitfall by having the snowblower tuned up. Replace spark plugs, change the oil, and make sure the unit is running efficiently ahead of time, says Lambert.
Install weather stripping.
A drafty house can be just as uncomfortable to live in as it is to effectively heat. Keep it warm by replacing or installing stripping for exterior doors to save money, says Lambert. Take it a step further by putting insulation or plastic around the windows as well.
Chimneys can be problematic if they aren't properly maintained, Matus says. "If you have a fireplace, call a chimney sweep to have it cleaned before you start using it," she says.  "Creosote build-up and debris such as a nest or leaves can be a fire hazard."