I'm Using My Throw Blanket a Lot This Season — Should That Change How I Clean It?
We independently select these products—if you buy from one of our links, we may earn a commission. All prices were accurate at the time of publishing.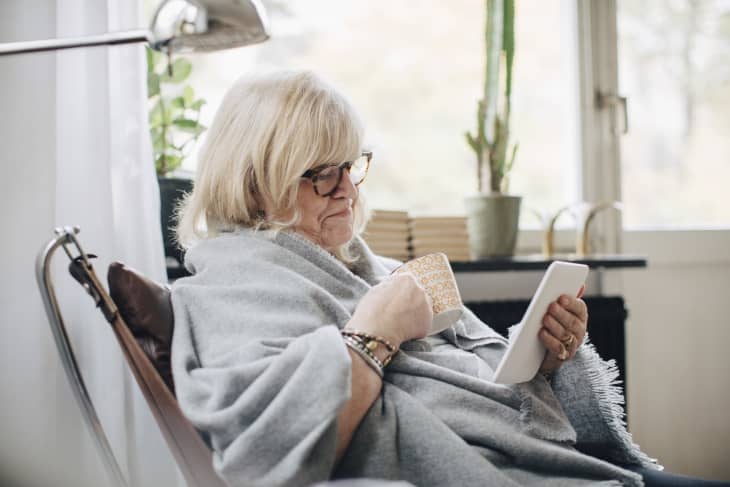 With the cold temps and cozy vibes, the winter months also bring lots of new routines around the home. 'Tis the season for making all the hot drinks, burning candles, and lighting fires. Another big change to daily habits? Now that temperatures are dropping, most people are using their throw blankets and electric blankets on the regular — which means it may also be time to rethink laundry routines. 
Follow Topics for more like this
Follow for more stories like this
Like your furniture and your bedding, throw blankets need the occasional washing for maintenance and longevity — plus, nobody wants to cuddle up with a smelly blanket. The thing is, there's no black-and-white rule for how often you should toss yours in the laundry. How often you wash your throw blanket (and how you wash it) depends on several factors, says laundry expert Patric Richardson, author of "Laundry Love" and owner of the Minneapolis-based boutique Mona Williams. 
The first question to ask yourself: How often do I use this throw blanket, and more importantly, how do I use it? Do you cozy up under a throw blanket a few nights a week before bed to catch up on a Netflix show, or are your sick kids wrapping up in it while they eat snacks? Do you alternate between a few blankets, or do you always use the same one? Are there any pets who sit on the blanket? "All of these things change how often a throw blanket needs to be laundered," Richardson says. 
In general, heavier-used blankets should be washed more often, but again, there's not a rule about when. If you use a throw blanket on your bedding, wash it whenever you wash your sheets. You'll definitely want to wash a blanket anytime a sick person uses it, if it starts to look dingy or smell, or if someone spills something on it. "Many throw blankets have wool in them, so it's important to wash them right away if you get a spot on it to prevent attracting moths," he says. 
Luckily, washing a throw blanket isn't a tough job, as long as you know what it's made out of (and, of course, as long as you have a back-up to use when your other one's in the wash). 
For a blanket with wool in it, Richardson suggests washing it in a mesh bag and using soap, not detergent. Then, hang it up to dry. Polyester blankets can be washed with soap, but you might want to use a bit of oxygen bleach because polyester is prone to holding oil (whether from your body, the dog, or your kids' chips). Pop the wet blanket in the dryer for five minutes, then hang it to dry fully. Same goes for polar fleece blankets (though Richardson says those can withstand an entire drying cycle). 
Faux fur blankets, surprisingly, can be washed the same way, but never put yours in the dryer, or the fur will get matted. Instead, hang it — and once it's almost totally dry, Richardson says you can put it in the dryer without heat for three or four minutes. 
While you're at it, you may want to wash your throw pillow covers, too (again, depending on their condition and who's sitting on them). Richardson says you can wash a removable pillow with other laundry items, based on the material. It's possible the pillow insert may have a tag that says it's machine washable, but Richardson recommends against that because they take forever to dry. "Instead, sanitize it with a steamer or with a spray bottle of vodka, which is very antibacterial," he says. "That would be a great trick on your blanket, too."