Here's How "Witches Stairs" Came to Be — And Why You Might Want Some in Your Home
We independently select these products—if you buy from one of our links, we may earn a commission. All prices were accurate at the time of publishing.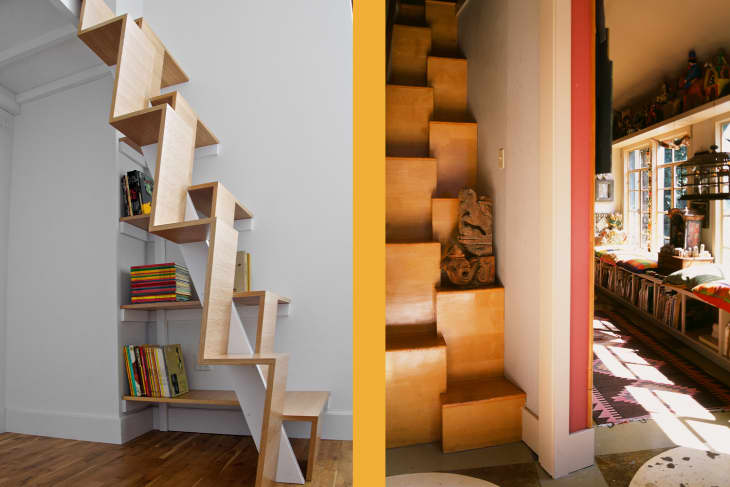 Many homes are decked out in Halloween regalia this season, but for some older houses, there's a spooky feature that sticks around all year: alternate-tread stairs, also known as "witches stairs."
You can blame urban legend for the eerie nickname of these unusual steps, which feature half treads that you must carefully ascend or descend starting on the correct foot, depending on the layout of the stairs. In fact, it was believed by some that witches couldn't climb them, so they were installed in many older residences in New England, home of the Salem witch trials.
Quick Overview
What are witches stairs?
Witches stairs are staircases with alternate half treads that ascend steeply. They're not easy to climb, but they do come in handy in small spaces.
It's a pretty cool story, though it has been debunked, and I'm glad: I would have certainly been labeled a witch because there's no way these big, clumsy feet of mine are making it up or down those stairs without a catastrophe.
Why do some homes have witches stairs?
When compared to regular staircases, alternate-tread stairs do indeed look like a nightmare. But in tight spaces where the only other options are a tight spiral staircase, a steep straight staircase, or a rickety ladder, alternate-tread stairs don't seem as bad. After all, they do allow you to plant your foot firmly on a tread, although you'll have to be coordinated enough to remember which foot to place first when going up or coming down the stairs. And aside from keeping those hypothetical witches out of your home, there are some more practical reasons that you'd want these unique stairs in your home.
"One of the biggest struggles that people have with small living spaces is losing floor space to their stairs," says Gregory Smith, a construction expert with Price Your Job, a U.K. home improvement project cost website. "With alternate-tread staircases, you can create more space in your home," he says. Due to the straight construction of the stairs, Smith says it's easier to transport long household objects like a mattress.
Are witches stairs up to code?
Still, these are not easily accessible stairs, which is why you'll never see them in public places, nor should they be used as a main staircase in a private residence. Most building codes do, however, permit them to access places like lofts and mezzanines, where foot traffic is kept to a minimum.
It goes without saying that a handrail would be necessary for this set of stairs — Smith actually recommends one on both sides (if not already mandated by local building codes) — for optimal safety and security. He also notes that because each step takes on more strain as opposed to a traditional staircase, strong wood must be used to create a safe set of alternate-tread stairs. Ash or oak are good options, whereas pine and other softwoods could eventually crack, making them even more of a hazard, according to Smith.
Why would someone install witches stairs?
Another advantage to alternate-tread stairs beyond their space-saving abilities is that they are less pricey than a standard staircase, which costs an average of $1,922 to build, according to Home Advisor. If you are willing to take a chance on these spooky steps in your own home, it's good for your bottom line — just hold on tight to those handrails or you'll end up on your bottom.